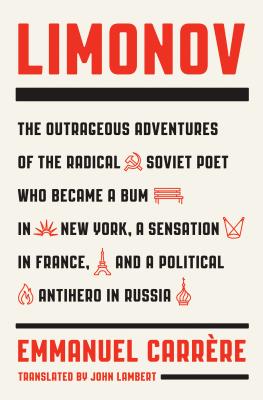 Limonov
The Outrageous Adventures of the Radical Soviet Poet Who Became a Bum in New York, a Sensation in France, and a Political Antihero in Russia
Hardcover

* Individual store prices may vary.
Other Editions of This Title:
Paperback (10/6/2015)
MP3 CD (6/14/2016)
Description
A thrilling page-turner that also happens to be the biography of one of Russia's most controversial figures
This is how Emmanuel Carrère, the magnetic journalist, novelist, filmmaker, and chameleon, describes his subject: "Limonov is not a fictional character. There. I know him. He has been a young punk in Ukraine, the idol of the Soviet underground; a bum, then a multimillionaire's butler in Manhattan; a fashionable writer in Paris; a lost soldier in the Balkans; and now, in the fantastic shambles of postcommunism, the elderly but charismatic leader of a party of young desperadoes. He sees himself as a hero; you might call him a scumbag: I suspend my judgment on the matter. It's a dangerous life, an ambiguous life: a real adventure novel. It is also, I believe, a life that says something. Not just about him, Limonov, not just about Russia, but about all our history since the end of the Second World War."
So Eduard Limonov isn't fictional—but he might as well be. This pseudobiography isn't a novel, but it reads like one: from Limonov's grim childhood to his desperate, comical, ultimately successful attempts to gain the respect of Russia's literary intellectual elite; to his immigration to New York, then to Paris; to his return to the motherland. Limonov could be read as a charming picaresque. But it could also be read as a troubling counternarrative of the second half of the twentieth century, one that reveals a violence, an anarchy, a brutality, that the stories we tell ourselves about progress tend to conceal.
Praise For Limonov: The Outrageous Adventures of the Radical Soviet Poet Who Became a Bum in New York, a Sensation in France, and a Political Antihero in Russia…
"Like this maddening, electrifying book--equal parts biography, adventure yarn, and ode--the Russian writer and sometime political agitator Eduard Limonov is a shape-shifter. Born in 1943, he has been a foundry worker and a poet in the U.S.S.R.; a bum and a butler in New York; a literary star in Paris; a fighter in the Balkans; the leader of an ultra-nationalist party in Moscow. Carrère recognizes the risk of being seduced by his subject's outsize life and macho self-mythologizing. 'There were times when I hated Limonov,' he confesses, but he is drawn to Limonov's determination to be 'a hero, a truly great man.' Carrère's prose has a brash punk energy; his refusal to flatten Limonov with easy judgment gives the book its life." —The New Yorker
"For those of us who didn't grow up passing around copies of Limonov's 'fictional memoir,' It's Me, Eddie, we have Emmanuel Carrère . . . and his jaunty, raunchy Limonov, which the publisher calls a pseudobiography, to fill in the colorful outlines of the old eccentric's life . . . There's something very Russian about the Eddie that Carrère gives us, a man who laughs at life before it has a chance to bring him low, who masters it by exalting himself above all others. He is the antihero we came to know ages ago, in "Eugene Onegin" and "A Hero of Our Time," but this scoundrel is so much better at relishing his life, so much better at entertaining his reader. Carrère, like Limonov, knows exactly what we want." —Julia Ioffe, The New York Times Book Review
"Years ago, I read a 'fictional memoir', It's Me, Eddie, by Edward Limonov. The story of this wild Russian, who returned from the west to lead the Bolsheviks, has been updated and explored in all its telling uncertainties in Limonov by the ever inventive Emmanuel Carrère." —Geoff Dyer, The Guardian
"Limonov wrote the page-turning story of his life, and Carrère, with his stylish paraphrasing, knack for narrative and moral asides has finally made this story a best seller. In Italy, they're turning it into a movie." —Sophie Pinkham, Bookforum
"As Emmanuel Carrère reminds us in Limonov, his 'pseudobiography' of this stranger-than-fiction character, the young man's shift to poetry was less radical than it might seem: Russian adolescents embrace verse like American teenagers turn to rap. But it's in part such romance that drew Carrère to write this prize-winning book, which was published in France in 2011 and translated into English last month." —Victoria Baena, Boston Globe
"If Eduard Limonov, the subject of Emmanuel Carrère's utterly engrossing biographical 'novel', hadn't invented himself, Carrère would have had to invent him . . . This intrepid adventurer, this self-invented man of action, this writer of stirring, provocative, hilarious and often heartbreaking autobiographical 'novels', is also a representative figure (dare I say hero?) of our time . . . Limonov has lived a life so thoroughly informed by romantic ideals that it verges on a parody of those ideals, and Carrère--weaned, like Savenko, on Dumas's Three Musketeers and The Count of Monte Cristo --explores its allure, its bathos, and its frightening consequences. And this, in turn, allows Carrère to explore something even more consequential: the resonance, though far from perfect harmony, between Limonov's peculiar ideology and that of the current Russian administration, as well as his intuitive, deeply felt sense of what has motivated Russia's retreat from the West, of the spirit of resentment and revanchism that determines the nation's stance in the world. Those interested in understanding the forces at play in Putin's Russia and on its periphery can learn a lot from Carrère's insightful reflections on Limonov's unlikely but (mostly) true story." —Boris Dralyuk, The Spectator
"This is an extraordinary, fantastic book about an extraordinary, fantastic life . . . I can't make up my mind [about Limonov]. Carrère can't either. That's one of the beauties of this entrancing book. It leaves you in a state of uncertainty. But read it and you will learn an awful lot about Russia now and in the days of the Soviets." —Allan Massie, The Scotsman
"This book is named after its main character, the 71-year-old Russian writer turned dissident politician Edward Limonov. You might not have heard of him, and after you have read this book you might wish you had not heard of him, but you will certainly have enjoyed reading about his life, thanks to the verve of Emmanuel Carrère's exhilarating narration. You will probably also understand considerably more about the country that produced such a narcissistic and controversial figure, whom the author finds alluring and repellent in equal measure . . . Carrère has seized on Limonov's projection of himself as a literary hero (or anti-hero) straight out of the pages of Dostoevsky, Céline or Henry Miller, and run with it. It is a brilliant ploy . . . By vividly telling the story of Limonov's extraordinary life in the present tense, he instantly makes it much more fun to read." —Rosamund Bartlett, The Telegraph
"[Carrère is] one of [France's] most extraordinary writers . . . The book's most constant refrain reminds us that 'things are always more complicated than they seem,' which might sound like an apology for the author's fascination with a fascist, but any life is more complicated than a cursory summation would have it seem. 'His romantic, dangerous life says something,' writes Carrère. 'Not just about him, Limonov, not just about Russia, but about everything that's happened since the end of the Second World War.' That's quite a statement, but it's backed up well, especially in Carrère's pithily condensed chronicle of the fall of the Soviet Union, and in the way he chronicles the evolution of Limonov's late persona in accordance with the deepest collective desires and discontent of the Russian people. Born in the same month of the siege of Stalingrad, Limonov cannot help but seem emblematic. He's one of his country's most adaptable creations--by his own design, a hero of his time. Carrère does not resolve Limonov's contradictions; instead, he tells his story with lucidity, insight, dutiful context and just the right distance." —José Teodoro, The National Post
"Emmanuel Carrère, one of the best known and most inventive French writers, has found a perfect subject in Edward Limonov, the self-described Johnny Rotten of Soviet dissident writers. The result is a picaresque gonzo biography, Limonov: The Outrageous Adventures of the Radical Soviet Poet Who Became a Bum in New York, a Sensation in France, and a Political Antihero in Russia . . . A crackling translation by John Lambert . . . written in a galloping third person." —Rachel Donadio, The New York Times
"While tracking the amazing, improbable life of Ukrainian writer, adventurer and would-be revolutionary Eduard Limonov, [Limonov] interweaves a social and political history of post-Stalinist Russia, chunks of Carrère's autobiography and a hodgepodge of reflections on art, sex, ambition, the punk aesthetic, fascism, mysticism and old age. Because Carrère--celebrated in France as a journalist, screenwriter and novelist--possesses such an intimately engaging narrative voice, Limonov feels almost nonchalant yet is, in fact, quite artfully orchestrated and completely riveting. The first sentence of John Lambert's superb English translation immediately hooks the reader . . . Whatever you think of his actions and beliefs, Limonov has lived faithfully by the rule of 'no hypocrisy, no embarrassment, no excuses.' It's been a spectacular roller coaster life, and Emmanuel Carrère has turned it into an equally spectacular book." —Michael Dirda, The Washington Post
"[A] lively, engaging book . . . fascinating . . . worth reading . . . for the ways in which it plays with questions of genre and authorship." —Shoshana Olidort, The Chicago Tribune
"Limonov's deeds and beliefs help illuminate the history of the Soviet Union since 1989: the chaos, the anger, the despair, the wild-west capitalism, the pillaging of the economy by the oligarchs, the destruction of ordinary people's savings, the loss of any sense of day-to-day normality, even if that normality had been dull and tarnished and unfree." —Julian Barnes, The Guardian
"[Limonov is] a sweeping account of Edward's unmistakably epic life, from the cruelty and poverty of his youth in Ukraine, to his conquest of the Western literary scene as an emigre writer in the 1980s, and finally to his return to Russia first as the most minor of rightist revolutionaries, then as a prisoner (locked up in the worst Russian prisons for faux-fomenting real revolution, or really fomenting faux revolution--it's hard to explain). The last chapter involves his bizarre re-emergence as a mainstream political figure, playing at being a respectable supporter of peaceful change . . . Edward Limonov is one of the most amazing people on Earth, the author of a few truly great books, a man who has lived a fuller life than any 10 of your most interesting friends combined. That would be more than enough, for someone who was only out to do just that. But for someone who sincerely wanted to rule over hundreds of millions, change the very lines on the map of the world, perhaps die gloriously in battle, and take a seat next to Tolstoy or Dostoyevsky upon his death--not so much. Deep down, what does Edward want? We'll never know, and Carrere doesn't pretend to, either. Which makes his book as fascinating as its subject." —Matt Taibbi, NPR
"[An] enchanting book . . . [Limonov's] life story, told chronologically, is so wildly implausible, it would appear absurd--if it weren't entirely true . . . With considerable space devoted to the revolutions of 1989, the book will surely find an eager audience with those watching events in the former Soviet Union with unease. But it's also a rip-roaringly fun read. In his writing, Carrère--described by the Guardian as 'the most important French writer you've never heard of'--is something of a Parisian Truman Capote." —Katie Engelhart, Macleans
"[An] addictively interesting narrative (nimbly translated by John Lambert) . . . the storytelling in Limonov is fast-paced and full of zest . . . The book grows in both excitement and absurdity as it charts Mr. Limonov's return to Russia after the collapse of the Soviet Union and his bizarre transformation into an ultranationalist. His National Bolshevik Party makes bedfellows of anti-Semitic extremists, counterculture artists and other social misfits, and, for a time during Boris Yeltsin's incompetent presidency, Mr. Limonov believes he can seize power. Mr. Carrère presents him as a kind of farcical exemplum of a new Russia run by drunks and gangsters--except that he loses out again, this time to Vladimir Putin, who trumps him in brutality and demagoguery just as Brodsky once one-upped him in literary renown. Even when it comes to immoral self-interest, Mr. Limonov is second-best, a failure and a loser. In other words, Mr. Carrère suggests, a hero of our time." —Sam Sacks, The Wall Street Journal
"[Emmanuel Carrère] is probably the most important French writer you've never heard of." —Robert McCrum, The Observer (London)
"There's an obsession that has always tormented Emmanuel Carrère and that has forced him to become the greatest living French author: to unearth his three demons [deception, savagery, loss], to drive them away, and, if possible, to reveal them to the world through books which prove themselves necessary . . . Limonov . . . is the human being who more than any other embodies Carrère's three demons and adds a crucial one of his own: the desire to challenge the world." —Marco Missiroli, Corriere della sera
"Russia, they say, cannot be understood with the mind alone, and neither can her looniest son to date, Edichka Limonov. It also takes a heart, a spleen, a liver, and this beautiful book by France's greatest writer, Emmanuel Carrère. Get ready for the last real adventure of the twentieth century!" —Gary Shteyngart, author of Little Failure
"To paraphrase Calvino, Emmanuel Carrèrre's Limonov is a book about two things: Limonov, and everything else. Equal parts The Quest for Corvo and Black Lamb and Grey Falcon, this virtuosically unclassifiable thing is somehow at once the liveliest of novels, the most illuminating of biographies, and the most consequential of philosophical inquiries--a loopy, hilarious, gut-punching quest after the shifting spirits of war, loyalty, discipline, pity, empathy, scorn, vitality, honor, ego, and, above all, the heroism of decency. All of it ripples outward from one unusual question: What might it mean to try to love someone who was convinced he only wanted to be feared?" —Gideon Lewis-Kraus, author of A Sense of Direction
"This deft, timely translation of French writer and filmmaker Carrère's sparkling 2011 biography of Eduard Limonov is an enthralling portrait of a man and his times. The subtitle is no exaggeration: Limonov, a prolific and celebrated author, cofounder of Russia's National Bolshevik Party, onetime coleader of the Drugaya Rossiya opposition movement, and current head of Strategy 31 (which organizes protests in Russia aimed at securing the right to peacefully assemble), has led an extraordinary life. Carrère suggests that Limonov's haphazard turns--from budding poet, disillusioned émigré, New York City butler, and Parisian literary rock star to Russian countercultural maverick, Putin opponent, and political prisoner--have been prompted by his drive for adventure and fame . . . Carrère's Limonov never dissolves in a mess of unfathomable contradictions. Instead, he emerges as a mirror through which the vortex of culture and politics in the late-Soviet and New Russian eras is reflected. In this astute, witty account, Limonov has found his ideal biographer. There are few more enjoyable descriptions of Russia today." —Publishers Weekly (starred review)
Farrar, Straus and Giroux, 9780374192013, 352pp.
Publication Date: October 21, 2014
About the Author
Emmanuel Carrère, novelist, filmmaker, journalist, and biographer, is the award-winning internationally renowned author of The Adversary (a New York Times Notable Book), Lives Other Than My Own, My Life As A Russian Novel, Class Trip, and The Mustache. Carrère lives in Paris.

John Lambert has translated Monsieur, Reticence, and Self-Portrait Abroad by Jean-Philippe Toussaint, as well as Emmanuel Carrère's Limonov. He lives in Nantes with his wife and three children.
or
Not Currently Available for Direct Purchase