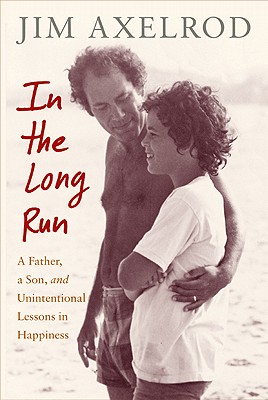 In the Long Run (Hardcover)
A Father, a Son, and Unintentional Lessons in Happiness
Farrar, Straus and Giroux, 9780374192112, 304pp.
Publication Date: May 10, 2011
* Individual store prices may vary.
Description
It's 2008. Jim Axelrod—once among the most watched correspondents on network news and the first television reporter to broadcast from Saddam International Airport in 2003—is covering the final stages of the race for the Democratic presidential nomination. He's forty-five years old and thirty pounds overweight. He's drinking too much, sleeping too little, and scarcely seeing his family. He's just figured out that the industry that pulled him up the corporate ladder is imploding as he's reaching for its final rungs. Then, out of the blue, Jim discovers his late father's decades-old New York Marathon finish times. At forty-six, Bob Axelrod ran a 3:29:58. With everything else going on in his life, Jim sets himself a defining challenge: "Can I beat him?" So begins a deeply felt, often hilarious, quixotic effort to run the 2009 New York Marathon. Along the way, Jim confronts his listing marriage, a career upset by the seismic changes going on throughout the television news industry, excruciatingly painful shin splints, and the worst-timed kidney stone possible. Looming over it all is the shadow of a loving father, who repeatedly lost his way in life but still has a lesson to impart. This is a book about a dead father's challenge to a son at a crossroads, but, more than that, it is about the personal costs paid when ambition and talent are not enough to ensure success. Most fundamentally, though, it is a book about learning what it takes to be happy in your own skin.
About the Author
Jim Axelrod, a national correspondent for CBS News, previously served as chief White House correspondent.
Praise For In the Long Run: A Father, a Son, and Unintentional Lessons in Happiness…
"A raw, penetrating and deeply moving look at the impact of fathers on their sons, the price of ambition, and the pressures on those in the professional world that lead to a false definition of success." —John Ward, Huffington Post "A poignant memoir about the nature of ambition and finding true happiness." —The Daily Beast "Got an urgent 'you've got to read this book' note from buddy Armen Keteyian, and I'm glad he was insistent . . . Good read, and some very good lessons." —Peter King, Sports Illustrated "In the middle of life Jim Axelrod lost his way. The road forward was dark, every given (marriage, values, career) up for question. How did he find his way out?  By running for his life. In the Long Run has all the elements of a hero-journey:  risk, suffering and transformation. But, being a consummate journalist, Jim narrates all of it with pitiless objectivity. Readers will bond with him each step of his journey, from the opening sentence to the last exultant mile." —Ann Arensberg, winner of the National Book Award "Jim Axelrod has written a tender and searingly honest book about life as a television network news correspondent: the self-doubt, the occasional humiliation, the risks, and the irrational and disproportionate price that the family pays to pave the road to success. He writes with all the understanding and hopelessness of an addict. As someone who has spent almost fifty years mainlining, I can testify that Jim has it right." —Ted Koppel "Jim Axelrod writes with passion and compassion. As the son of a marathoner and father of a young boy myself, In the Long Run had me hooked from the first sentence and kept me thoroughly engaged to the last. A terrific read!" —Dean Karnazes, New York Times bestselling author and marathoner "An inspiration to runners and non-runners alike—and a reminder that the love of a family has no finish line." —Bernard Lagat, two-time Olympic medalist and American Record Holder "If Jim Axelrod had written a book just about his years covering war and the White House for CBS News, that would have been enough for us. Had he written a book just about his ongoing relationship with his dead father, that would have been enough for us. Had he written a book just about his effort to run a marathon, that would have been enough for us. In the Long Run is an uncommonly rich and layered book about the mad pace of modern life and the secret pleasures of the ten-minute mile. I loved it." —Michael Bamberger, senior writer, Sports Illustrated "A wise and wonderful story about fathers and sons, the price of blind ambition, and the redemptive power of finding your own stretch of the road." —Mark Frost, New York Times bestselling author of The Match: The Day the Game of Golf Changed Forever "A meditation on work, life, and love by one of America's leading television journalists, In the Long Run is perceptive, passionate, poignant, and wise. It's a must-read." —Glenn C. Altschuler, Thomas and Dorothy Litwin Professor of American Studies, Cornell University "Axelrod has a novelist's gift for storytelling, and his father, Bob, is as vivid to us as he is in his son's memories. A fine memoir." —David Pitt, Booklist "In this well-written, honest memoir, Axelrod, a national correspondent for CBS News, describes the dramatic effect of receiving an e-mail with his deceased father's New York City marathon times, which inspired him to train for the 2009 New York City marathon in the hope of beating the race time his father achieved at the author's age, 46. Of course, such an undertaking is a manifestation of larger issues, and Axelrod lays his midlife crisis bare while recounting the ups and downs of his training regimen. Jumping back and forth between the present and past, Axelrod explores his relationship with his father, a complex man who took to running to deal with his confusion about how to handle his fatherly and social obligations. A father and husband himself, Axelrod, who left to cover the Iraq War when his wife was pregnant, has his own domestic issues, mostly due to his traveling incessantly and listening to his father's advice to 'never say no' to his employer. Like the mirrored relationship of Axelrod and his father, the book's other stories have a pleasing symmetry, as can be seen in the parallel accounts of the author's physical ailments, like a painful calf injury, and his emotional problems that culminate in a bout of 'acute stress response' brought on by a near-death experience while working in Iraq." —Publishers Weekly (starred review)
or
Not Currently Available for Direct Purchase