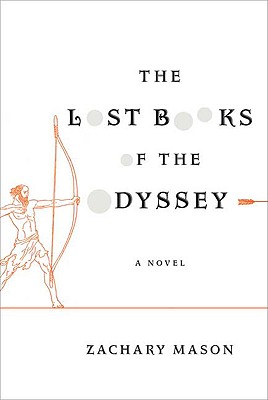 The Lost Books of the Odyssey (Hardcover)
Farrar, Straus and Giroux, 9780374192150, 240pp.
Publication Date: February 2, 2010
Other Editions of This Title:
Digital Audiobook (2/1/2010)
Paperback (1/4/2011)
Paperback (5/1/2011)
* Individual store prices may vary.
Description
A BRILLIANT AND BEGUILING REIMAGINING OF ONE OF OUR GREATEST MYTHS BY A GIFTED YOUNG WRITER

Zachary Mason's brilliant and beguiling debut novel, The Lost Books of the Odyssey, reimagines Homer's classic story of the hero Odysseus and his long journey home after the fall of Troy. With brilliant prose, terrific imagination, and dazzling literary skill, Mason creates alternative episodes, fragments, and revisions of Homer's original that taken together open up this classic Greek myth to endless reverberating interpretations. The Lost Books of the Odyssey is punctuated with great wit, beauty, and playfulness; it is a daring literary page-turner that marks the emergence of an extraordinary new talent.
About the Author
ZACHARY MASON is a computer scientist specializing in artificial intelligence. He was a finalist for the 2008 New York Public Library Young Lions Fiction Award. He lives in California.
Praise For The Lost Books of the Odyssey…
Praise for The Lost Books of the Odyssey: "[A] dazzling debut . . . Stunning and hypnotic . . . Mr. Mason . . . has written a series of jazzy, post-modernist variations on the Odyssey, and in doing so he's created an ingeniously Borgesian novel that's witty, playful, moving and tirelessly inventive . . . This is a book that not only addresses the themes of Homer's classic—the dangers of pride, the protean nature of identity, the tryst between fate and free will—but also poses new questions to the reader about art and originality and the nature of storytelling." —Michiko Kakutani, The New York Times
"[The Lost Books of the Odyssey] is, to my surprise, a wonderful book. I had expected it to be rather preening, and probably thin. But it is intelligent, absorbing, wonderfully written, and perhaps the most revelatory and brilliant prose encounter with Homer since James Joyce." —Simon Goldhill, The Times Literary Supplement
"A subtle, inventive, and moving meditation on the nature of story and what Louis MacNeice calls 'the drunkenness of things being various.' " —John Banville, Booker Prize–winning author of The Sea
"Spellbinding. In his versions of these ancient myths, Mason twists and jinks, renegotiating the journey to Ithaca with all the guile and trickery of Odysseus himself. Rarely is it so reassuring to be in the hands of such an unreliable narrator." —Simon Armitage, author of The Odyssey: A Dramatic Retelling of Homer's Epic
"A stirring revelation: Zachary Mason's astounding glosses of the
Odyssey
plunge us into an unforeseeable and hypnotic dimension of fiction. Of the three possible interpretations of the work that he proposes—Homeric stories anciently reproduced by recombining their components, a Theosophist dream of abstract mathematics, and pure illusion (that is, it was all made up by him)—the result is one and the same. This enthralling book is his doing, whether as translator, conjuror, or author. I vote for number three." —Harry Mathews, author of
My Life in CIA
"Mason's delightful, inventive collection takes the raw materials of Homer—wily Odysseus, faithful Penelope, wrathful Poseidon—and then recombines, warps and twists elements of his well-worn tale." —Philadelphia City Paper
"Mason's fantastic first novel, a deft reimagining of Homer's Odyssey, begins with the story as we know it before altering the perspective or fate of the characters in subsequent short story–like chapters . . . This original work consistently surprises and delights." —Publishers Weekly (starred review)
"These imaginary lost books of The Odyssey enhance Homer's epic tale with alternative scenarios and viewpoints. A finalist this year for the New York Public Library's Young Lions Award, Mason employs clear, crisp prose and a clever sense of humor to propel the action briskly . . . A paean to the power of storytelling." —Library Journal
"Though none of these brilliantly conceived revisions fits neatly into Homer's classic poem, each resonates with something of the artistic vigor of the ancient original . . . A daring and successful experiment in fictional technique." —Booklist
"[A] literary adventure in which everything—the hero, the author, even the reader—is up for grabs . . . The epic as kaleidoscope." —Kirkus Reviews
"Reading Zachary Mason's forthcoming The Lost Books of the Odyssey, I've been in danger of missing my subway stop . . . Funny, spooky, action-packed, philosophical—the mood keeps shifting, and you keep wanting to read just one more." —Barnes and Noble Review
or
Not Currently Available for Direct Purchase