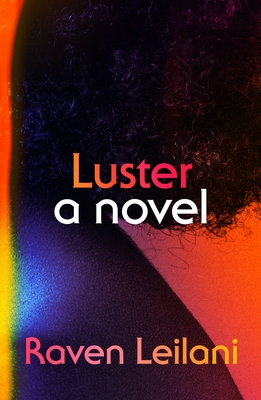 Luster (Hardcover)
A Novel
Farrar, Straus and Giroux, 9780374194321, 240pp.
Publication Date: August 4, 2020
* Individual store prices may vary.
Description
"A taut, sharp, funny book about being young now. It's brutal—and brilliant." —Zadie Smith, author of Grand Union
"Impossible to put down." —Ling Ma, author of Severance

Sharp, comic, disruptive, tender, Raven Leilani's debut novel, Luster, sees a young black woman fall into art and someone else's open marriage
Edie is stumbling her way through her twenties—sharing a subpar apartment in Bushwick, clocking in and out of her admin job, making a series of inappropriate sexual choices. She's also, secretly, haltingly figuring her way into life as an artist. And then she meets Eric, a digital archivist with a family in New Jersey, including an autopsist wife who has agreed to an open marriage—with rules.
As if navigating the constantly shifting landscapes of contemporary sexual manners and racial politics weren't hard enough, Edie finds herself unemployed and falling into Eric's family life, his home. She becomes hesitant friend to his wife and a de facto role model to his adopted daughter. Edie is the only black woman young Akila may know.
Razor sharp, darkly comic, sexually charged, socially disruptive, Luster is a portrait of a young woman trying to make her sense of her life in a tumultuous era. It is also a haunting, aching description of how hard it is to believe in your own talent and the unexpected influences that bring us into ourselves along the way.
About the Author
Raven Leilani's work has been published in Granta, McSweeney's Quarterly Concern, Narrative, Yale Review,Conjunctions, The Cut, and New England Review, among other publications. She won Narrative's Ninth Annual Poetry Contest and the Matt Clark Editor's Choice Prize, as well as short fiction prizes from Bat City Review and Blue Earth Review. Luster is her first novel.
Praise For Luster: A Novel…
Most Anticipated of 2020 at Buzzfeed and Electric Literature
"A taut, sharp, funny book about being young now. It's brutal—and brilliant."
—Zadie Smith, author of Grand Union
"A coming-of-age story that's sure to keep you turning pages."
—Stephanie Long, Refinery29
"A darkly funny, hilariously moving debut from a stunning new voice. Luster follows the unforgettable Edie, a hapless young woman suffocating under her own loneliness, whose caustic observations made me laugh out loud and gasp in recognition. Raven Leilani crafts a beautiful, bighearted story about intimacy and art that will astound and wound you. I couldn't put this one down."
—Brit Bennett, author of The Mothers
"Raven Leilani's sentences pulse and writhe and shimmer and gut-punch. Above all they tell the truth, even when it hurts."
—Angela Flournoy, author of The Turner House
"Hilarious, honest, bursting with desire and sharp insight, Luster is absolutely captivating. I didn't so much read it, as gulp it down. There's so much to learn here, so much to admire. Leilani is an irreverent, impeccable stylist—a voice we need right now."
—Justin Torres, author of We the Animals
"A beguiling fever dream of a novel, shot through with wistfulness, humor, and a kind of breathless, furious verve. You'll find it impossible to put down."
—Ling Ma, author of Severance
"Raven Leilani is a writer of unusual daring, with a voice that is unique and fully formed. There is humor, intelligence, emotion, and power in her work. I cannot think of a writer better suited to capture our moment."
—Katie Kitamura, author of A Separation
"In Luster, Raven Leilani has created a character unlike any other in recent fiction. A slacker black queen, a depressive painter, a damn funny woman. The narrator of this novel tells us of her history and her present life in hypnotic language that is a pleasure to read. Leilani is such a talented writer, I rushed to the end of every outrageous sentence to figure out how she would pull it off."
—Kaitlyn Greenidge, author of We Love You, Charlie Freeman