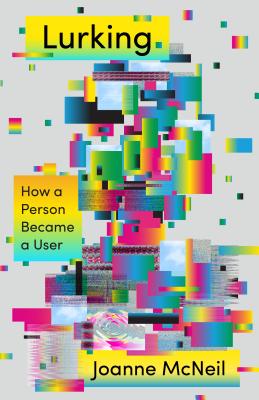 Lurking
How a Person Became a User
Hardcover

* Individual store prices may vary.
Other Editions of This Title:
Digital Audiobook (2/24/2020)
Paperback (2/23/2021)
Description
One of Esquire's Best Books to Elevate Your Reading List in 2020, , and a OneZero Best Tech Book of 2020. Named one of the 100 Notable books of 2020 by the End of the World Review.

A concise but wide-ranging personal history of the internet from—for the first time—the point of view of the user

In a shockingly short amount of time, the internet has bound people around the world together and torn us apart and changed not just the way we communicate but who we are and who we can be. It has created a new, unprecedented cultural space that we are all a part of—even if we don't participate, that is how we participate—but by which we're continually surprised, betrayed, enriched, befuddled. We have churned through platforms and technologies and in turn been churned by them. And yet, the internet is us and always has been.

In Lurking, Joanne McNeil digs deep and identifies the primary (if sometimes contradictory) concerns of people online: searching, safety, privacy, identity, community, anonymity, and visibility. She charts what it is that brought people online and what keeps us here even as the social equations of digital life—what we're made to trade, knowingly or otherwise, for the benefits of the internet—have shifted radically beneath us. It is a story we are accustomed to hearing as tales of entrepreneurs and visionaries and dynamic and powerful corporations, but there is a more profound, intimate story that hasn't yet been told.

Long one of the most incisive, ferociously intelligent, and widely respected cultural critics online, McNeil here establishes a singular vision of who we are now, tells the stories of how we became us, and helps us start to figure out what we do now.
Praise For Lurking: How a Person Became a User…
"[A] very excellent new book."
—JENNA WORTHAM

"[McNeil] manages a sensitive sharpness to which more tech critics should aspire."
—JASON KEHE, Wired

"An original take on a fascinating and important subject."
—COLLEEN MODOR, Booklist

"Refreshingly humane and threaded with poetic insight."
—Shelf Awareness

"[A] thoughtful debut, critically examining how online platforms affect their users . . . McNeil explores how an internet driven by profits and the commodification of sharing transformed a potentially beneficial, community-building activity into a potentially demoralizing, community-breaking habit."
—Publishers Weekly

"Sharp, broad-ranging techno-criticism that merits attention."
—Kirkus Reviews

"At a time when there are just as many people wanting to 'burn it all down' as there are techno-evangelists, Lurking offers a history of online culture that could not be of more import for the present. Joanne McNeil patiently disentangles this story from the nostalgia and uncritical negativity that so often distort it, recovering nuance while pulling no punches in her defense of privacy and dignity. Lurking gave me words for lost or ineffable feelings, brought up forgotten moments of possibility, and reminded me of everything about the internet that's worth saving. I was very often surprised by the details of a story I thought I knew. Above all, McNeil's account of the past and her vision of a different future are incalculably humane, providing a fresh opportunity to ask who and what we want the internet to be for."
—JENNY ODELL, author of How to Do Nothing

"A long-overdue people's history of the internet. Joanne McNeil retells our last three decades online from the perspective of those who actually made it worthwhile—us."
—CLAIRE L. EVANS, author of Broad Band

"The internet isn't 'out there' somewhere; it's coextensive with the brain of any writer who'd be worth reading on the subject. In Lurking, Joanne McNeil writes as an internet 'supertaster,' a veteran of more platforms and forums and flame wars and start-ups than most of us could ever imagine. She employs a trees-not-forest style, immersing herself in the paradoxes, and reinscribing her body at the scene. By risking a freely figurative language, she hacks the mystery at its source."
—JONATHAN LETHEM

"Without a doubt, Joanne McNeil is the most original writer on technology working today. This poetic, empathetic, and incisive history of the internet will resonate deeply with anyone who goes online to listen and learn, not shout and grandstand. Never cynical or reductive, McNeil traces the commercialization of the digital world in unexpected and insightful ways, revealing what has been lost, what stolen, and what utopian possibilities may still be recovered. Lurkers may not be inclined to rally around a manifesto, but this profound and refreshing meditation will certainly do the trick. Lurkers of the world unite, or at least read this book."
—ASTRA TAYLOR, author of The People's Platform

"We all know what it's like to spend time online, but nobody has written about it with more depth and beauty than Joanne McNeil. Lurking makes the connections between internet protocol and human dignity tangible, whether reflecting on her early days as an avid 90s web user or zooming out for critical insight into today's tech giants and tomorrow's possibilities. I learned something new on every page."
—JACE CLAYTON, author of Uproot: Travels in 21st-Century Music and Digital Culture
MCD, 9780374194338, 304pp.
Publication Date: February 25, 2020
About the Author
Joanne McNeil was the inaugural winner of the Carl & Marilynn Thoma Art Foundation's Arts Writing Award for an emerging writer. She has been a resident at Eyebeam, a Logan Nonfiction Program fellow, and an instructor at the School for Poetic Computation.

Joanne is the author of Lurking: How a Person Became a User.