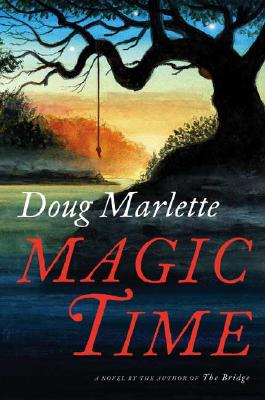 Magic Time (Hardcover)
Farrar, Straus and Giroux, 9780374200015, 496pp.
Publication Date: October 3, 2006
Other Editions of This Title:
Paperback (6/12/2007)
* Individual store prices may vary.
Description
A prize-winning Southern master storyteller weaves a riveting tale of love, mystery and justice When the Pulitzer Prize–winning cartoonist Doug Marlette last turned to fiction, Valerie Sayers rejoiced in The Washington Post Book World: "The Bridge [is] a great story—exuberant, proud, myth-challenging—and Marlette has a great, Dickensian time with the telling." Pat Conroy saluted The Bridge as the finest first novel to come out of North Carolina since Look Homeward, Angel. Studs Turkel called it "enthralling." Kaye Gibbons marveled at its "extraordinary grace [and] humor." And the Southeast Booksellers Association gave The Bridge the 2002 Book Award for Fiction. Marlette's new novel, Magic Time, is a spellbinding stew of history, murder, courtroom drama, humor, love, betrayal, and justice. Moving between New York City and the New South of the early 1990s, with flashbacks to Mississippi's cataclysmic Freedom Summer of 1964, Magic Time tells the story of New York newspaper columnist Carter Ransom, a son of Mississippi, who had the great fortune and terrible luck of falling in love that summer of '64 with a New York–born civil rights worker who wound up being killed alongside three coworkers. Carter's father, the local judge, presided over the first trial of the murders. But now there's evidence that the original trial was flawed, even fraudulent. And the question, among many others, is whether the good judge was knowingly involved in a cover-up. Magic Time is that rare thing: a page-turner whose driving plot line is matched by the depth of its moral vision.
Praise For Magic Time…
"In Magic Time, Doug Marlette does with words what we are used to seeing him do so masterfully with pictures: he sets us down firmly in a sharply drawn time and place and tells us a great story. Magic Time proves that The Bridge was no fluke: Marlette is a great writer of Southern fiction, and he understands that region as it was in the turbulent days of the Civil Rights Movement, and as it has reshaped itself since."—Henry Louis Gates, Jr. W. E. B. Du Bois Professor of the Humanities, Harvard University "It was the summer that divided time in America, and Doug Marlette has brought it—and the people who lived through and after it—so stingingly alive that it can never be forgotten. Magic Time is a blazing beautiful novel."—Anne Rivers Siddons, author of Peachtree Road and Sweetwater Creek "Magic Time is a beautiful memorial to the brave young people who made the ultimate sacrifice in Mississippi during the Freedom Summer of 1964. Doug Marlette has vividly captured the spirit of history that animated those of us who were part of that extraordinary time." —John Lewis, U.S. House of Representatives Kirkus Reviews(Starred review) A middle-aged New York columnist re-explores a personal tragedy that occurred during the Civil Rights era. The son of Judge Mitchell Ransom has been in New York for some time, a rising star in the newspaper business. Yet Carter Ransom is going home to Troy, Miss. Four people died in a church bombing in 1965, among them the love of Carter's life. Now roughly 30 years later, the ghosts of Mississippi are awakened once again. Marlette (The Bridge, 2001), a Pulitzer-winning editorial cartoonist, blends the events leading up to the original bombing with the modern-day trial of a Klan leader who may have ordered the attack. Using an intriguing cast of characters past and present, Marlette sets the stage for an intricate story of love, struggle and terror. The past unfolds as if the reader were sharing the moment. Change is in the air, but so is fear. Carter's best friend, Elijah Knight, is leading the drive to register black voters. Unable to handle the rigidity of law school and the shadow of his father, Carter is adrift. Sarah Solomon, a Barnard girl from New York, has joined the movement. She and Carter first meet at Magic Time, a legendary blues joint long faded into the overgrown honeysuckle. Two young people believe they can change the world. It is a poignant and beautiful courtship, but it ends in tragedy. Marlette uses Carter's past experience to explore similar tension in the modern world. There is unrest in New York following a terrorist attack. Questions arise about Mitchell Ransom's actions in the 1965 bombing trial. Carter finds himself questioning all that has ever mattered to him. For a news columnist from New York, the only way to confront the demons of the past is to force them to speak. Marlette sets a harmonic tone, both glorious and deeply moving.
Perfectly captures a time of epic change. An exceptional work of Southern fiction. "I have always loved that word, 'page-turner' and that is just what Doug Marlette has done with Magic Time. He bridges the modern south to one of its bleakest, most violent periods and does so with a story that you can't put down. I love the way Marlette brings my south to life with all its glory and warts. With this book, with the dilemma that modern day southerners find themselves in because of their ancestors' actions, we see once again what Faulkner meant about how the past is never dead or even past." —Rick Bragg, best-selling author of All Over But the Shouting, and Ava's Man

"Doug Marlette knows how to make a reader turn the page, again and again, with rising excitement. But he's after more than that in Magic Time. He sets out to fill in the canvas of the modern South with the darker colors of its history. He shows us every kind of Southerner, from the noblest to the worst. He makes his characters answer for who they are and where they come from, but he loves them—all of them. We can't ask for more from a novelist or a novel."—Mark Childress, author of Crazy in Alabama and the forthcoming One Mississippi

"As in The Bridge, Doug Marlette asks urgent questions about society and directs us to look for the answers within our own hearts. His kind intelligence shows through in every word. He's one of my favorite writers."—Kaye Gibbons, author of Ellen Foster and Life All Around Me by Ellen Foster
"Doug Marlette takes us deep into the heart of America, and deeper into the American heart. Marlette writes with acuity and intelligence, with broad humor and a precise, loving attention to detail. His past and present not only lives and breathes, it lingers and haunts your soul." —Joe Klein, author of Primary Colors
or
Not Currently Available for Direct Purchase