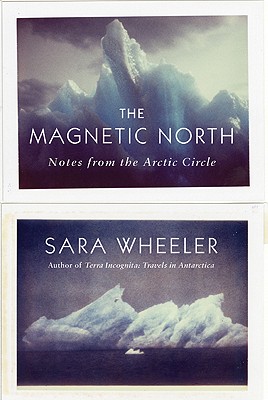 The Magnetic North: Notes from the Arctic Circle (Hardcover)
Notes from the Arctic Circle
Farrar, Straus and Giroux, 9780374200138, 336pp.
Publication Date: February 1, 2011
* Individual store prices may vary.
or
Not Currently Available for Direct Purchase
Description
A Globe and Mail Best Books of the Year 2011 Title
More than a decade ago, Sara Wheeler traveled to Antarctica to understand a continent nearly lost to myth and lore. In the widely acclaimed, bestselling Terra Incognita, she chronicled her quest to find a hidden history buried in Antarctica's extreme surroundings. Now, Wheeler journeys to the opposite pole to create a definitive picture of life on the fringes. In The Magnetic North, she takes full measure of the Arctic: at once the most pristine place on earth and the locus of global warming.

Inspired by the spiraling shape of a reindeer-horn bangle, she travels counterclockwise around the North Pole through the territories belonging to Russia, the United States, Canada, Denmark, Norway, and Finland, marking the transformations of what once seemed an unchangeable landscape. As she witnesses the mounting pollution concentrated at the pole, Wheeler reckons with the illness of the whole organism of the earth.

Smashing through the Arctic Ocean with the crew of a Russian icebreaker, shadowing the endless Trans-Alaska Pipeline with a tough Idaho-born outdoorswoman, herding reindeer with the Lapps, and visiting the haunting, deceptively peaceful lands of the Gulag, Wheeler brings the Arctic's many contradictions to life. The Magnetic North is an urgent, beautiful book, rich in dramatic description and vivid reporting. It is a singular, deeply personal portrait of a region growing daily in global importance.
About the Author
Sara Wheeler is the author of two biographies--"Too Close to the Sun: The Audacious Life and Times of Denys Finch Hatton "and "Cherry: A Life of Apsley Cherry-Garrard"--and three books of travel writing: "Evia: Travels on an Undiscovered Greek Island," "Travels in a Thin Country: A Journey Through Chile," and the bestselling "Terra Incognita: Travels in Antarctica." She lives in London.
Praise For The Magnetic North: Notes from the Arctic Circle…
Praise for The Magnetic North

"The Magnetic North offers a fascinating tour of a disappearing world. Sara Wheeler is an eloquent and intrepid guide." —Elizabeth Kolbert, author of Field Notes from a Catastrophe

"A wise, provoking and zestful chronicle, poetic, often tragic and always engaging. Wheeler, a prolific raconteur of distant places, has created the finest book on the Arctic since Hugh Brody's The Other Side of Eden . . . She has mapped a remarkable journey." —Rory MacLean, The Sunday Times (London)

"The Magnetic North proved irresistibly attractive. I loved . . . Terra Incognita, and this was an equally coddling hoosh of personal travelogue, historical anecdotage and speculative thinking—all the better because Wheeler began her series of Arctic travels, if not a climate change sceptic, then unconvinced about its anthropic cause, and ended up unable to deny the meltwater on the ground." —Will Self, New Statesman

"A book that deserves to stand alongside Arctic Dreams, Barry Lopez's classic account of life above the tree line. Indeed, more than once I made the comparison in Wheeler's favour. She's funnier, and her writing, while brilliantly evocative, is never overblown . . . If you are lucky you might get to travel in the Arctic yourself; if you don't, this book is the next best thing." —Erica Wagner, The Times (London)

"Fantastic . . . Readers are whisked away on an incredible, multifaceted tour of a region still unknown . . . This fact-filled narrative is nearly impossible to put down . . . By chronicling what the Arctic tells us about our past, Wheeler vividly reveals what it tells us about our collective future." —Publishers Weekly (starred review)
Advertisement