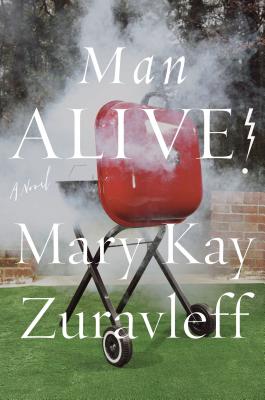 Man Alive!
A Novel
Hardcover

* Individual store prices may vary.
Other Editions of This Title:
Paperback (10/7/2014)
Description
A warm, funny, and profoundly original novel about a family dealing with disaster, from a rising literary star
All it takes is a quarter to change pediatric psychiatrist Dr. Owen Lerner's life. When the coin he's feeding into a parking meter is struck by lightning, Lerner survives, except that now all he wants to do is barbecue. What will happen to his patients, who rely on him to make sense of their world? More important, what will happen to his family?
The bolt of lightning that lifts Lerner into the air sends the entire Lerner clan into free fall. Mary Kay Zuravleff depicts family-on-family pain with generosity and devastating humor as she explores how much we are each allowed to change within a family—and without. Man Alive! captures Owen and Toni Lerner and their nearly grown children so vividly you'll be looking over your shoulder to make sure the author hasn't been watching your own family in action.
A Washington Post Notable Fiction Book of 2013
Praise For Man Alive!: A Novel…
"Above all, this is a family novel for smart people; the smarter you are, the better you'll like "Man Alive!" by Washington writer Mary Kay Zuravleff . . . What makes this book so terrific? Certainly the lofty reach of its subject matter and its cleverly delivered information about mythology, robotics, etc. But mostly, it's Zuravleff's masterful use of language, particularly dialogue. Each character cries out to us, demanding attention, recognition. A whole family, not just the burned, bruised Dr. Lerner, demands to be seen as human beings -- alive!" —Carolyn See, The Washington Post
"A lightning bolt to a parking meter certainly packs a punch, but so does every sentence and scene of this exuberant novel. Mary Kay Zuravleff writes so well--with such wit and compassion and wry intelligence--that she can make the daily, domestic life that follows Owen Lerner's encounter with the transcendent as electrifying as the lightning strike itself. A suburban marriage, a young romance, gymnastics, brain chemistry, backyard barbeque, wherever Zuravleff aims her keen eye, something transformative happens, the way a thunderbolt turns sand to glass. Man Alive! is vividly alive and breathing. A sparkling book." —Alice McDermott, National Book Award-winning author of Charming Billy
"Random happens, as Mary Kay Zuravleff ably demonstrates in this witty and engaging novel about a psychiatrist struck by lightning. Man Alive! chronicles the tensions and resentments that pull a family apart in the wake of a freak accident, and the lingering affections and connections that ultimately keep them together." —Tom Perrotta, author of The Leftovers and Little Children
"There's nothing like a lightning strike to make you reasses your life, as Owen Lerner and his wife and kids learn the up-close-and-personal way. Novelist Mary Kay Zuravleff dissects family life with great heart and rapier wit." —Parade
"The scenes and dialogue jump off the pages of this novel. Man Alive! is electric." —Huffington Post
"[Zuravleff] captures both the humor and pain of family life and the fluid nature of its alliances." —Library Journal
"A compelling story, beautifully written, about a family faced with a crisis, given a strikingly original spin by a gifted novelist." —Shelf Awareness
"Zuravleff (The Bowl Is Already Broken), recipient of the American Academy's Rosenthal Award and the James Jones First Novel Award, creates a family whose members are forced to come to terms with mortality, reality, love, and their place in the family structure. She captures both the humor and pain of family life and the fluid nature of its alliances. Highly recommended." —Library Journal
"Man Alive! is all pleasure, even as the Lerner family suffers acutely. Mary Kay Zuravleff's novel delivers the particular pleasure of the thing perfectly described. This is a book to share, reading sentences aloud to marvel at--how'd she come up with that! How does she know so much! How can she be so funny, and then so poignant, one, two, punch. The Lerner family is a family to remember--and to raise a glass to every time you grill outdoors--cheers to the amazing and fabulous Owen Lerner, and to his creator." —Jane Hamilton, author of A Map of the World
"I really like these people and I want to go to a barbecue at their house. This is a novel of equal parts wit and heart, edge and deep warmth, hands open with hope for humanity alongside a firm foot still in reality. A terrific treat." —Aimee Bender, author of The Particular Sadness of Lemon Cake and An Invisible Sign
"Man Alive! is a vibrant book, and complex, buzzing with the rhythm of life the way we live it. Mary Kay Zuravleff is masterful as she dissects the collective consciousness of a family, with all its tangled bonds and arbitrary isolation." —Carolyn Parkhurst, author of The Dogs of Babel
Farrar, Straus and Giroux, 9780374202316, 304pp.
Publication Date: September 3, 2013
About the Author
Mary Kay Zuravleff is also the author of The Bowl Is Already Broken, which The New York Times praised as "a tart, affectionate satire of the museum world's bickering and scheming," and The Frequency of Souls, which the Chicago Tribune deemed "a beguiling and wildly inventive first novel." Honors for her work include the American Academy's Rosenthal Award and the James Jones First Novel Award, and she has been nominated for the Orange Prize. She lives in Washington, D.C., where she serves on the board of the PEN/Faulkner Foundation and is a cofounder of the D.C. Women Writers Group.
or
Not Currently Available for Direct Purchase