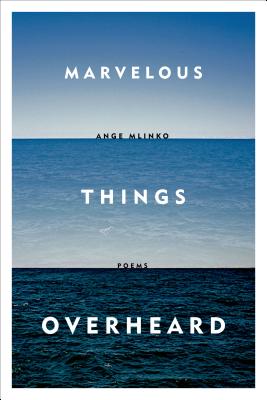 Marvelous Things Overheard (Hardcover)
Poems
Farrar, Straus and Giroux, 9780374203146, 112pp.
Publication Date: September 10, 2013
Other Editions of This Title:
Paperback (9/9/2014)
* Individual store prices may vary.
Description
A vibrant and eclectic collection from a stunningly mature young poet
"The world—the time has come to say it, though the news will not be welcome to everyone—has no intention of abandoning enchantment altogether." Roberto Calasso's words in Literature and the Gods remind us that, in an age of reason, of mechanization, of alienation, of rote drudgery, we still seek out the transcendent, the marvelous. Ange Mlinko's luminous fourth collection is both a journey toward and the space of that very enchantment.
Marvelous Things Overheard takes its title from a collection of ancient rumors about the lands of the Mediterranean. Mlinko, who lived at the American University of Beirut and traveled to Greece and Cyprus, has penned poems that seesaw between the life lived in those ancient and strife-torn places, and the life imagined through its literature: from The Greek Anthology to the Mu'allaqat. Throughout, Mlinko grapples with the passage of time on two levels: her own aging (alongside the growing up of her children) and the incontrovertible evidence of millennia of human habitation.
This is an assured and revealing collection, one that readers will want to seek refuge in again and again.
About the Author
Ange Mlinko was educated at St. John's College and Brown University. She has lived most of her adult life in New York, and also spent time in Ifrane, Morocco and Beirut, Lebanon. Mlinko is the author of several poetry collections, including Marvelous Things Overheard. She has received the Poetry Foundation's Randall Jarrell Award in Criticism, and she was named a Guggenheim fellow in the field of poetry. She teaches at the University of Florida.
Praise For Marvelous Things Overheard: Poems…
"It's hard not to fall in love with a poet who can turn the lost colony of Roanoke and the Dutch tulipomania bubble of the 1630s into forgotten fairy tales . . . Even an excess of charm can't diminish the ravishing intelligence of this fervent, loose-limbed, sprightly book." —William Logan, The New Criterion
"The merely competent should study Mlinko's work with envy. It's as alive to sound as to social complexity. . . You hear Paul Muldoon, Marianne Moore, Elizabeth Bishop and Wallace Stevens in her poems, but as raw material transformed into something more than an amalgam of influence." —Michael Robbins, The Chicago Tribune
"Mlinko treats the reader to lines that feel both alive and spectral." —The Paris Review Daily
"In later work, Mlinko resembles Frank O'Hara in her attention to artists, intellectuals, and the trending culture of an age . . . [Mlinko] creates a rich sonic topography . . . dream-inducing consonance . . . picture-perfect imagery . . . aurally orgasmic acoustic creativity." —Booklist
"Mlinko's linguistic abilities are obviously sophisticated . . . we marvel at the times and places described." —Publishers Weekly
"The poems in Marvelous Things Overheard have something in common with those film sequences that begin with an amoeba, and then pull quickly back until you see all of New York City, and then the earth, and then the solar system, and then the Milky Way. They reveal the connections between seemingly unlike things. The poems also posit these as "human" connections, inasmuch as the history of any one of us depends on the history of all of us. . . . Myths, Greek and otherwise, represent attempts to make sense of the senseless through story-telling, to create contexts for the world's otherwise disparate (and uncaring) mess of facts. Mlinko's poetry at once resists and takes part in this anxious embroidery, in the very human need to take each marvelous thing in turn, and try to bind them all together." —Maureen Thorson, Open Letters Monthly
"Here are marvels, mysteries, melancholia; here are New World cicadas, Cypriot potatoes, kiddie boats, the Mediterranean; here is a glorious babble of tongues sung through. Mlinko has a mythy, musical mind. A sensuous intelligence threads us through a glittering word-hoard, its mind-shield. Mlinko writes a sumptuous, surprising, highwire poetry. Its neo-Elizabethan dazzle directs us to the core of our lives as animals of and in language, 'evolving / only toward more feeling.' This book is an astonishment." —Maureen N. McLane, author of My Poets and World Enough
or
Not Currently Available for Direct Purchase