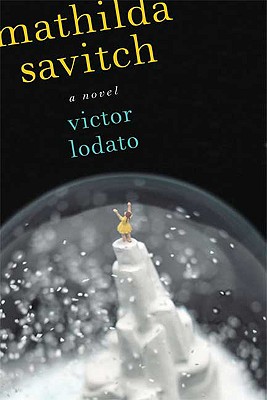 Mathilda Savitch (Hardcover)
Farrar, Straus and Giroux, 9780374204006, 304pp.
Publication Date: September 15, 2009
* Individual store prices may vary.
or
Not Currently Available for Direct Purchase
Description
A fiercely funny and touching debut novel about a young girl trying to find out the truth behind her sister's death

I have a sister who died. Did I tell you this already? I did but you don't remember, you didn't understand the code . . . She died a year ago, but in my mind sometimes it's five minutes. In the morning sometimes it hasn't even happened yet. For a second I'm confused, but then it all comes back. It happens again.

Fear doesn't come naturally to Mathilda Savitch. She prefers to look right at the things nobody else can bring themselves to mention: for example, the fact that her beloved older sister is dead, pushed in front of a train by a man still on the loose. Her grief-stricken parents have basically been sleepwalking ever since, and it is Mathilda's sworn mission to shock them back to life. Her strategy? Being bad.

Mathilda decides she's going to figure out what lies behind the catastrophe. She starts sleuthing through her sister's most secret possessions—e-mails, clothes, notebooks, whatever her determination and craftiness can ferret out. More troubling, she begins to apply some of her older sister's magical charisma and powers of seduction to the unraveling situations around her. In a storyline that thrums with hints of ancient myth, Mathilda has to risk a great deal—in fact, has to leave behind everything she loves—in order to discover the truth.

Mathilda Savitch bursts with unforgettably imagined details: impossible crushes, devastating humiliations, the way you can hate and love your family at the same moment, the times when you and your best friend are so weak with laughter that you can't breathe. Startling, funny, touching, odd, truthful, page-turning, and, in the end, heartbreaking, Mathilda Savitch is an extraordinary debut. Once you make the acquaintance of Mathilda Savitch, you will never forget her.
About the Author
Victor Lodato is a playwright, poet and novelist. He is the recipient of Guggenheim and NEA fellowships, and has won numerous awards for his plays, including one from the Kennedy Center Fund for New American Plays. "Mathilda Savitch," his first novel, received the PEN USA Literary Award and was named a Best Book of 2009 by "The Christian Science Monitor, Booklist" and "The Globe and Mail." He lives in Tucson and New York City.
Praise For Mathilda Savitch…
"From page one, the outrageous, pitch-perfect voice of this book grabs you up and won't let go. A bravura performance." —Mary Karr, author of The Liars' Club and Cherry

"Mathilda Savitch is a hilarious, self-deprecating, and outrageously openhearted creation—an oracle struggling to under stand her own proclamations. Mathilda's cluelessness and brilliance are captured in a language so true, it will make you feel like you are right back in the madness and squalor that is the schoolyard. And you will be forced to confront, once again, the truth that all adolescents grapple with, that the lunatics have indeed taken over the asylum." —Heather O'Neill, author of Lullabies for Little Criminals

"The first novel from poet and playwright Lodato is a stunning portrait of grief and youthful imagination. Narrator Mathilda Savitch is an adolescent girl negotiating life after the death of her older sister, Helene. Her parents, especially her alcoholic mother, are too traumatized to give her the comfort she needs, so she lives in an elaborate world of her own invented logic. Mathilda evaluates sex, religion and national tragedy in language that is constantly surprising, amusing and often heartbreaking. She speaks with the bold matter-of-factness of a child, but also reveals a deep understanding of life far beyond her year s: 'I wondered why god would unlock a door just to show you emptiness,' she says. 'It made me wonder if maybe he was in cahoots with infinity.' Lodato chooses every word with extreme care; Mathilda's observations read like a finely crafted epic poem, whose themes and imagery paint an intricate map of her inner life. She's a metaphysical Holden Caulfield for the terrifying present day." —Publishers Weekly (starred review)
"In many ways, Mathilda is a child putting on like she's an adult, and Lodato, a poet and playwright in his fiction debut, creates in her an unforgettable voice. His Mathilda is an acerbic wit, yet is capable of great rushes of compassion; she is plainspoken, but given to the most lovely, left-field reflections. Recalling the way her parents were before Helene's death, Mathilda says, "Da gave Ma the kind of kisses that linger, and afterwards she looked like someone who'd just had a bath." The book's first passage (out of four) is its strongest: a marvel of observational acuity and lyrical phrasing." --Kimberly Jones,
The Austin Chronicle
 "As a writer, Lodato understands the true and ugly side of mourning. Trying to provoke her parents, Mathilda dresses up in her dead sister's birthday dress. Numb, in search of deeper numbness, her mother downs the vodka, and crawls on the kitchen floor, howling, in search of another bottle.Mathilda's original observations carry these incidents—blending imagination, intelligence and kookily beautiful imagery. Her best friend lives in a house "that's the kind of place that looks excellent when it snows" and has sheets that "smell like milk." Pigeons make "sounds like dreaming dogs." This is a narrator unafraid of shoulds and shouldn'ts, longing for a broken version of happiness. "I'd like to be a person with brain damage," Mathilda notes, "with nothing but a whale of joy jumping around inside of me." ... This is a delight and a devil of a book, a tale that fills you with despair and pleasure—often at the same time.--Leigh Newman,
Time Out New York
 "Mathilda is rebelling against everything and making up her own version of reality, hoping to come upon something more meaningful and less painful than the world in which she lives. Along with her parents, this intelligent and hyper-imaginative young teenager is trying to come to grips with the death of her older sister a year earlier. Presented in a first-person, present-tense onslaught of conversations, fantasies, and confrontations, the novel follows Mathilda as she begins the new school year and immediately gets into trouble with the principal. Later, she invites friends to her house for an all-night survival exercise in her basement, since this a world in which sisters incomprehensibly die and terrorists attack. Mathilda carries on a personal investigation of her sister's life, hacking into the sister's former email account and messaging a boy she figureds was involved with her sister. VERDICT Engaging and humorous yet grappling with serious issues, this novel details a girl's distorted view of events and the people around her. The treatment is mature and literary, but this title could almost be a YA novel."--Jim Coan,
Library Journal
 "A wildly precocious adolescent girl searches for the truth behind her sister's death in playwright Lodato's creative and engaging debut novel. The author crafts a singular voice that combines the disjointed confessional tone of Holden Caulfield with the ethereal sadness of Susie Salmon in
The Lovely Bones
. The13-year-old narrator's matter-of-fact reflections on her dysfunctional family hold the whole amazing concoction together ... The story Lodato tells, while compulsively readable, isn't the main selling point. It's the way he occupies Mathilda so completely, giving her marvelous lines like, "Sometimes I'd think I'd like to be a person with brain damage, with nothing but the whale of joy jumping around inside of me," or, "The thing is, I don't want to end up like Ma and Da. In a house with books and dust and all the love gone out of it." His portrait of a damaged but hopeful girl stands up to classics like Walter Tevis'
Queen's Gambit....
Both mature adolescents and adult readers will find much to love in Lodato's remarkable creation."--
Kirkus Reviews
Book Videos
Advertisement