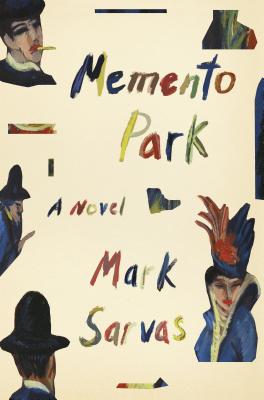 Memento Park
A Novel
Hardcover

* Individual store prices may vary.
Other Editions of This Title:
Digital Audiobook (3/12/2018)
Paperback (3/5/2019)
Library Binding, Large Print (7/25/2018)
Description
Winner of the 2019 Association of Jewish Libraries Jewish Fiction Award, short-listed for the 2019 JQ Wingate Literary Prize, and a Finalist for the 2019 Sami Rohr Prize for Jewish Literature
One of Entertainment Weekly's 20 Books to Read in March and one of TimeOut's 11 Books You'll Want to Binge-Read This Month

A son learns more about his father than he ever could have imagined when a mysterious piece of art is unexpectedly restored to him
After receiving an unexpected call from the Australian consulate, Matt Santos becomes aware of a painting that he believes was looted from his family in Hungary during the Second World War. To recover the painting, he must repair his strained relationship with his harshly judgmental father, uncover his family history, and restore his connection to his own Judaism. Along the way to illuminating the mysteries of his past, Matt is torn between his doting girlfriend, Tracy, and his alluring attorney, Rachel, with whom he travels to Budapest to unearth the truth about the painting and, in turn, his family.
As his journey progresses, Matt's revelations are accompanied by equally consuming and imaginative meditations on the painting and the painter at the center of his personal drama, Budapest Street Scene by Ervin Kálmán. By the time Memento Park reaches its conclusion, Matt's narrative is as much about family history and father-son dynamics as it is about the nature of art itself, and the infinite ways we come to understand ourselves through it.
Of all the questions asked by Mark Sarvas's Memento Park—about family and identity, about art and history—a central, unanswerable predicament lingers: How do we move forward when the past looms unreasonably large?
Praise For Memento Park: A Novel…
"Sly, searching . . . Sarvas is astute in portraying how relationships can calcify in childhood, and the exquisite pain of attempting to repair them in adulthood . . . [He] tackles big questions—about what constitutes restitution, the nature of faith, the essential role of storytelling in our lives. A twist at the end, the book's ultimate con, is too good to spoil, and left me rethinking the characters and the story. It's a testament to Sarvas's skill that such a trick felt like a gift." —Ellen Umansky, The New York Times Book Review
"While Sarvas's book is full of cunningly prepared surprises, it is also a fundamentally thoughtful and meditative story, whose real plot is Matt's achievement of a kind of perspective on his past . . . While Memento Park is very much a book about the Hungarian Jewish experience, the dynamics it portrays are common to any immigrant family, where history is the thing everyone is trying to forget, even though it is present in every word." —Adam Kirsch, The Washington Post
"An absorbing drama . . . this second novel is more polished and heartfelt . . . Memento Park is ultimately about the mutability of memories and understanding, and an exhortation to really pay attention — while realizing how much you may miss regardless." —Heller McAlpin, NPR.org
"A psychologically rich portrait of familial discord." —Michael Margas, Newsday
"Sarvas is an expert at depicting the dualities of the immigrant experience . . . [He] develops each setting with admirably unique language . . . As its protagonist puzzles over his identity, his relationships, and the painter Erwin Kàlmàn's troubled past, Memento Parkassembles these pieces into a satisfying whole." —Ingrid Vega, Zyzzyva
"Mark Sarvas's second novel leaps well beyond his first one into a spectacular realm of imagination and daring. Memento Park has everything in precisely the right proportions: pace, plot, suspense, intricate characters and meditations on the loneliness of a secular Jewish life that are heartfelt . . . In short, Sarvas has somehow managed to nail down in this novel what it means to truly come to terms with a difficult past." —Elaine Margolin, The Jerusalem Post
"Sarvas's rich and engaging second novel is worth the decade's wait since his first . . . Sarvas couples a suspenseful mystery with nuanced meditations on father-son bonds, the intricacies of identity, the aftershocks of history's horrors, and the ways people and artworks can—perhaps even must—be endlessly reinterpreted." --Publishers Weekly (starred review)
"Because of its scope and deft handling of aspects of identity in matters of love, family, religion, and loss, this literary work is highly recommended to the broadest audience." —Library Journal (starred review)
"Sarvas delivers a lively, thoughtful, psychologically compelling novel about the ties that bind, and the ties that fail to." —Kirkus
"What does the next generation carry forward, and why is it so compelling? In his powerful novel Memento Park, Mark Sarvas explores the essential questions of history, its burdens, and legacies. The gifted novelist Sarvas takes us by the hand and tells us a story that demands to be heard." —Min Jin Lee, author of Pachinko, finalist for the National Book Award
"Mark Sarvas has written a gripping mystery novel about art that is also a powerful meditation on fathers and sons, and the need to face up to the falsehoods spawned by the horror of the past." —Salman Rushdie
"A thrilling, ceaselessly intelligent investigation into the crime known as history." —Joseph O'Neill, author of Netherland
"In Mark Sarvas' elegant, poignant, and intellectually arresting novel, the attempts to reclaim a painting seized by the Nazis opens up into a moving story about a father's desire to bury his past and a son's to claim it. Propelled by the intrigue of mystery and suffused with a knowing humor, the novel explores the vagaries of historical memory, the ways in which identity is equal parts inheritance and invention, and the delusions of ownership. Memento Park's reach is wide and its concerns profound." —Marisa Silver, author of Little Nothing and Mary Coin
Farrar, Straus and Giroux, 9780374206376, 288pp.
Publication Date: March 13, 2018
About the Author
Mark Sarvas is the author of the novel Harry, Revised, which was published in more than a dozen countries around the world. His book reviews and criticism have appeared in The New York Times Book Review, The Threepenny Review, Bookforum, and many others. He is a member of the National Book Critics Circle, PEN/America, and PEN Center USA, and teaches novel writing at the UCLA Extension Writers Program. A reformed blogger, he lives in Santa Monica, California.
or
Not Currently Available for Direct Purchase