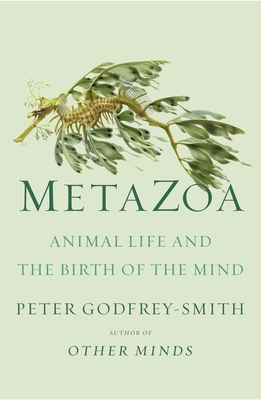 Metazoa
Animal Life and the Birth of the Mind
Hardcover

* Individual store prices may vary.
Other Editions of This Title:
Digital Audiobook (11/9/2020)
Paperback (10/26/2021)
Description
"Enthralling . . . breathtaking . . . Metazoa brings an extraordinary and astute look at our own mind's essential link to the animal world." —The New York Times Book Review (Editors' Choice)

"A great book . . . [Godfrey-Smith is] brilliant at describing just what he sees, the patterns of behaviour of the animals he observes." —Nigel Warburton, Five Books

The scuba-diving philosopher who wrote Other Minds explores the origins of animal consciousness

Dip below the ocean's surface and you are soon confronted by forms of life that could not seem more foreign to our own: sea sponges, soft corals, and serpulid worms, whose rooted bodies, intricate geometry, and flower-like appendages are more reminiscent of plant life or even architecture than anything recognizably animal. Yet these creatures are our cousins. As fellow members of the animal kingdom—the Metazoa—they can teach us much about the evolutionary origins of not only our bodies, but also our minds.

In his acclaimed 2016 book, Other Minds, the philosopher and scuba diver Peter Godfrey-Smith explored the mind of the octopus—the closest thing to an intelligent alien on Earth. In Metazoa, Godfrey-Smith expands his inquiry to animals at large, investigating the evolution of subjective experience with the assistance of far-flung species. As he delves into what it feels like to perceive and interact with the world as other life-forms do, Godfrey-Smith shows that the appearance of the animal body well over half a billion years ago was a profound innovation that set life upon a new path. In accessible, riveting prose, he charts the ways that subsequent evolutionary developments—eyes that track, for example, and bodies that move through and manipulate the environment—shaped the subjective lives of animals. Following the evolutionary paths of a glass sponge, soft coral, banded shrimp, octopus, and fish, then moving onto land and the world of insects, birds, and primates like ourselves, Metazoa gathers their stories together in a way that bridges the gap between mind and matter, addressing one of the most vexing philosophical problems: that of consciousness.

Combining vivid animal encounters with philosophical reflections and the latest news from biology, Metazoa reveals that even in our high-tech, AI-driven times, there is no understanding our minds without understanding nerves, muscles, and active bodies. The story that results is as rich and vibrant as life itself.
Praise For Metazoa: Animal Life and the Birth of the Mind…
"What makes [Metazoa] shimmer and shine is Godfrey-Smith's exploration of marine life (drawing on his vast and extensive diving knowledge and field experience) to illuminate the ways in which the animal mind works . . . He does this in vivid and scenic prose . . . Filled with riveting anecdotes and research, interspersed with charming and informative illustrations of various time periods such as the Ordovician." —Aimee Nezhukumatathil, The New York Times Book Review

"Never have I encountered anything like Metazoa. In it, Peter Godfrey-Smith . . . focuses on the evolutionary developments that shaped our brains, and no matter how much you think you know about these developments, his book will deepen your understanding . . . [Godfrey-Smith] favors clarity, presenting our world to scientists and nonscientists alike, salting his book with firsthand observations and experiences." —Elizabeth Marshall Thomas, The American Scholar

"Marvelous . . . Godfrey-Smith's book has a fascinating discussion of how it must feel to have [a] sort of split [Octopus] consciousness, nine selves all inhabiting the same body." —Alison Gopnik, The Wall Street Journal

"Philosophers have long debated the nature of consciousness. This probing study takes an evolutionary approach, examining "experience in general" not only in humans but in much of the animal kingdom . . . The author is crisp on a subject notorious for abstraction, dissecting fuzzy philosophical metaphors and weaving in lively descriptions of the octopuses, whale sharks, and banded shrimp he observes on scuba dives off the coasts of Australia." —The New Yorker

"For Peter Godfrey-Smith the spectacle [of sea life] is a curtain-raiser to a profound scientific drama, in which the lives of quite un-human creatures illuminate deep mysteries about the nature of sentience, and what it means to possess a mind . . . In Metazoa, the scuba-diving historian and philosopher of science tackles these questions with eloquent boldness, reminding us that 'life and mind began in water' . . . Electric." —Barbara Kiser, The Wall Street Journal

"[Peter Godfrey-Smith's] is a special and rare kind of attention: informed by scientific research, yet sensitive to what he is seeing, the particularity of the creature in front of him, and what it might imply, always to the fore . . . Absorbing . . . A delight to read." —Nigel Warburton, Standpoint

"[Metazoa] shares the virtues of its predecessor [Other Minds] . . . Godfrey-Smith mixes his theoretical themes with first-hand accounts of often surprising animal behaviour . . . His exploratory style is well-suited, not just to the general reader, but to the problem of consciousness itself." —David Papineau, Times Literary Supplement

"Combining science, philosophy, and his own 'watery hours' spent scuba diving, Godfrey-Smith examines the origins of animal consciousness . . . This is no dry academic treatise . . . [Metazoa] is enlivened by the wit and affection with which the author often regards his subjects of study." —Library Journal (starred review)

"Godfrey-Smith . . . delivers a rich look at the existence of consciousness in the animal kingdom . . . His evolutionary approach is rich in biological detail, such as when he compares human brains with octopuses' distributed neural network in their brain and arms, and nicely complemented by vivid details of the animals he encounters while scuba diving . . . [His] passion both for the philosophical subject he tackles and the organisms he visits and discusses comes through clearly in his fascinating work." —Publishers Weekly

"Peter Godfrey-Smith writes and thinks like no one else that I know of. He's well immersed in the science of life, a deep-diver into the philosophical implications of the factual world—and a writer so skillful he can give a reader chills. Metazoa is his deepest dive to date on what life is, what life means; how we understand what we understand; and how we might continue peeling and peering into the many layers of remaining mystery, to further appreciate the astonishments of existence." —Carl Safina, author of Becoming Wild: How Animal Cultures Raise Families, Create Beauty, and Achieve Peace
Farrar, Straus and Giroux, 9780374207946, 352pp.
Publication Date: November 10, 2020
About the Author
Peter Godfrey-Smith is a professor in the School of History and Philosophy of Science at the University of Sydney. He is the author of the bestselling Other Minds: The Octopus, the Sea, and the Deep Origins of Consciousness, which has been published in more than twenty languages. His other books include Theory and Reality: An Introduction to the Philosophy of Science and Darwinian Populations and Natural Selection, which won the 2010 Lakatos Award.