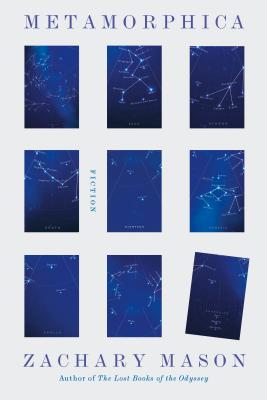 Metamorphica (Hardcover)
Fiction
Farrar, Straus and Giroux, 9780374208646, 304pp.
Publication Date: July 10, 2018
Other Editions of This Title:
Paperback (7/9/2019)
Compact Disc (7/10/2018)
Compact Disc (7/10/2018)
MP3 CD (7/10/2018)
* Individual store prices may vary.
Description
A brilliant and daring novel that reimagines Ovid's Metamorphoses
In the tradition of his bestselling debut novel The Lost Books of the Odyssey, Zachary Mason's Metamorphica transforms Ovid's epic poem of endless transformation. It reimagines the stories of Narcissus, Pygmalion and Galatea, Midas and Atalanta, and strings them together like the stars in constellations—even Ovid becomes a story. It's as though the ancient mythologies had been rewritten by Borges or Calvino; Metamorphica is an archipelago in which to linger for a while; it reflects a little light from the morning of the world.
About the Author
Zachary Mason is a computer scientist and the New York Times bestselling author of The Lost Books of the Odyssey and Void Star. He lives in California.
Praise For Metamorphica: Fiction…
"Mason shows that [The Lost Books of the Odyssey] was a warm-up for an even more ambitious reimagining of an epic work. Where Odysseus unifies the earlier work, Ovid's Metamorphoses and, necessarily, Mason's latest are more sprawling, introducing readers to the likes of Icarus, Midas, Orpheus, and Eurydice . . . Both soaring and deep, this dazzling narrative creates a fictional universe of myth that transcends time itself." —Kirkus Reviews (starred review)
"Metamorphica is a joy of a book. Mason understands beautifully that traditions are most powerful in their reinvention. Beyond their tremendous lyricism and admirable control, these retellings of Mediterranean myth offer the truest pleasure of all fiction, its immense possibility. Metamorphica brims with imagination and an astonishing empathy that reminds us that even the most ancient of legends can feel urgent to us today, if only we would just listen." —Kanish Tharoor, author of Swimmer Among the Stars
"Lush and very smart . . . the stories . . . throb with tragedy, transformation, and wars." —JR Ramakrishnan, Electric Literature
"[An] impressive collection of flash fictions that accentuate the pain, frustrations, and regrets of well-known and unfamiliar myths." —Publishers Weekly