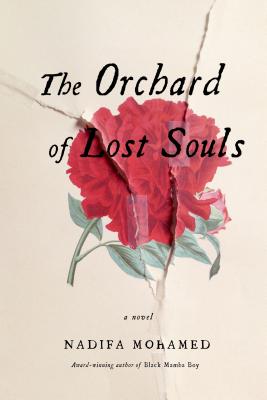 The Orchard of Lost Souls (Hardcover)
Farrar Straus Giroux, 9780374209148, 336pp.
Publication Date: March 4, 2014
Description
From one of Granta's Best of Young British Novelists, a stunning novel illuminating Somalia's tragic civil war

It is 1987 and Hargeisa waits. Whispers of revolution travel on the dry winds, but still the dictatorship remains secure.
Soon, through the eyes of three women, we will see Somalia fall.
Nine-year-old Deqo has left the vast refugee camp where she was born, lured to the city by the promise of her first pair of shoes.
Kawsar, a solitary widow, is trapped in her little house with its garden clawed from the desert, confined to her bed after a savage beating in the local police station.
Filsan, a young female soldier, has moved from Mogadishu to suppress the rebellion growing in the north.
As the country is unraveled by a civil war that will shock the world, the fates of these three women are twisted irrevocably together.
Nadifa Mohamed was born in Hargeisa and was exiled before the outbreak of war. In The Orchard of Lost Souls, she returns to Hargeisa in her imagination. Intimate, frank, brimming with beauty and fierce love, this novel is an unforgettable account of ordinary lives lived in extraordinary times.
About the Author
Nadifa Mohamed was born in Hargeisa in 1981. In 1986 her family temporarily relocated to London; this move became permanent with the eruption of the Somali Civil War. She was educated in London and went to Oxford to study history and politics. She finally returned to Hargeisa, now in the new Republic of Somaliland, in 2008. Her first novel, Black Mamba Boy, won the Betty Trask Prize, was long-listed for the Orange Prize, and was short-listed for the Guardian First Book Award, the John Llewellyn Rhys Prize, the Dylan Thomas Prize, and the PEN Open Book Award. In 2013 she was selected as one of Granta's Best of Young British Novelists.
Praise For The Orchard of Lost Souls…
A New York Times Sunday Book Review Editor's Choice
". . . A haunting and intimate portrait of the lives of women in war-torn Somalia . . . it captures the bleakness of war and the triumph of the human spirit."
— Meenakshi Venkat,
New York Journal of Books
"Nadifa Mohamed—generationally at a remove from the events she describes—shows how the echo of war reverberates down the generations, and why every nation needs its storytellers: someone to, if not make sense of events, then order them so that sense may be drawn." —Aminatta Forna,
The New York Times Book Review
"Powerful, transcendent . . . Mohamed evokes the burgeoning unrest of a city on the brink of chaos with vibrant, evocative language and imagery, crafting a story that will stay with readers long after the final page is turned." —Kristine Huntley,
Booklist
(starred review)"Intimate and powerful . . . It's this ability--to recognize the possibility for tenderness in such hostile circumstances--that makes Mohamed's work so moving . . . Given her talent for mining the hardest of places for the soft heart within, we look forward to the stories she'll tell next." —Yasmin Tayag,
The Last Magazine
"Mohamed creates three memorable characters and makes the experience of what it was (and remains) like to live through the chaos of Somalia's dystopia disturbingly real." —
Kirkus
"Although [Mohamed's] material could easily be exploited, she does not so much milk it for emotion as elevate it to a kind of searing poetry." —
Publishers Weekly
(starred review)"The loss of innocence, national and personal, grounds
Granta
Best Young British Novelist Nadifa Mohamed's
The Orchard of Lost Souls
, which follows three Somali women on the eve of civil war, including a comely army corporal whose perfect hair and makeup can't conceal her wrath." —Megan O'Grady,
Vogue
"Lacking any of the self-conscious planning associated with an inexperienced author, Mohamed deftly interlinks the women's narratives in a way that . . . proves to be one that is immensely rewarding, heart-warming and thoroughly sagacious. Think war-torn Somalia will leave you feeling depressed and at odds with the world? Think again. This portrait, albeit fictional, is illuminating." —Lucy Rock,
BookBrowse
"With the unadorned language of a wise, clear-eyed observer, Nadifa Mohamed has spun an unforgettable tale.
The Orchard of Lost Souls
recounts not just a state's descent into war, but war's most heartbreaking human toll: the death of dreams." —Taiye Selasi, author of
Ghana Must Go
"I was delighted to find that [
The Orchard of Lost Souls
] fulfils the promise of Nadifa's first novel. A strangely exciting as well as worrying novel, seeping along at a great pace, but always with a sinister, threatening atmosphere hanging over the words. The great strength of this novel is a love of country and despair at its fate." —Margaret Forster, author of
Keeping the World Away
"Nadifa Mohamed's writing is compact and often beautiful . . . She is a writer of great talent and, at her best, lightness. She writes particularly well about women and their relationships to each other—violent and critical as well as supportive—and about place; she writes beautifully of people in solitude . . . her writing is economical, controlled and vivid, her characters' aches real and felt. This is a novel that deserves to be read." —Anjali Joseph,
Literary Review
"Mohamed is a writer who may go down in history as the most candid young scribe of modern African womanhood." —Melissa Katsoulis,
The Times
"As the narrative gathers incremental power, the novel shows its author blossoming into her talent with her own innovative at times pulse–quickening style, distilling startling language from loss." —Anita Sethi,
Observer
"The story is brutal but compelling - leavened with the poetic language that characterised Mohamed's first book." —Sameer Rahim,
Daily Telegraph
"[Mohamed's] characters are believable, strong, self-empowered women . . .  [she] writes sensitively and with a keen awareness of her characters' vulnerability." —Fatima Bhutto,
Financial Times
"Mohamed has grown as a writer with this work . . . here her writing shows signs of maturity and a greater richness in characterisation. There is also a robust poetry to her prose which never sounds precious." —Arifa Akbar,
Independent
"There is a dramatic tension and narrative pull; by the end, you feel educated—and grateful for that." —Claire Lowden,
Sunday Times
"It is as beautifully written and constructed as the Somalian tapestries it evokes. And yet, amidst the wonderful metaphors and exquisite imagery there remains a frankness, a simplicity that hearkens to the ordinary, to the untold story of ordinary lives caught up in the storm." —
The Lady
"Lean and lyrical,
The Orchard of Lost Souls
is an elegiac novel, set in 1988, telling the story of three Hargeisa women as the civil war escalates. As well as the childless, widowed Kawsar, there is nine-year-old street child, Deqo, and troubled young female soldier, Filsan." —Jackie McGlone,
Herald
"It reminded me of the pleasure I had reading Camus'
The Plague
when I was a teenager. It has the kind of sparseness, it has the kind of unblinkingness, it has the kind of sweep of Camus, I thought it was great…It has a very, very powerful subject matter… A really intense, quite painful, quite pleasurable book… Quite extraordinary at a technical level…Wonderfully written and very well judged." —
BBC Radio 4 Saturday Review
"The story [Mohamed] has fashioned around these three resilient characters and how they survive is one that will resonate with readers for a long time." —Emma Cueto, BookPage
"It's a tale full of empathy and insight that is an absolute must-read . . . The book is an intimate yet sweeping tale of the price paid by society's most vulnerable when injustice runs rampant and when everything goes horribly wrong." —Emma Cueto, Bustle
"As these three women's stories entwine, the result is a moving and captivating tale of survival and hope in a war-torn country, and confirms Mohamed's stature as one of Britain's best young novelists." —Stylist
"Three women watch, and suffer, as their native Somalia descends into brutal civil war. It's 1988. The atrocities pile up, but the authorial voice remains resolutely melodic." —Vogue (UK)
Advertisement