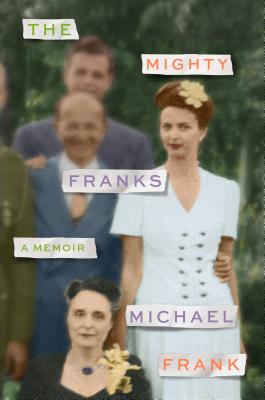 The Mighty Franks
A Memoir
Hardcover

* Individual store prices may vary.
Other Editions of This Title:
Digital Audiobook (5/15/2017)
Paperback (5/29/2018)
Description
WINNER OF THE 2018 JG-WINGATE PRIZE

A psychologically acute memoir about an unusual Hollywood family by Michael Frank, who "brings Proustian acuity and razor-sharp prose to family dramas as primal, and eccentrically insular, as they come" (The Atlantic)

"My feeling for Mike is something out of the ordi - nary," Michael Frank overhears his aunt telling his mother when he is a boy of eight. "It's stronger than I am. I cannot explain it . . . I love him beyond life itself." With this indelible bit of eavesdropping, we fall into the spellbinding world of The Mighty Franks.
The family is uncommonly close: Michael's childless Auntie Hankie and Uncle Irving, glamorous Hollywood screenwriters, are doubly related— Hankie is his father's sister, and Irving is his mother's brother. The two families live near each other in Laurel Canyon. In this strangely intertwined world, even the author's grandmothers—who dislike each other—share a nearby apartment.
Strangest of all is the way Auntie Hankie, with her extravagant personality, comes to bend the wider family to her will. Talented, mercurial, and lavish with her love, she divides Michael from his parents and his two younger brothers as she takes charge of his education, guiding him to the right books to read (Proust, not Zola), the right painters to admire (Matisse, not Pollock), the right architectural styles to embrace (period, not modern—or mo-derne, as she pronounces the word, with palpable disdain). She trains his mind and his eye—until that eye begins to see on its own. When this "son" Hankie longs for grows up and begins to turn away from her, her moods darken, and a series of shattering scenes compel Michael to reconstruct both himself and his family narrative as he tries to reconcile the woman he once adored with the troubled figure he discovers her to be.
In its portrayal of this fascinating, singularly polarizing figure, the boy in her thrall, and the man that boy becomes, The Mighty Franks will speak to any reader who has ever struggled to find an independent voice amid the turbulence of family life.
Praise For The Mighty Franks: A Memoir…
One of The Telegraph's 50 Best Books of 2017
"[A] probing and radiantly polished account . . . Move over, Royal Tenenbaums: Meet the Mighty Franks." —Peter Haldeman, The New York Times
"Frank brings Proustian acuity and razor-sharp prose to family dramas as primal, and eccentrically insular, as they come . . . Frank's eye and ear, his words and wit—the voice in these pages has such style. Better yet, the style is utterly his own." —Ann Hulbert, The Atlantic
"Frank is a master of self-reflection, under the bowl of blue sky and in those closeted canyons. He says nothing in an ordinary way; everything has a dreamlike smoothness, born out of his extended act of retrieval and the remembered violence of emotion and inconstancy . . . I doubt you'll read a better memoir this year. The Mighty Franks is full of humour and brittle irony. In Aunt Hankie, Frank has created a great new nonfictional character: an indelible wonder of dark depths and hypnotic high style." —Philip Hoare, The Guardian
"Beautifully written . . . A marvelous, clear-eyed memoir about [Frank's] eccentric family but especially about his glamorous but dangerously possessive Aunt Hank." —Moira Hodgson, The Wall Street Journal
"The Mighty Franks is a witty, moving account of Frank's dawning apprehension of his entranced state and his subsequent efforts to reclaim himself . . . In this narrative, however, [Aunt Hankie] emerges as a fully realized and unforgettable persona, simultaneously attractive and horrifying . . . [a] beautifully written and timely work." —Michael Saler, Times Literary Supplement
"There is a lastingly sane quality to [Frank's] riveting memoir that's reminiscent of To Kill A Mockingbird. . . Frank has conjured 'a plausible story out of implausible facts,' an extraordinary tale that unfolds on the border between abuse and enlightenment." —Gaby Wood, The Daily Telegraph (U.K.)
"Michael Frank, the acutely perceptive scribe behind The Mighty Franks,doesn't just place his dysfunctional extended family on the couch. He performs such an incisively intimate autopsy on his clan's psyche that the result comes close to being an exorcism, a perfectly balanced near-gothic blend of the fascinating and the horrifying." —Susan Wloszczyna, The Buffalo News
"A fascinating look at the inner-workings of a textbook example of a dysfunctional family." —John Paul, Spectrum Culture
"Truth is not just stranger than fiction, it's more interesting, too . . . More than a memoir, this is really a study of human pathology, a book that should be widely read for its insights into families and the process of growing up." —Library Journal (starred review)
"[A] satisfying memoir . . . [An] often moving portrait of a woman who seemed to be one person until she revealed herself to be someone else entirely, this is one of those memoirs that simultaneously fascinates as it makes us uncomfortable. Is this too personal? Should I be averting my eyes? Maybe, but I can't because I want to know what startling secrets will be revealed next." —Booklist
"[A] complex and fascinating memoir . . . In thoughtful, fluid prose, [Frank] evokes the magic and sophistication of a vanished Hollywood intelligentsia schooled in the language of cinema . . . the woman he describes is as iconic and memorable as the characters she created for the screen." —Publishers Weekly
"The Mighty Franks is a tremendously smart and beautiful portrait of one of the most interesting and memorable families I've encountered. Crackling with sorrow and wit, Michael Frank has written a gorgeous, moving and intensely compassionate memoir that will stay with me for a long, long time. An astonishing book." —Molly Antopol
"The Mighty Franks is very easy to love and very hard to put down. It is a terrific portrait of Los Angeles at a particular time for all of us who ever fantasized about growing up with pools, palm trees, and, yes, even the occasional star. Moving, wonderfully written, and marvelously written, it is filled with characters who love you, hug you, drive you crazy, and sometimes make you cry." —George Hodgman
"This is one complicated family. How do any of us survive our families? The how of The Mighty Franks is beautiful, tender, forgiving, funny, and fiercely honest. Michael Frank's book will certainly join the canon of classic memoirs. I adored it." —Maira Kalman
"Be careful when you start reading The Mighty Franks since you won't be able to stop. As finely drawn as it is acutely observed—painful, honest, evocative, spare—this portrait of an extraordinary family is a work of art." —Jean Strouse
"To paraphrase Tolstoy, interesting families are unhappy in mysterious ways, and in this subtle memoir full of hard-won wisdom, Michael Frank gives us an indelible portrait of his own. His imperious, beautiful, infuriating Aunt Hankie, in particular, is one of the great Difficult Women of contemporary literature." —Judith Thurman
Farrar, Straus and Giroux, 9780374210120, 320pp.
Publication Date: May 16, 2017
About the Author
Michael Frank is the author of The Mighty Franks, the winner of the 2018 Jewish Quarterly–Wingate Prize and a Barnes & Noble Discover Great New Writers selection. His essays, articles, and short stories have appeared in The New York Times, The Wall Street Journal, The Atlantic, Slate, The Yale Review, Salmagundi, and Tablet, among other publications. He lives with his family in New York City and Liguria, Italy.
or
Not Currently Available for Direct Purchase