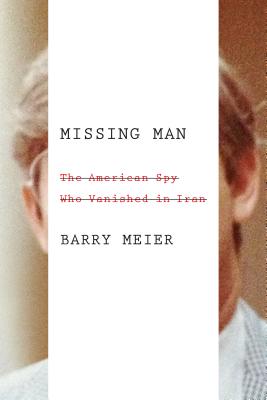 Missing Man
The American Spy Who Vanished in Iran
Hardcover

* Individual store prices may vary.
Other Editions of This Title:
Digital Audiobook (5/2/2016)
Paperback (2/20/2018)
CD-Audio (5/3/2016)
Compact Disc (5/3/2016)
MP3 CD (5/3/2016)
Description
In late 2013, Americans were shocked to learn that a former FBI agent turned private investigator who disappeared in Iran in 2007 was there on a mission for the CIA. The missing man, Robert Levinson, appeared in pictures dressed like a Guantánamo prisoner and pleaded in a video for help from the United States.
Barry Meier, an award-winning investigative reporter for The New York Times, draws on years of interviews and never-before-disclosed CIA files to weave together a riveting narrative of the ex-agent's journey to Iran and the hunt to rescue him. The result is an extraordinary tale about the shadowlands between crime, business, espionage, and the law, where secrets are currency and betrayal is commonplace. Its colorful cast includes CIA operatives, Russian oligarchs, arms dealers, White House officials, gangsters, private eyes, FBI agents, journalists, and a fugitive American terrorist and assassin.
Missing Man is a fast-paced story that moves through exotic locales and is set against the backdrop of the twilight war between the United States and Iran, one in which hostages are used as political pawns. Filled with stunning revelations, it chronicles a family's ongoing search for answers and one man's desperate struggle to keep his hand in the game.
Praise For Missing Man: The American Spy Who Vanished in Iran…
A Time Magazine Best Book of 2016
"Constructed as a nonfiction thriller, Missing Man is at its core a tragedy, Death of a Salesman in the Persian Gulf." —Karl Vick, Time
"Meier's fascinating cat-and-mouse tale about government cover-ups, bungled investigations and the Levinson family's anguished pursuit of the truth is straight out of a Homeland episode." —People
"Barry Meier's Missing Man is an artful piece of investigative reporting . . . Meier has finely choreographed Bob Levinson's story, and brought it into the light from the shadow world where most US governmental agencies seem to have wish it had stayed. Meier's style is brio and dash, always with a trail of crumbs, while handfuls of grit and episodes of hateful behavior are thrown in for texture." —Peter Lewis, The Christian Science Monitor
"Intrigue abounds in Missing Man . . . It exposes the storied workings of global spycraft . . . Fascinating." —Jeff Sharlett, Bookforum
"The tale of Robert Levinson . . . underscores the dangers of the multi-headed bureaucratic monster called the CIA." —Valerie Plame, The Washington Post
"Important and troubling . . . Judging by Meier's account, if there ever was a case for blowing up the CIA and starting over, the Levinson affair is it." —Jeff Stein, Newsweek
"The CIA's side of this story remains classified. But Barry Meier's book, Missing Man, provides more than enough information to make sense of Mr. Levinson's tragic trip to Kish." —Reuel Marc Gerecht, The Wall Street Journal
"Gripping . . . Meier presents a moving account of Levinson's family, who struggle to come to terms with his still unresolved fate and are desperately trying to get the U.S. government to help find him, while shining a much-needed light on the murky world of private intelligence contractors." —Publishers Weekly
"In this comprehensive and sometimes chilling report on the circumstances surrounding Levinson's disappearance and subsequent efforts to find him, New York Times reporter and Pulitzer finalist Meier turns Levinson's story into a case study on the complicated and politically messy nature of modern-day espionage . . . A sharply written, if often unsettling, exposé of the contemporary intelligence world." —Booklist
"A chilling real-world espionage yarn."
—Kirkus Reviews
"With the pace and tension of a classic thriller and the keen eye of a seasoned journalist, Barry Meier gives us a true story of the human beings behind the headlines of Middle Eastern turmoil. A great, highly recommended read."
—James Grady, author of Six Days of the Condor
"Fortunately this book is listed as non-fiction, otherwise I would not have believed the story it tells. Kafka could not have invented a more bizarre landscape than this one. Cat and mouse, reality and fantasy, Iran and the United States—all are mixed into a devil's brew of espionage, wild exploits, triple-crosses and still-unsolved mysteries. " —Stephen Kinzer, author of All the Shah's Men: An American Coup and the Roots of Middle East Terror
Farrar, Straus and Giroux, 9780374210458, 288pp.
Publication Date: May 3, 2016
About the Author
Barry Meier is a reporter for The New York Times, where he was part of a team that was awarded the 2017 Pulitzer Prize for International Reporting. A two-time winner of the George Polk Award, he is also the author of Pain Killer and A World of Hurt.
Coverage from NPR
or
Not Currently Available for Direct Purchase