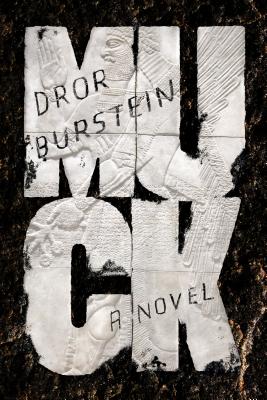 Muck
A Novel
Hardcover

* Individual store prices may vary.
Other Editions of This Title:
Digital Audiobook (12/30/2018)
Paperback (11/19/2019)
MP3 CD (1/22/2019)
Compact Disc (1/22/2019)
Description
"Those who lament that the novel has lost its prophecy should pay heed and cover-price: Muck is the future, both of Jerusalem and of literature. God is showing some rare good taste, by choosing to speak to us through Dror Burstein." —Joshua Cohen, author of Moving Kings and Book of Numbers

In a Jerusalem both ancient and modern, where the First Temple squats over the populace like a Trump casino, where the streets are literally crawling with prophets and heathen helicopters buzz over Old Testament sovereigns, two young poets are about to have their lives turned upside down.

Struggling Jeremiah is worried that he might be wasting his time trying to be a writer; the great critic Broch just beat him over the head with his own computer keyboard. Mattaniah, on the other hand, is a real up-and-comer—but he has a secret he wouldn't want anyone in the literary world to know: his late father was king of Judah.

Jeremiah begins to despair, and in that despair has a vision: that Jerusalem is doomed, and that Mattaniah will not only be forced to ascend to the throne but will thereafter witness his people slaughtered and exiled. But what does it mean to tell a friend and rival that his future is bleak? What sort of grudges and biases turn true vision into false prophecy? Can the very act of speaking a prediction aloud make it come true? And, if so, does that make you a seer, or just a schmuck?

Dramatizing the eternal dispute between poetry and power, between faith and practicality, between haves and have-nots, Dror Burstein's Muck is a brilliant and subversive modern-dress retelling of the book of Jeremiah: a comedy with apocalyptic stakes by a star of Israeli fiction.
Praise For Muck: A Novel…
"Muck features talking dogs, angelic interventions, and (most importantly) the largest bowl of hummus in the world—hardly what we might expect from a book purporting to retell the Book of Jeremiah. But this epic social novel, because it is and is not set in present-day Jerusalem, is and is not a political novel, maintains a balancing act. By retrofitting the Biblical source text to a worldly rendition of the Middle East in crisis, it manages to contain its surrealism and focus its absurdity to strikingly sober ends . . . Burstein has a charmingly light touch that manages to convey both urgency and a fatalist's taste for the absurd." —J. W. McCormack, Longreads

"Burstein's fictional Jerusalem is mired in filth, corruption and crises of muddy intractability. One of the most brilliant of today's Israeli authors, Burstein allows his language to slip with ease between the biblical and the contemporary . . . A tour de force . . . Muck treats readers to nothing less than postmodern prophecy." —Adam Rovner, The Forward

"[Muck is] the story of the Book of Jeremiah by way of Atlantic City; it's a tale of cosmic conflict and very small-scale, very human thwarted ambitions—and it's often bitingly funny." —Steve Donoghue, Open Letters Review

"In Muck . . . Burstein brilliantly and movingly superimposes [the prophet] Jeremiah's poetic imprecations against the Israel of his time and the strange trajectory of his career, as described in the biblical book named after him, on Israel's present-day travails. It could easily fall flat, but in Burstein's hands it is both hilarious and appalling." —Gabriel Josipovici, The New Statesman

"Israeli writer Dror Burstein's novel Muck turns all the way back to the Babylonian conquest of Judah, updating the scriptural story of Jeremiah . . . An absurdist blending of ancient and contemporary details . . . in the kvetching style of Joseph Heller." —Sam Sacks, The Wall Street Journal

"Influenced by such masterworks as Philip Roth's scabrous Sabbath's Theater, Joseph Heller's satirical Catch-22, and the modernist works of Thomas Pynchon, [Muck] is alternately hilarious (dig those talking dogs) and gripping in its treatment of the power of words. Ultimately, Burstein delivers page-turning suspense that gains resonance through its relevance to contemporary Israel . . . a dazzling and dizzying triumph." —Kirkus Reviews, starred review

"A surreal and searing story." —Vol. 1 Brooklyn

"Burstein manages to wrest Pynchonian satire from biblical eschatology, and his narrative is frequently funny . . . The prevailing sentiment, as Jeremiah's warnings go unheeded by his fellow light-rail commuters, is an all-too-familiar sense of anxiety about an uncertain future." —Brendan Driscoll, Booklist

"Gritty realism intermixes with historical allusion, allowing [Muck] to function on several levels. The transmogrification of ancient events into a modern context creates a gripping world of hyperrealistic abandon." —Henry Bankhead, Library Journal
Farrar, Straus and Giroux, 9780374215835, 416pp.
Publication Date: November 13, 2018
About the Author
Dror Burstein was born in 1970 in Netanya, Israel, and lives in Tel Aviv. A novelist, poet, and translator, he is the author of several books, including the novels Kin and Netanya. He has been awarded the Jerusalem Prize for Literature; the Ministry of Science and Culture Prize for Poetry; the Bernstein Prize for his debut novel, Avner Brenner; the Prime Minister's Prize; and the Goldberg Prize for his 2014 novel, Sun's Sister.
or
Not Currently Available for Direct Purchase