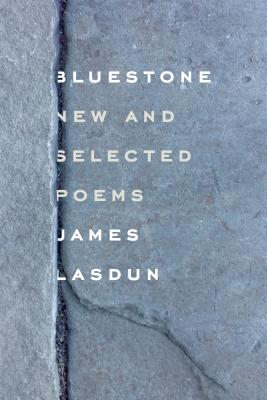 Bluestone
New and Selected Poems
Hardcover

* Individual store prices may vary.
Other Editions of This Title:
Paperback (5/5/2015)
Description
A generous selection that shows the poet James Lasdun at his lyrically inventive best

Two men grapple with jumper cables, trying "to make a stand // in this last corner of our realm; machinery . . ." A man on his way to see his therapist encounters a female police officer in an elevator and feels himself regressing to "the original essence, the masculine / criminal salt." A teenager is tricked into eating a spoonful of lime pickle by his girlfriend's father. An Englishman in the Catskills ponders the nature of exile, is chased by yellow jackets, gets a haircut. James Lasdun's subjects are often quotidian—but his treatment of them never is. Under his transformative gaze, the familiar becomes strange, the local becomes foreign, and the minor becomes epic.
Lasdun has been winning acclaim since his first collection, 1988's A Jump Start—Helen Vendler has lauded his ability to give "brisk shape to contemporary and classical events"; The New York Times has praised the "sharp, slicing imagery" of his work. Now, in Bluestone, which selects from all three of his previous collections and includes poems from his fourth, Water Sessions, previously available only in the U.K., readers will be able to appreciate the full sweep of this capacious talent: his delicate wit, his gift for invention, his keen observational eye. It is a gathering that affirms Lasdun's position as, to quote Anthony Hecht, one of "the most gifted, vivid, and deft poets now writing in English."
Praise For Bluestone: New and Selected Poems…
"James Lasdun's Bluestone spans a writing life and yet is all of a piece. Unsettling, always keen and honest, these are poems unafraid to show 'a certain chilliness in regard to the purely creaturely.' The mind here is undeterred in its ambition to 'reconcile, forgive, repent' and, yes, glimpse the only certain eternity that stretches only backwards and is found in one's garden. The pleasures also build and stretch: high music, satire, hilarity, and the storyteller's mesmerizing, unrelenting instinct to reveal our 'betrayals, infidelities, / coercions, seductions, lies' in a brazen tour of the 'Museum of the American Present.' Essential poems designed to last, a personal, recalcitrant re-imagined Stonehenge." —Philip Schultz
"Clive James' contention that a firm grasp of form is essential to a poet is resoundingly verified by James Lasdun. In the transplanted (to the U.S.) Englishman's work, sonnet, rime royal, quatrain, and others are so ingrained as to be resonant pentimenti infusing his own particular forms . . . Yet it's quite possible to read Lasdun without noticing his technical excellence, especially when seized by a poem's subject, as it's usually impossible not to be." —Ray Olson, Booklist (starred review)
"How does he do it? The textures of James Lasdun's poems are heady with astonishing details and exhilarating language, yet at the core of each is a steel rod of precision and moral depth. The new poems in Bluestone are more rueful, but the melancholy glistens with wisdom. Losing and loss, age and regret--all, in this master's hands, emit a redemptive light. Here is that rare book--essential on every shelf, in every soul." —J. D. McClatchy
"James Lasdun is one of the finest poets writing in English today. His work--at once clarifying, astringent, and sensual--performs the extraordinary feat of mapping the internal life and the external world so that we see, should we have forgotten since Frost, that those borders of sense and sensibility are permeable, and where poetry of this high order, reverberates with 'the need to carve out a niche for ourselves / our singular relation to what we love.' In 'A Peeled Wand,' from the last incandescent section of this volume, the sky over a lake is 'laid out like a jewelers tray / with a sun and opal moon' and the beaver, swimming away, 'fanning a fishtail wake,' leaves a peeled wand in the poet's hands. Lasdun is a diviner--the clear voice of language awakes under his pen." —Cynthia Zarin
"Water Sessions is a collection of fine psychological acuity and astringent beauty." —Adam Newey The Guardian on Water Sessions
"'The Skaters,' a sweeping tale of punctured naivety in the face of life's vicissitudes, is alone worth the price of entry. 'It Isn't Me' will doubtless illicit a pang of recognition from many readers; 'Blues for Samson,' a candid but measured take on the capricious male libido, also deserves mention. In their reflective patter, formal dexterity, serio-comic tones and depth of feeling, these are the stand-out poems in an excellent book." —Ben Wilkinson, Times Literary Supplement on Water Sessions
"Subtle and thoughtful." —Fiona Sampson, The Independent on Water Sessions
"James Lasdun more than more than justified the decade-long wait for his fourth collection with the darkly witty Water Sessions." —The Guardian, Best Poetry 2012 on Water Sessions
"Sharp, slicing imagery gives Lasdun's poetry its deep notch of truth." —Ken Tucker, The New York Times on Landscape with Chainsaw
"An extraordinary deconstruction and reconstruction of landscapes, both natural and interior . . . Lasdun's clear-cutting takes in everything from Celan to Arthurian legend, laying bare the complexities of the poet's own background . . . of being forever a colonist or refugee, never a native." —The New Yorker on Landscape with Chainsaw
"Landscape with Chainsaw was one of the finest books of last year, both funny and incisive in its examination of the male psyche, the condition of the social and cultural outsider and the constant play of negotiation between human social existence and nature." —John Burnside, The Scotsman on Landscape with Chainsaw
"Deeply literary but cool as well . . . Urbane excursions in pastoral, these verses will ensure there are laurels on Lasdun's brow for many years." —Giles Foden, The Guardian on Landscape with Chainsaw
"Intellectual seriousness . . . sensuous love of words . . . cool unstitching of place . . . [Lasdun] is among the strongest young poets in America." —William Logan, New Criterion on Landscape with Chainsaw
"Brilliant. [Lasdun] seems to me certainly among the most gifted, vivid, and deft poets now writing in English, and far better than many who are more famous. His capacities are solidly established; his promise is nearly infinite." —Anthony Hecht on Woman Police Officer in Elevator
"As a field of concern for poetry, superabundance enables Lasdun to display his lavish poetic gifts." —David Herd, Times Literary Supplement on Woman Police Officer in Elevator
"American readers who want to see rejuvenated form in untroubled action, giving brisk shape to contemporary and classical events, will find it in Lasdun." —Helen Vendler, New York Review of Books on Woman Police Officer in Elevator
"An expatriate everywhere, James Lasdun views the world with a keen and wondering eye. His beautifully wrought poems are imbued with the power of the uncanny: the familiar made fresh. Rich with revenants and volatile histories, leavened by wit, their sublime understanding transforms the facts and artifacts of contemporary culture." —Alice Fulton on Woman Police Officer in Elevator
"James Lasdun's A Jump Start is a gratifyingly ambitious collection, shimmering with a quick intelligence . . . with the extra bonus of a restlessly inventive mind." —Terry Eagleton, The Literary Review on A Jump Start
"I'm filled with admiration, delight, and gratitude at discovering James Lasdun's poems in A Jump Start. He has wit, speed, intelligence, a keen eye, precision, and imagination of a high order." —Anthony Hecht on A Jump Start
"James Lasdun's A Jump Start is cosmopolitan, urbane, powerful and metrically elegant. His themes are varied--mortality, sexuality, satire--but all the verse is vigorous and well made, the imagery vivid, surprising and memorable. A muted, almost menacing violence often underlies the sensual." —Peter Reading, Evening Standard on A Jump Start
"A very gifted first book." —Washington Post on A Jump Start
"James Lasdun's extremely accomplished debut volume of poetry astonishes with its range of tone . . . Though A Jump Start is Lasdun's first book, he is a poet already mature in his art." —Hudson Review on A Jump Start
"Glittering brilliance . . . rich visual imagery . . . cornucopian vision." —Times Literary Supplement on A Jump Start
"As brilliantly chiselled and metaphorically suggestive as anything in Brodsky or Hecht . . . If you've been waiting for that indisputably important new book of poetry, wait no longer." —Peter Forbes, The Listener on A Jump Start
Farrar, Straus and Giroux, 9780374220556, 176pp.
Publication Date: May 5, 2015
About the Author
James Lasdun was born in London and now lives in upstate New York. He has published novels, including The Horned Man, as well as several collections of short stories and poetry. He is the author of Give Me Everything You Have: On Being Stalked. He has been long-listed for the Man Booker Prize and short-listed for the Los Angeles Times, T. S. Eliot, and Forward prizes in poetry; and he was the winner of the inaugural U.K./BBC Short Story Prize. His nonfiction has been published in Harper's Magazine, Granta, and the London Review of Books.
or
Not Currently Available for Direct Purchase