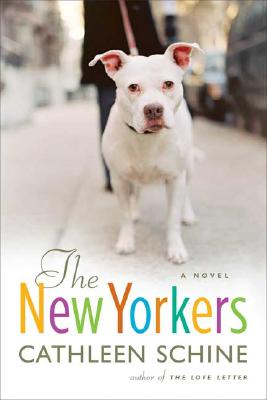 The New Yorkers (Hardcover)
Farrar, Straus and Giroux, 9780374221836, 304pp.
Publication Date: May 1, 2007
* Individual store prices may vary.
or
Not Currently Available for Direct Purchase
Description
An enchanting comedy of manners (with dogs!) from one of our most treasured writers Cathleen Schine's brilliantly funny new novel revolves around one city block in Manhattan, a quiet little block near Central Park kept humble by rent control. Living on a street like this in New York with a dog is like living in a tiny village, one that has a rhythm all its own. Dogs bring people together unexpectedly, people who would otherwise never meet. And the dogs act as cupids for the quiet, struggling, sometimes lonely, eccentric people, the old and the young, male and female; the people who live on the block, who are, in their ways, romantics, as all New Yorkers secretly tend to be. Walking her dog, Beatrice, Jody falls under the spell of Everett's bewitching smile. Everett begins to appreciate his postdivorce life only when he falls in love with Howdy, Polly's puppy. Polly lives with her brother, George, and wants him to fall in love. George isn't so much looking for a love life as for life direction, and Howdy leads him right to it. Doris hates the trash on her block, she hates the pee on her SUV's large tires, and, above all, she hates dogs. That is, until she gets one of her own. In The New Yorkers, as in life, canine companions compel their masters to go outside of themselves, to take part in the community they live in, to make friends, and, sometimes, to fall in love. And Schine returns to what she does best: crafting a compulsively readable, elegantly written novel that seduces in the way we were once seduced by The Love Letter, Schine's beloved classic.
Praise For The New Yorkers…
Newsday
"Cathleen Schine's latest novel is like a comfy chair in a sunny window: soft, warm, with a view of passing dogs, people, seasons. Curl up in it, and a whole afternoon can go by . . The New Yorkers is itself a love letter, its sweetness nicely salted with Schine's deft irony." Library Journal
"[Schine] captures human joys and sorrows, comedy and drama, beginnings and endings, as the dogs compel their owners to live outside of themselves. A joy for all readers." The Village Voice
"A swift-moving, gently poignant romantic comedy of manners. . . The breezy storytelling in The New Yorkers is deceptive: The novel offers more than a sweet story of puppy love. Schine strikes a rare, deeply personal, and very loving chord as she portrays the way these devoted pets elicit joy from the depressed (except once, when it's already too late) and humanity from the merciless, and inspire flirtations and encounters between the shy and monastic. Schine may have convinced this reader—a borderline-crazy cat lady who has never owned a dog—that these pets are as much New Yorkers as the people who walk them." "Cathleen Schine's new book is her best: a funny, varied, farcical roundelay of people and dogs on a New York block, which somehow manages both to draw a perfect, pointed, and unhysterical picture of New York romantic manners at fragile moment in their history, and to move, as it progresses, into a vein of authentic sweetness and sadness that seemed to have vanished from the American novel." —Adam Gopnik, author of Through the Children's Gate: A Home in New York "O. Henry said he wanted to be reincarnated enough times to live a lifetime on every block in Manhattan. The block that Cathleen Schine charmingly immortalizes in The New Yorkers would no doubt be high on his list, complete with all its dogs and their lucky owners." —Billy Collins, author of The Trouble with Poetry: And Other Poems

"The New Yorkers is so entrancing and droll and downright funny that it made me forget I do not like dogs. How vexatious!" —Patricia Marx, author of Him Her Him Again The End of Him Praise for The Love Letter:
"Rarely less than sublime . . . A sophisticated and witty valentine of a novel."—People

"Wonderfully inventive . . . Delightful . . . A perfect comedy."—The New York Times
Advertisement