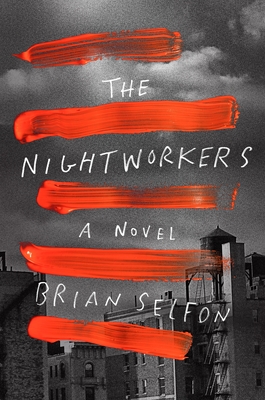 The Nightworkers
A Novel
Hardcover

* Individual store prices may vary.
Other Editions of This Title:
Paperback (10/5/2021)
Description
"Electric, surprising, and tightly plotted . . . A compelling writer to watch." —Adrienne Westenfeld, Esquire

"A gripping, big-hearted thriller . . . whip-smart and surprisingly funny." —Harlan Coben

The Nightworkers is an electrifying debut crime novel from Brian Selfon about a Brooklyn family of money launderers thrown into chaos when a runner ends up dead and a bag of dirty money goes missing.

Shecky Keenan's family is under fire—or at least it feels that way. Bank accounts have closed unexpectedly, a strange car has been parked near the house at odd hours, and Emil Scott, an enigmatic artist and the family's new runner, is missing—along with the $250,000 of dirty money he was carrying.

Shecky lives in old Brooklyn with his niece Kerasha and nephew Henry, and while his deepest desire is to keep his little makeshift family safe, that doesn't stop him from taking advantage of their talents. Shecky moves money for an array of unsavory clients, and Henry, volatile and violent but tenderhearted, is his bagman. Kerasha, the famed former child-thief of Bushwick, is still learning the family trade, but her quick mind and quicker fingers are already being put to use. They love one another, but trust is thin when secrets are the family trade. And someone will be coming for that missing money—soon.

Inspired by a career that has included corruption cases and wiretaps as an investigative analyst for New York law enforcement, Brian Selfon unspools a tale of crime and consequence through shifting perspectives across the streets, alleys, bodegas, and art studios of Brooklyn. The Nightworkers is an evocative blend of genres: a literary crime thriller with a mystery at the center of its big beating heart: What really happened to Emil Scott, and what can the future possibly hold for a family when crime is what keeps them together?
Praise For The Nightworkers: A Novel…
*A Best Book of Fall at Esquire*
*A Most Anticipated Book of 2020 at Lit Hub*
*A Most Anticipated Book of Fall at Crime Reads, Murder and Mayhem, Military.com, and Publishers Lunch*

"A dark slice of Brooklyn noir with a family drama at its core . . . It takes a lot to make a NYC noir feel fresh, and this one does . . . Selfon's understanding of how psychogeography shapes criminals is what drives the development of those characters—and the characters are what turn The Nightworkers into a great novel . . . The arrival of a promising voice."
—Gabino Iglesias, NPR

"Hypnotic . . . unearths not just the gritty mechanics of organized crime but the collateral damage it inflicts on perpetrators and victims alike, damage that outlasts the acts for as long as a lifetime . . . Selfon elegantly and eloquently unspools the entire chain of cause and effect . . . Selfon's ability to give each character his or her own perspective, desires and demons makes The Nightworkers a resonant work of fiction, one that rises above its crimes to tell bigger truths about family, love and hope."
—Paula L. Woods, Los Angeles Times

"Consider this a working-class version of one little pocket of The Godfather . . . Like the strongest authors in this genre, Selfon bares the effects of death on each of us. His dialogue is compelling, his plot actions and his images of Brooklyn's underworld unforgettable . . . A few chapters in, there's no chance of putting down this book until the highly satisfying yet unexpected finale."
—Beth Kanell, New York Journal of Books

"Electric, surprising, and tightly plotted, The Nightworkers establishes Selfon as a compelling writer to watch."
—Adrienne Westenfeld, Esquire

"Absolutely brilliant . . . Each character is complex and beautifully drawn, and the ending was genuinely surprising. There's art, theft, tight family bonds, and intricate plotting—it's really got everything."
—Molly Odintz, CrimeReads

"A gripping, big-hearted thriller about a family of criminals coming apart at the seams. Whip-smart and surprisingly funny, The Nightworkers is a terrific debut about loyalty and the ties that bind."
—Harlan Coben, author of The Boy from the Woods

"Selfon's experiences as an investigative analyst for the Brooklyn District Attorney's office bring a realistic element to [The Nightworkers], weaving truth and fantasy seamlessly to create an exciting look into the city's seedy, treacherous back alley world of drugs, money laundering, and murder."
—Carmen Clark, Library Journal

"Brian Selfon steps firmly into the new genre known as Brooklyn Noir and the result is a twisty crime thriller that will hit home . . . Fans of the crime thriller genre will particularly enjoy the time Selfon has taken to focus on what he knows while creating very believable characters that you will instantly care about."
—Ray Palen, Criminal Element

"Selfon clearly knows his way around a criminal conspiracy."
—Andrew Ervin, The New York Times Book Review

"One of the best novels of the year thus far . . . Remarkable from beginning to end."
—Joe Haurtlaub, Bookreporter

"This debut is artful in many ways—the suspense, the characters, the sense of place. Remarkably accomplished and fun, too."
—Melanie Fleishman, Center for Fiction Newsletter

"Selfon's ambitious, character-driven debut tells the interconnected stories of 'a perfectly wonderful, perfectly Brooklyn family of misfits' . . . Selfon fully fleshes out the major characters' backstories, dreams, and disappointments, and even the minor characters get their moment in the sun. Superior prose is a plus. Fans of literary crime fiction will be enthralled."
—Publishers Weekly (starred review)

"Page-turning Brooklyn noir meets compellingly complex family drama in Brian Selfon's atmospheric, edgy, and thoroughly modern The Nightworkers. You'll enjoy every unexpected page."
—Kimberly McCreight, New York Times-bestselling author of Reconstructing Amelia and A Good Marriage

"A seasoned legal investigator, Selfon has firsthand knowledge of laundering schemes and the people who devise them. More importantly, he is attuned to questions of identity and belonging . . . the poetry-loving, sharply reflective Kerasha alone makes [The Nightworkers] worth reading. She deserves a sequel all her own. A sharp, surprisingly affecting debut."
—Kirkus

"The Nightworkers grabbed me from page one, and led me breathlessly through what I think might be one of the best Brooklyn-set novels I've ever read—because it understands how the people and the place are inextricably linked. An absolutely stunning debut."
—Rob Hart, author of The Warehouse and the Ash McKenna series

"You'll love the twists and turns this journey takes."
—Rebecca Alwine, Military.com

"The Nightworkers is a propulsive thriller that takes you by the throat and doesn't let go. Brian Selfon's riveting story about a Brooklyn money-laundering family shimmers with razor-sharp dialogue and nonstop suspense. Electric and gritty, this stunning debut is not to be missed."
—E. G. Scott, author of In Case of Emergency

"A highly intricate and complex tale of drugs and dirty money . . . I can't help but get Ozark vibes from this book."
—Michael J. Seidlinger, Murder and Mayhem

"The murder of a promising young painter lights the fuse for Brian Selfon's deep dive into the wicked stain left by addiction, crime as just another business, and the way families can fall apart and then be partially patched back together in the most heartbreaking of ways."
—Jenny Milchman, USA Today-bestselling author of Cover of Snow and The Second Mother
MCD, 9780374222017, 320pp.
Publication Date: October 6, 2020
About the Author
Brian Selfon has worked in criminal justice for nearly twenty years, more than fifteen of them with law enforcement agencies in New York. As the Chief Investigative Analyst for the Brooklyn District Attorney's Office, he handled cases ranging from money laundering to first-degree murder. Brian now lives with his family in Seattle, where he works as a public defense investigator. The Nightworkers is his debut novel.