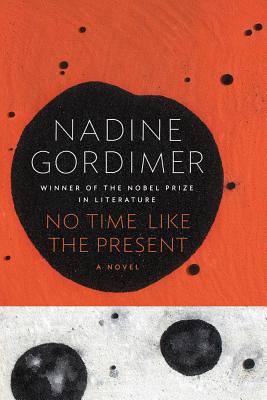 No Time Like the Present (Hardcover)
Farrar, Straus and Giroux, 9780374222642, 432pp.
Publication Date: March 27, 2012
* Individual store prices may vary.
or
Not Currently Available for Direct Purchase
Description
A sharply observed new novel about post-apartheid South Africa from the Nobel Prize winner
Nadine Gordimer is one of our most telling contemporary writers. With each new work, she attacks--with a clear-eyed fierceness, a lack of sentimentality, and a deep understanding of the darkest depths of the human soul--her eternal themes: the inextricable link between personal and communal history; the inescapable moral ambiguities of daily life; the political and racial tensions that persist in her homeland, South Africa. And in each new work is fresh evidence of her literary genius: in the sharpness of her psychological insights, the stark beauty of her language, the complexity of her characters, and the difficult choices with which they are faced.
In No Time Like the Present, Gordimer trains her keen eye on Steve and Jabulile, an interracial couple living in a newly, tentatively, free South Africa. They have a daughter, Sindiswa; they move to the suburbs; Steve becomes a lecturer at a university; Jabulile trains to become a lawyer; there is another child, a boy this time. There is nothing so extraordinary about their lives, and yet, in telling their story and the stories of their friends and families, Gordimer manages to capture the tortured, fragmented essence of a nation struggling to define itself post-apartheid.
The subject is contemporary, but Gordimer's treatment is, as ever, timeless. In No Time Like the Present, she shows herself once again a master novelist, at the height of her prodigious powers.
About the Author
Nadine Gordimer, who was awarded the Nobel Prize in Literature in 1991, is the author of fourteen novels, more than ten volumes of stories, and three nonfiction collections. She lives in Johannesburg, South Africa.
Praise For No Time Like the Present…
Praise for Nadine Gordimer: "On nearly every page there's evidence of Gordimer's intellectual rigor, as well as the upright discipline all serious writers possess." —Stephanie Zacharek, Los Angeles Times Praise for No Time Like the Present: A perfect example of what literature can give us that history books cannot. As always, Gordimer excels at pulling back for a panoramic vista of a time and place, then narrowing her focus to remind us of the highly specific ways that politics shape the private lives of unique individuals, people not unlike ourselves. Only a novelist with Gordimer's gifts can offer so much information, at such depth, about the cataclysmic battles and the rough transition to peace that she and her characters have witnessed, a war she survived to report on to us, her grateful readers." —Francine Prose, The New York Times Book Review
"With the title of this novel . . . Nobel Laureate Nadine Gordimer once again shows her preternatural capacity to take a slangy catchphrase and make it right to the point. And one that is absolutely appropriate to her novel's milieu and, beyond that, to its subject matter in general. To read No Time Like the Present is to plunge into the caldron that is South Africa today, a chaotic now which cannot avoid the dark shadow of a heavy past . . . Gordimer is a dedicated cicerone for the outsider wishing to explore, ready to show off every cultural nuance, hurtle through every social or political crosscurrent . . . Although she is 88, Gordimer has all the enthusiasm of youth as she celebrates what she sees all around her. Her approach is kaleidoscopic, staccato, sweeping here and there, from urban to rural, reveling in South Africa's newfound rainbow character . . . but she is alive also to the problems that threaten its stability and its continuing evolution . . . [No Time Like the Present]'s denouement is stunning in its abruptness but more powerful precisely for that reason." —Martin Rubin, Los Angeles Times
"What is more emblematic of South Africa's liberation from apartheid than a marriage between a white man and a black woman? Following milestone collections of her short stories (Life Times, 2010) and essays (Telling Times, 2010), Nobel laureate Gordimer continues her uniquely intimate study of the evolution of freedom in her homeland in her fifteenth novel, a delving work of acrobatic stream-of-consciousness . . . In this intensely reflective novel of conscience, Gordimer dramatizes with acute specificity, wit, and sympathy the mix of guilt and conviction her freedom-fighter characters experience as they admit, 'The Struggle is not over' . . . The subject of this towering novel, the long aftermath of a liberation movement, is exceedingly timely in the wake of the Arab spring." —Donna Seaman, Booklist (starred review)
"In many ways Steve and Jabulile seem to have bridged the difficult gap from pre- to post-Apartheid life. They move to a suburb, have two children—a girl, Sindi, and a boy, Gary Elias—and seem to be living the new dream. Steve, a chemical engineer, finds a teaching position at a local university, and Jabu moves from her position as a teacher at a Catholic school to the study of law. Her native language is isiZulu, and Steve decides he wants to learn the language when Sindi is young so he can be drawn even closer to his daughter. But ripples begin to develop in their seemingly placid life, for politics in the era after Mandela is scarcely Edenic. Jacob Zuma is running for president, and he brings with him the political liability of suspicion of corruption by having enriched himself in questionable arms deals. Women are routinely raped, and Jabu is sometimes called in to help in their defense. (She finds out to her horror that one in four South African men have confessed to rape.) On the personal front, Steve attends a conference in London and has a brief but intense fling, thereby violating what had been an unshakable bond with Jabu. With the growing unrest becoming an almost daily part of their lives, Steve begins to look at the prospect of their emigrating to Australia—though he neglects to tell Jabu that he's even considering this possibility. Against this political and personal turmoil, Jabu has centering conversations with her father, a minister with a long memory of time and history." —Kirkus
"Gordimer burrows into the common mind of their marriage, as if to examine how a relationship that weathered the dangers of revolution will stand up to the challenges of freedom . . . In the principled world of Gordimer's former revolutionaries, a new life elsewhere is both a promise and the biggest infidelity." —The New Yorker
"[Gordimer's prose] combines interior monologue, which looks back to Joyce and Woolf, with what you would call exterior monologue, delivered by an impersonal social observer in possession of a political precision that brings Orwell to mind . . . Gordimer has the tools to capture a society atomizing into chaos . . . Under its serene prose, No Time Like the Present is burning." —Craig Seligman, Businessweek
"No Time Like the Present is not so much a novel about 'selling out' as it is about sanely navigating around the pitfalls of normalcy; about remaining committed without fossilizing into a zealot. And, as this novel, underscores, there's still plenty of reform needed in South Africa before anyone can fully relax into self-righteousness. Gordimer weaves in topical commentary here about the ongoing AIDS epidemic, the refugee problem and the country's sky-high crime rate . . . Like Steve and Jabu and their friends, Gordimer herself refuses to kick back in the La-Z-Boy and let up on the intensity of her social vision and language. So many quick passages in No Time Like the Present convey the jolt of authenticity . . . Most novels these days don't look further than their front yards for their subject matter, or sometimes just the bottom of the protagonist's shot glass; Gordimer, however, like her great Eastern European contemporary Milan Kundera, sees history, power and a gnawing desire for something secular, yet entwined in every mundane gesture. The personal remains political even when the great political fight has been won." —Maureen Corrigan, NPR
"Gordimer brings . . .  characters to life with her terse, unsentimental prose. Her writing can be poetic . . . It can also express profundity . . . Gordimer addresses many subjects, from the chemical compounds for making bombs to the circumcision practices of various groups. She paints a plethora of characters with a detailed brush. And she follows the dictum of one of her characters, that poetry is 'the revolution against all limits of the ordinary' . . . Readers . . . will be rewarded with a better grasp not only of South Africa but of the complexities of the human condition, which dances between striving for its dreams of justice and falling on its face in frustration." —Gordon Hauser, The Wichita Eagle
"[Gordimer's] life is woven into South Africa's—the landscape, the people, the politics—in ways we rarely see anymore . . . No Time Like the Present expresses many things—pride, yes, in her country, but a great deal of disappointment, too . . . as Gordimer writes in one of her signature sentences, packed with portent and meaning: 'Decisions always divide into practice' . . . No Time Like the Present is Gordimer's best novel since her first, The Lying Days, written in 1953. Old age brings wisdom, but not necessarily softening. If anything, she has whittled her expectations to a spear point, and now we must all live up to them." —Susan Salter Reynolds, Newsday
"At 88, Gordimer is as vital, lacerating and unbowed as ever. We feel breathless trying to keep up with her, but here, as elsewhere, it's well worth the effort." —Emily Donaldson, The Toronto Star
"Gordimer has a love for that beautiful and conflicted country that prevails despite its many flaws and contradictions. And she doesn't fail us in her newest novel, set in post-apartheid South Africa and centred on a mixed race couple . . . There is a chilling lack of passion in her words but this in turn highlights the harshness of the choices her characters have to make . . . No Time Like the Present will break . . . hearts." —Anne Katz, The Winnipeg Free Press
"Gordimer's interrogation of guilt, disillusionment, society, and politics through the story of a mixed-race couple living in post-apartheid South Africa results in a superb treatise that refuses to settle into any polarity of opinions. If the novel reaches any conclusion, it is that nothing is as 'simple as the black letters on this white page'—everything, in fact, is grey. Gordimer's novel remains faithful to her project of relentless political engagement, critique, and challenge, a project that has always been at the core of her literary career." —Dominic Davies, Oxonian Review
"Now, at age 88 . . . Gordimer is still serving as unflinching witness to post-apartheid South Africa. The result is a novel that shows South Africa's rough and tenuous transition to democracy, with economic status and class now supplanting race as a source of instability and violence . . . By the end of the novel, the new South Africa has taken on a complicated shape. With her hard look at South Africa, Gordimer has made it clear there are no easy answers." —Nina Schuyler, The Rumpus
"No Time Like the Present shows no diminishment in [Gordimer's] even-handed attention to narrative and justice . . . [A] complex, probing novel . . . The political aspects of Gordimer's fiction are prismatic: Her multilayered stories are sensuously vivid yet also reveal hidden properties. Even career choice is a luxury for her social activists . . . Nadine Gordimer continues to write some of the—if not the—most nuanced, attentive and vibrant political novels in English." —Darryl Whetter, The Globe and Mail
"Every once in a while, you begin to read a book and suddenly realize you are experiencing greatness. This is such a book. In a way, it should come as no surprise. Nadine Gordimer is, arguably, South Africa's greatest living novelist . . . the meaning and the people spring to life on every page, and we know them as living, breathing human beings with real problems . . . No Time Like the Present is the author's 15th novel. It goes up on a long shelf: 11 short-story collections and seven books of essays. Born in 1923, she wrote her first book in 1949. May she never stop." —John Greenya, The Washington Times
Advertisement