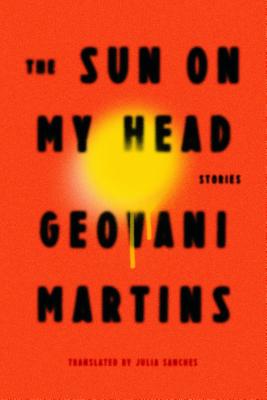 The Sun on My Head
Stories
Hardcover

* Individual store prices may vary.
Other Editions of This Title:
Paperback (8/18/2020)
Description
A bestselling literary sensation in Brazil, a powerful debut short-story collection about favela life in Rio de Janeiro

In The Sun on My Head, Geovani Martins recounts the experiences of boys growing up in the favelas of Rio de Janeiro in the early years of the twenty-first century. Drawing on his childhood and adolescence, Martins uses the rhythms and slang of his neighborhood dialect to capture the texture of life in the slums, where every day is shadowed by a ubiquitous drug culture, the constant threat of the police, and the confines of poverty, violence, and racial oppression. And yet these are also stories of friendship, romance, and momentary relief, as in "Rolézim," where a group of teenagers head to the beach. Other stories, all uncompromising in their realism and yet diverse in narrative form, explore the changes that occur when militarized police occupy the favelas in the lead-up to the World Cup, the cycles of violence in the narcotics trade, and the feelings of invisibility that define the realities of so many in Rio's underclass.

The Sun on My Head is a work of great talent and sensitivity, a daring evocation of life in the favelas by a rising star rooted in the community he portrays.
Praise For The Sun on My Head: Stories…
A Financial Times Best Book of the Year

"Martins's stories evoke the languor and adrenaline of 13 lives . . . He cultivates a sense of place in the slums beyond their oft-chronicled violence and danger . . . These stories conjure the accumulation of experience that molds the young men, charting their synthesis of resignation and defiance." —Antonia Hitchens, The New York Times Book Review

"[Martins] walks a difficult tightrope with consummate skill: it renders the everyday brutality of favela life with urgency and sensitivity, without ever lapsing into exploitative voyeurism or fetishistic sentimentalism . . . By flitting between domestic and public settings—between familial tenderness and arbitrary violence—Martins subtly foregrounds his protagonists' loss of innocence, showing just how easily entire lives can go awry." —Houman Barekat, The Guardian

"With slang-laden, boldly voiced prose that grounds readers in a unique place, Martins transports readers to the streets and beaches of Rio. In much the way that Edward P. Jones' writing breathes life into the Washington D.C. that lies beyond Pennsylvania Avenue, Martins' stories animate and humanize the people of a city whose humanity is often obscured by its own reputation." —Jason Hess, Booklist

"A love letter not only to Rio de Janeiro and all its ineluctable terrors but an aching appeal to be set free from its grasp . . . Restless, haunting . . . In thirteen phenomenal parables, Martins reminds us not all men are born with a seed of wickedness where a heart should be. That those men were boys first, wistful boys cursed from birth with a life sentence." —Paris Close, Paperback Paris

"Young men contend with the violence and corruption of Rio de Janerio in this tantalizing debut . . . This is a promising work from an intriguing new voice." —Publishers Weekly

"A clutch of stories exploring the perilous and complex inner lives of residents of Rio's favelas. This taut debut collection is mostly populated by young men who've been quickly hardened by the druggy, violent milieu of Brazil's slums, where "sorry's a feeling you get and lose quick," as one narrator puts it . . . Martins' sketches are remarkably powerful . . . A tough-and-tender study of street life." —Kirkus Reviews
Farrar, Straus and Giroux, 9780374223779, 128pp.
Publication Date: June 11, 2019
About the Author
Geovani Martins was born in 1991 in Rio de Janeiro, Brazil. He grew up with his mother in the Rio neighbourhood of Vidigal. He supported his writing by working as a sandwich-board man and selling drinks on the beach, and was discovered during creative writing workshops at Flup, the literary festival of the Rio favelas. The Sun on My Head is his first book.
or
Not Currently Available for Direct Purchase