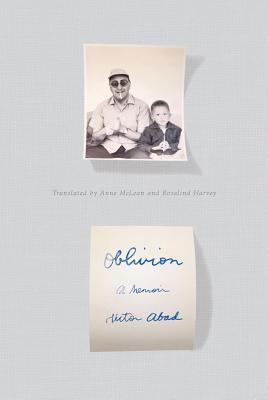 Oblivion (Hardcover)
A Memoir
Farrar Straus Giroux, 9780374223977, 272pp.
Publication Date: April 24, 2012
Other Editions of This Title:
Paperback (5/14/2013)
* Individual store prices may vary.
Description
Oblivion is a heartbreaking, exquisitely written memorial to the author's father, Hector Abad Gomez, whose criticism of the Colombian regime led to his murder by paramilitaries in 1987. Twenty years in the writing, it paints an unforgettable picture of a man who followed his conscience and paid for it with his life during one of the darkest periods in Latin America's recent history.
About the Author
Hector Abad is one of Colombia's leading writers. Born in 1958, he grew up in Medellin, where he studied medicine, philosophy, and journalism. After being expelled from university for writing a defamatory text against the Pope, he moved to Italy before returning to his homeland in 1987."
Praise For Oblivion: A Memoir…
"It is very difficult to summarize Oblivion without betraying it, because, like all great works, it is many things at once. To say that it is a heartrending memoir of the author's family and father—who was murdered by a hired assassin—is true, but paltry and infinitesimal, because the book is also a moving immersion into the inferno of Colombian political violence, into the life and soul of the city of Medellín, into the private life and public courage of a family, a true story that is also a superb fiction due to the way it is written and constructed, and one of the most eloquent arguments written in our time or any time against terror as an instrument of political action." —Mario Vargas Llosa

"[Oblivion] emits a primal yet articulate howl . . . Mr. Abad's prose, in this translation by Anne McLean and Rosalind Harvey, is elastic and alive . . . In Spanish the verb 'to remember' is 'recordar,' the author reminds us, a word that derives from 'cor,' the Latin for heart. This memoir is extravagantly big-hearted. It will be stocked, in good bookstores, in the nonfiction or belles-lettres sections. A wise owner might also place a copy under the sign that more simply reads: Parenting." —Dwight Garner, The New York Times

"[An] admirable effort at speaking the unspeakable, at verbalizing the pain accumulated over decades, is Héctor Abad's extraordinary memoir Oblivion. It's been years since I read such a powerful meditation on loss . . . I confess not to have known of [Abad] before, even though this is his second book translated into English. This ignorance was actually beneficial, for it allowed me to submerge myself in the narrative without preconception. I emerged from that submersion hypnotized. Oblivion will remind you in equal measure of Vittorio de Sica's Italian neo-Realist movie The Bicycle Thief and Elie Wiesel's Holocaust novel Night . . . [Abad's] desire to explore the echoes of memory with meticulous care, to touch the wound of the past through lucid prose, is an act of valor." —Ilan Stavans, San Francisco Chronicle

"A family memoir that deserves classic status . . . [Abad] not only pays radiant homage to a hero but champions the path of peaceful change he so steadfastly took." —Boyd Tonkin, The Independent

"A tremendous and necessary book, devastatingly courageous and honest. At times I wondered how [Abad] was brave enough to write it." —Javier Cercas

"A beautiful and profoundly moving work." —El País

"[Oblivion] is a shattering chronicle of Colombia's violence. But it is also an inspiring tribute to tolerance and paternal love." —Giles Tremlett, The Guardian

"A beautiful, authentic, and moving book." —Rosa Montero

"[A] great and deeply moving testament." —Kate Saunders , The Times (London)

"An unbearably moving, eloquent tribute to the author's father—who was murdered by Colombian paramilitaries in 1987—that is fit to burst with love and pride." —Holly Kyte, The Telegraph

"I store up what I have read by Héctor Abad like spherical, polished, luminous little balls of bread, ready for when I have to walk through a vast forest in the nighttime."—Manuel Rivas

"Colombian author Abad dedicates this loving and sentimental memoir to his father, Héctor Abad Gómez, a professor and doctor devoted to his family, "moved to tears…by poetry and music," and committed to a better Colombia. The latter aspiration cost him his life when he was assassinated in 1987, and his son began writing this book five years later. Abad spends much of the book expressing his love for his father, but it is his discussion of Gómez's public health and human rights projects—such as founding "the Colombian Institute of Family Wellbeing, which built aqueducts and sewer systems in villages, rural districts, and cities"—that reveals what a remarkable educator, reformer, and activist the senior Abad was, and how his assassination was a tragedy for a family and a nation."—Publishers Weekly
Coverage from NPR
or
Not Currently Available for Direct Purchase