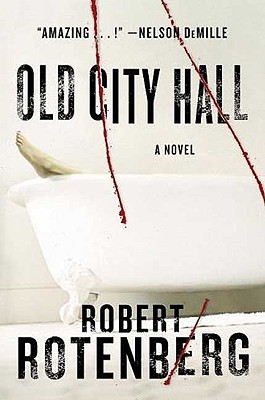 Old City Hall
Hardcover

* Individual store prices may vary.
Other Editions of This Title:
Digital Audiobook (8/13/2009)
Digital Audiobook (10/31/2009)
Paperback, Marathi (1/6/2013)
Paperback (3/30/2010)
Description
"Breathtaking . . . A tightly woven spiderweb of plot and a rich cast of characters make this a truly gripping read." —Jeffery Deaver, author of The Bodies Left Behind It should be an open–and–shut case. Canada's leading radio–show host, Kevin Brace, has confessed to killing his young wife. He had come to the door of his luxury condominium with his hands covered in blood and told the newspaper deliveryman: "I killed her." His wife's body lay in the bathtub of their suite, fatal knife wound just below the sternum. Now all that should remain is legal procedure: document the crime scene, prosecute the case, and be done with it. The trouble is, Brace refuses to talk to anyone—including his own lawyer—after muttering those incriminating words. With the discovery that the victim was actually a self-destructive alcoholic, the appearance of strange fingerprints at the crime scene, and a revealing courtroom cross-examination, the seemingly simple case begins to take on all the complexities of a hotly–contested murder trial. In the tradition of defense lawyers–turned–authors such as Scott Turow and John Grisham, Toronto-based defense counsel Robert Rotenberg delivers a debut legal thriller rich with his forensic skill. Firmly rooted in Toronto, from the ancient Don Jail to the sterile morgue and the shadowy corridors of the historic courthouse, Old City Hall takes the reader inside clattering Italian restaurants and late-night greasy spoons—and outside, to open-air skating rinks and parade-filled streets. Rotenberg leads us on a fascinating tour of a city as exciting and vital as the motley ensemble populating his story: there's Awotwe Amankwah, the only black reporter covering the crime; Judge Johnathan Summers, an old navy captain who runs his courtroom like he's still standing astride the foredeck; Edna Wingate, an eighty-three year old British war bride who just loves hot yoga; and Daniel Kennicott, a former big-firm lawyer who became a cop after his brother was murdered and the investigation hit a dead end. Douglas Preston rejoices that Rotenberg's Toronto settings "make this most multicultural city in North America come alive." Elmore Leonard has Florida; John Lescroart, San Francisco; Robert B. Parker, Boston; Scott Turow, Chicago; George Pelecanos, D.C. And now, with Old City Hall, Rotenberg offers us a page-turning legal thriller set in a diverse and surprising Toronto filled with unexpected characters and plot twists that keep you guessing until the very end.
Praise For Old City Hall…
"Robert Rotenberg's Old City Hall is one of the best books I've read in ten years. I devoured it in two sittings. Rotenberg is a criminal defense attorney, defending lowlifes and celebrities alike in Toronto, and he really knows his clients. His characters are stunningly good. They're real people. His Toronto settings make this most multicultrual city in North America come alive. He writes with assurance and panache. He has a series of characters who may well become a classic. He even has a sense of humor. This is one of those novels where you only need to read the first chapter to be swept away. If Old City Hall doesn't win an Edgar, I'll trade in my pen for a fishing rod..." —Douglas Preston, author of The Monster of Florence
"Clever, complex and filled with an engaging cast of characters, Old City Hall captures the vibrancy and soul of Toronto." —Kathy Reichs, author of Devil Bones
"Breathtaking . . . and all the more so because this is the author's first novel. A tightly woven spiderweb of plot and a rich cast of characters make this a truly gripping read. And of particular interest is the setting: Robert Rotenberg does for Toronto what Ian Rankin does for Edinburgh." —Jeffery Deaver, author of The Bodies Left Behind
"An amazing debut novel. Robert Rotenberg's Old City Hall has everything a legal thriller should have, and more: absolutely engaging characters, a tight, taut, and believable plot, a heart-quickening pace, and, best of all, some of the finest writing I've read in years. This one has winner written all over it." —Nelson DeMille, author of The Gate House
Farrar, Straus and Giroux, 9780374225421, 384pp.
Publication Date: March 3, 2009
or
Not Currently Available for Direct Purchase