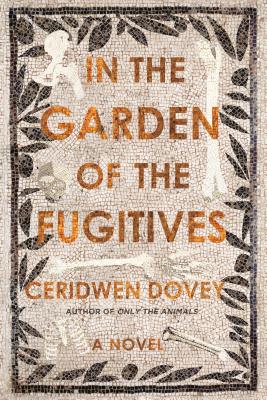 In the Garden of the Fugitives
A Novel
Hardcover

* Individual store prices may vary.
Other Editions of This Title:
Paperback (8/13/2019)
Description
Almost twenty years after forbidding him to contact her, Vita receives a letter from a man who has long stalked her from a distance. Once, Royce was her benefactor and she was one of his brightest protégées. Now Royce is ailing and Vita's career as a filmmaker has stalled, and both have reasons for wanting to settle accounts. They enter into an intimate game of words, played according to shifting rules of engagement.
Beyond their murky shared history, they are both aware they can use each other to free themselves from deeper pasts. Vita is processing the shameful inheritance of her birthplace, and making sense of the disappearance of her beloved. Royce is haunted by memories of the untimely death of his first love, an archaeologist who worked in the Garden of the Fugitives in Pompeii. Between what's been repressed and what has been disguised are disturbances that reach back through decades, even centuries. But not everything from the past is precious: each gorgeous age is built around a core of rottenness.
Profoundly addictive and unsettling, In the Garden of the Fugitives is a masterful novel of duplicity and counterplay, as brilliantly illuminating as it is surprising—about the obscure workings of guilt in the human psyche, the compulsion to create and control, and the dangerous morphing of desire into obsession.
Praise For In the Garden of the Fugitives: A Novel…
"An elegant—at times, deceptive—narrative . . . Dovey's skillful prose lifts off the page . . . An impressive, thought-provoking novel that examines the complexities of racism and guilt." —S. Kirk Walsh, The New York Times Book Review
"In a novel unabashedly about ideas, Dovey does not shy away from bluntly confronting big questions head-on, and yet—a testament to her skill—the book, while trembling with meaning, is neither obvious nor cumbersome but unsettlingly alive. Sweeping both geographically and intellectually; a literary page-turner." —Kirkus (starred review)
"Excavation both archaeological and psychological figures prominently in Dovey's gracefully constructed second novel, in which an epistolary dialogue between a stalled South African filmmaker and her former benefactor unearths issues of privilege, shame, and loss . . . It is Vita's smoldering melancholy about her apartheid-era origins that gradually gives way to total personal and creative collapse, allowing Dovey to express her ambivalence about creating art in an inequitable, exploitative world. 'Once you can inspect your own history like an artifact, you're a step closer to liberating yourself from it,' Vita's psychotherapist reminds her." —Brendan Driscol, Booklist (starred review)
"A spellbinding pas de deux of passion, obsession and control. Mesmerizing and mind-expanding. I was transfixed." —Anna Funder, author of All That I Am
"An elegant and intelligent commentary on the act of writing itself: the risk of transforming one's past in the retelling; the challenge of finding that figure who will act as our real or imagined audience, and who—if we are brave—will keep us honest." —Sophia Barnes, Sydney Review of Books
"Rich and intelligent . . . A striking work, both compelling and entertaining. Dovey is always a stylish writer, her language perfectly measured, her imagery precise. The settings are lush and tactile, the varied landscapes gorgeously rendered." —Rebecca Starford, The Sydney Morning Herald
"A marvel of tone and texture . . . If, as Freud once said, the stones of antiquity speak to us, then Dovey is their exemplary oracle." —Geordie Williamson, The Weekend Australian
"Splendidly sinister . . . The novel is richly imagined and Dovey is a terrific writer." —Laura Kroetsch, Herald Sun
Farrar, Straus and Giroux, 9780374226640, 320pp.
Publication Date: May 22, 2018
About the Author
Ceridwen Dovey's debut novel, Blood Kin, was published around the world and selected for the National Book Foundation's prestigious 5 Under 35 honors list. The Wall Street Journal named her one of their "artists to watch." Her short story collection, Only the Animals, was described by The Guardian as a "dazzling, imagined history of humans' relationship with animals." She lives in Sydney, Australia.
or
Not Currently Available for Direct Purchase