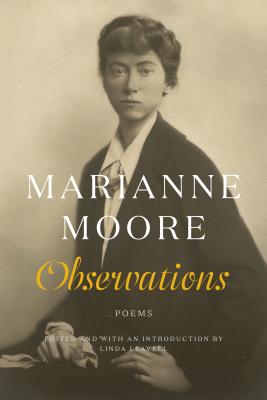 Observations
Poems
Paperback

* Individual store prices may vary.
Description
Marianne Moore's Observations stands with T. S. Eliot's The Waste Land, Ezra Pound's early Cantos, and Wallace Stevens's Harmonium as a landmark of modern poetry. But to the chagrin of many admirers, Moore eliminated a third of its contents from her subsequent poetry collections while radically revising some of the poems she retained. This groundbreaking book has been unavailable to the general reader since its original publication in the 1920s.
Presented with a new introduction by Linda Leavell, the author of the award-winning biography Holding On Upside Down: The Life and Work of Marianne Moore, this reissue of Observations at last allows readers to experience the untamed force of Moore's most dazzling innovations. Her fellow modernists were thrilled by her originality, her "clear, flawless" language--to them she was "a rafter holding up . . . our uncompleted building." Equally forceful for subsequent generations, Observations was an "eye-opener" to the young Elizabeth Bishop, its poems "miracles of language and construction." John Ashbery has called "An Octopus" the finest poem of "our greatest modern poet." Moore's heroic open-mindedness and prescient views on multiculturalism, biodiversity, and individual liberty make her work uniquely suited to our times.
Impeccably precise yet playfully elusive, emotionally complex but stripped of all sentiment, the poems in Observations show us one of America's greatest poets at the height of her powers.
Praise For Observations: Poems…
"If Observations appeared today readers would think it the most original and game-changing poetry of this new century. One would say that Moore had transcended all the experiments of Modernism to find a completely unique synthesis of the objective and the subjective—unimaginably supple verse imprinted by the science of our moment, in which what it is to be virtual, material, experienced, repurposed could all be integrated into a poetry where a singular voice both has and does not have a place. The hypertrophic use of quotation moves the speaker's position from lyric to dramatic to epigrammatic to didactic and back in the space of a single sentence. The astonishing math of her syllabics slice and build new realities like a 3-D printer or the marvelous precisions of astrophysics. She penetrates deep space even within resistant fractal surfaces. This brilliant slender book makes Marianne Moore feel like our future. She is." —Jorie Graham
"Marianne Moore's Observations are personal and historical, and always intensely modern. Clearly a figurehead, she's armed with a quiver of wit and perfect aim. This poet bends the natural and man-made until each turn conveys a physical intellect and a music distinctly hers. Throughout this collection, Moore's unique signature becomes a capsule of tonal time and playful contemplation through compelling imagery. This reissue of Observations realigns and claims Moore's place within the modernist tradition as she continues to speak to us." —Yusef Komunyakaa
"I have always been awed by the glittering intelligence, immense ambition, precision, formal confidence, wit, and authentic idiosyncratic imagination of Moore's earlier poems. Reading them, I feel I am in the presence of that rare thing, a truly extraordinary poetic mind. If, instead of reading this book yet again with the greatest pleasure and admiration, I were picking it up for the first time, I would have felt immediately sure I was in the presence of an important new voice in American poetry. These poems have always seemed totally contemporary to me, and they are some of the finest ever written in the American language." —Matthew Zapruder
"Far from being an obscure or difficult poet, Marianne Mooreis one of the most lucid poets America has ever produced. The poems in Observations compose a collected—and collective—inquiry into what is valuable and why, combining two kinds of 'observation:' that of the natural scientist, whose whole occupation is engaged in unruffled looking; and that of the essayist, who arranges social experience into sentences that surprise us with the force of objects. In Moore's case, beautiful objects. But these poems aren't just ornaments: they are radical, like her witty poem about socialist carrots: 'wedge-shaped engine with the/secret of expansion.' I am grateful for this reissue, which restores poems all but lost to us. It is really the best of Moore in one portable volume—a poetry not of the past, it seems to me, but of the future." —Ange Mlinko
"How wonderful to have Observations as it was when it first appeared. Or almost. This is Moore's slightly revised 1925 version of the 1924 first edition, as strange and new and enchanting as we remember it. One's long-ago favorites are here, 'Poetry' (I too, dislike it), 'Sea Unicorns and Land Unicorns,' 'Marriage,' and above all, 'An Octopus,' one of the truly great poems of the twentieth century. In it she quotes the lines, 'complexities which still will be complexities/ as long as the world lasts,' which could be a motto for Moore's magnificent bricolage." —John Ashbery
"The sensation of reading Marianne Moore is like none other. She is the most natural, the most exotic, the most concentrated, the most circumspect, the most weirdly precise, the most beguiling poet of the twentieth century. Like explosive sunbursts, her poems sparkle with irrepressible feeling—joy, grief, desperation, triumph—and ask, What is virtue? What is vice? What is ugliness? What is a hero? What is love? She is my favorite American anti-poet." —Henri Cole
Farrar, Straus and Giroux, 9780374226862, 144pp.
Publication Date: April 5, 2016
About the Author
Marianne Moore (1887-1972) was an American poet, critic, editor, and translator, greatly admired for her formal innovations and her startling vision. Her poetry received many honors, including the Dial Award, the National Book Award, the Pulitzer Prize, and the Bollingen Prize. Her poetry books include Observations and New Collected Poems.

Linda Leavell has been studying Marianne Moore's life and work for nearly three decades. Among her previous publications is the award-winning critical study Marianne Moore and the Visual Arts: Prismatic Color. She lives with her husband in Fayetteville, Arkansas.