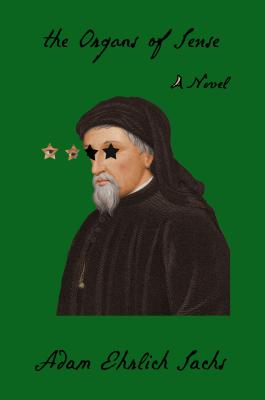 The Organs of Sense
A Novel
Hardcover

* Individual store prices may vary.
Other Editions of This Title:
Digital Audiobook (5/20/2019)
Paperback (8/18/2020)
Description
"This book is only for people who like joy, absurdity, passion, genius, dry wit, youthful folly, amusing historical arcana, or telescopes." —Rivka Galchen, author of Little Labors and American Innovations

In 1666, an astronomer makes a prediction shared by no one else in the world: at the stroke of noon on June 30 of that year, a solar eclipse will cast all of Europe into total darkness for four seconds. This astronomer is rumored to be using the longest telescope ever built, but he is also known to be blind—and not only blind, but incapable of sight, both his eyes having been plucked out some time before under mysterious circumstances. Is he mad? Or does he, despite this impairment, have an insight denied the other scholars of his day?

These questions intrigue the young Gottfried Leibniz—not yet the world-renowned polymath who would go on to discover calculus, but a nineteen-year-old whose faith in reason is shaky at best. Leibniz sets off to investigate the astronomer's claim, and over the three hours remaining before the eclipse occurs—or fails to occur—the astronomer tells the scholar the haunting and hilarious story behind his strange prediction: a tale that ends up encompassing kings and princes, family squabbles, obsessive pursuits, insanity, philosophy, art, loss, and the horrors of war.

Written with a tip of the hat to the works of Thomas Bernhard and Franz Kafka, The Organs of Sense stands as a towering comic fable: a story about the nature of perception, and the ways the heart of a loved one can prove as unfathomable as the stars.
Praise For The Organs of Sense: A Novel…
"A delightful perversion of history." —Sam Sacks, The Wall Street Journal

"Somewhere at the intersection of sober science, historical pastiche and lunatic parable . . . [The Organs of Sense] is brilliant, weird, and profound, telling truths about the modern condition that most novelists today have forgotten, or never knew." —Adam Kirsch, Tablet

"I've decided instead to come right out and say of The Organs of Sense, the debut novel by Adam Erlich Sachs: it's extremely—perhaps even deafeningly—good. Further still, I'd call it one of the best books published in 2019." —Nathan Knapp, Music and Literature

"In his sublime first novel . . . which recalls the nested monologues of Thomas Bernhard and the cerebral farces of Donald Antrim, [Adam Ehrlich] Sachs demonstrates the difficulty of getting inside other people's heads (literally and figuratively) and out of one's own . . . How it all comes together gives the book the feel of an intellectual thriller. Sachs's talent is on full display in this brilliant work of visionary absurdism." —Publishers Weekly (starred review)

"Sachs confidently fictionalizes history, infusing the process of scientific discovery with dark absurdity." —The New Yorker

"The Organs of Sense embeds the voices of its storytellers to create a universe of thought that seems at once bounded and infinite, composed of many alien points of view... It can simultaneously peer out, through the eye of the telescope, at the splendor of the heavens, and gaze in, at the refractions of its own manic thinking . . . by telling us the story of the blind astronomer, The Organs of Sense shows how the rationalist project may have been spurred by the blindest and most irrational impulse: love." —Merve Emre, The New York Review of Books

"This impressive debut is for fans of George Saunders and Vladimir Nabokov . . . [it is] filled with delightful tales of palace intrigue, sibling rivalry, and extensive forays into empirical thought and logic. Deep philosophy is applied to nearly everything that pops up, including the eating of soup." —Library Journal (starred review)

"Beguiling and utterly magical . . . a riveting story about geopolitical scheming, warfare, and the reach of the Catholic League in the seventeenth century. At the novel's beating heart, though, is a much more universal theme as Sachs considers father-son relationships and other complicated family dynamics that can make or break creative ambitions of all stripes . . . Sprinkled with generous doses of philosophy, this gem of a novel, with a spectacular denouement, might make for labored reading initially, but ultimately, it's an utterly immersive and transportive work of art." —Poornima Apte, Booklist (starred review)

"Adam Ehrlich Sachs's The Organs of Sense is layers-deep. At its core it's a story of a 1666 encounter between a young Gottfried Leibniz and a blind astronomer who makes the unlikely prediction of a solar eclipse . . . It is at once a pitch-perfect send-up of an overwrought philosophical tract and a philosophical tract in its own right—meaty, hilarious, and a brilliant examination of intangible and utterly human mysteries." —Arianna Rebolini, BuzzFeed News

"This tale of wit and science . . . is a crazy quilt of alchemical fable, family drama and shaggy dog saga . . . [Sachs] has martini-dry wit and a fantastic sense of comic timing . . . In a literary landscape crying out for wit and intricacy . . . [The Organs of Sense is] highly recommended." —Leigh Anne Focareta, Pittsburgh Post-Gazette

"A madcap, ingenious fable that booms with endless jokes and riffs about the nature of consciousness, The Organs of Sense is yet another dazzling, high-wire performance from our modern-day Kleist, Adam Ehrlich Sachs." —Karan Mahajan, author of The Association of Small Bombs

"Mix Umberto Eco and Thomas Pynchon, add dashes of Liu Cixin and Isaac Asimov, and you'll approach this lively novel of early science . . . impeccably written." —Kirkus Reviews

"At once erudite and comic, The Organs of Sense is an absurd and beautifully finessed pseudo-historical novel which deftly circles around a dark core." —Brian Evenson, author of Song for the Unraveling of the World and A Collapse of Horses

"This is the funniest and most original novel I've read in a very long time, a madcap blend of philosophical malpractice and byzantine palace intrigue. It's like what might happen if Helen DeWitt attempted a revisionist seventeenth-century historical novel, or if W. G. Sebald had gone insane. In other words, there's nothing else like it. Read it and see!" —Andrew Martin, author of Early Work
Farrar, Straus and Giroux, 9780374227371, 240pp.
Publication Date: May 21, 2019
About the Author
Adam Ehrlich Sachs is the author of the collection Inherited Disorders: Stories, Parables, and Problems, which was a semifinalist for the Thurber Prize for American Humor and a finalist for the Sami Rohr Prize for Jewish Literature.

His work has appeared in The New Yorker, Harper's Magazine, and n+1, among other publications, and he was named a 2018 National Endowment for the Arts Literature Fellow. He has a degree in the history of science from Harvard, where he was a member of The Harvard Lampoon, and currently lives in Pittsburgh, Pennsylvania.
or
Not Currently Available for Direct Purchase