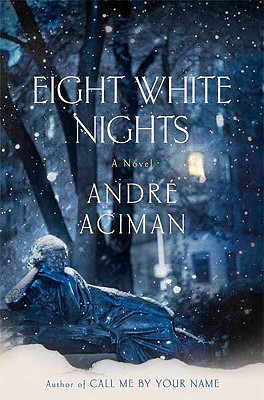 Eight White Nights (Hardcover)
Farrar, Straus and Giroux, 9780374228422, 368pp.
Publication Date: February 2, 2010
* Individual store prices may vary.
or
Not Currently Available for Direct Purchase
Description
A LUSHLY ROMANTIC NOVEL FROM THE AUTHOR OF "CALL ME BY YOUR NAME
""
Eight White Nights" is an unforgettable journey through that enchanted terrain where passion and fear and the sheer craving to ask for love and to show love can forever alter who we are. A man in his late twenties goes to a large Christmas party in Manhattan where a woman introduces herself with three words: "I am Clara." Over the following seven days, they meet every evening at the same cinema. Overwhelmed yet cautious, he treads softly and won't hazard a move. The tension between them builds gradually, marked by ambivalence, hope, and distrust. As Andre Aciman explores their emotions with uncompromising accuracy and sensuous prose, they move both closer together and farther apart, culminating on New Year's Eve in a final scene charged with magic and the promise of renewal.
"Call Me by Your Name," Aciman's debut novel, established him as one of the finest writers of our time, an expert at the most sultry depictions of longing and desire. As "The Washington Post Book World "wrote, "The beauty of Aciman's writing and the purity of his passions should place this extraordinary first novel within the canon of great romantic love stories for everyone."
Aciman's piercing and romantic new novel is a brilliant performance from a master prose stylist.
About the Author
ANDRE ACIMAN is the author of "Call Me by Your Name," "Out of Egypt," and "False Papers, "and is the editor of "The Proust Project "(all published by FSG). He teaches comparative literature at the Graduate Center of the City University of New York. He lives with his wife and family in Manhattan.
Praise For Eight White Nights…
From The Washington Post
"For all of love's happy advance notices, for all of its dewy-eyed hype, it's the difficult love -- unrequited, hard-won, gone wrong -- that makes for a good story. There is something irresistible about romance in the face of open warfare: "Romeo and Juliet," "A Farewell to Arms," "Doctor Zhivago." Or a love kissed by tragedy and doom: "Anna Karenina," "La Bohème." Even if the story is rescued by a happy ending -- "Jane Eyre," say, or "Persuasion" -- how much sweeter if the road to it is a living hell.
But what if our lovers are contemporary New Yorkers, untouched by war, unfazed by society's obstacles, whose only barrier to the other's heart is a feverish, overactive brain? That is the predicament in André Aciman's psychologically charged, deeply Dostoyevskian new novel, "Eight White Nights."
The comparison to Dostoyevsky is not a casual one. The Russian master's short story "White Nights" lingers over Aciman's novel as firmly as fog over a St. Petersburg winter. From the lovers' chance meeting to their immediate, mutual fascination to the revelation of a troubling former liaison, Dostoyevsky's four surreal nights are embedded here like a literary genetic helix. But beyond that, the similarities stop.
"Eight White Nights" is so quintessentially a Manhattan story that it is hard to imagine it unfolding in St. Petersburg or anywhere else. Strung tightly between Christmas and New Year, as well as between two apartments on the Upper West Side, it involves two protagonists who are equally educated, equally well-off, equally aware of a defining Jewishness and equally ardent aficionados of Rohmer films, Handel sarabandes and unorthodox cocktail conversations. They are also equally hamstrung by their own minds.
Their love story begins at a flamboyant Christmas Eve party in a swank, 106th Street penthouse. "Halfway through dinner," the narrator writes, "I knew I'd replay the whole evening in reverse -- the bus, the snow, the walk up the tiny incline, the cathedral looming straight before me, the stranger in the elevator, the crowded large living room where candlelit faces beamed with laughter and premonition, the piano music, the singer with the throaty voice, the scent of pinewood everywhere. . . ." And then, "someone suddenly put out a hand and said, 'I am Clara.' "
From anyone else, that overture might seem flat-footed. But the woman is a striking brunette with a lithe figure, an arrogant chin, a diaphanous red blouse unbuttoned to her breastbone. I am Clara, "spoken with the practiced, wry smile of someone who had said it too many times to care how it broke the silence. . . . With the hasty familiarity of people who, when it comes to other people, couldn't care less and haven't a thing to lose." Our narrator is instantly smitten.
Before long, the two are understanding one another completely, speaking in code, coining vocabulary that will follow them through the next eight days of a dizzyingly obsessive courtship: "pandangst" is their word for depression, "Mankiewicz" for appetizer, "Vishnukrishnu Vindalu" for sexually breathtaking, "otherpeoples" for the vacant faces about them, "Mr. and Mrs. Shukoff" for the bores they wish they could shake off but can't.
The next few days unfold in an uptown bar, an artsy movie theater, an old man's house on the shore of the Hudson River. There are a few irksome matters to resolve: She has a past life to shuck; he has a numbing penchant for perfection. But by the third night, she has him completely in her thrall, calling him Printz, after a cargo ship they see anchored in the river. By the seventh, he is stalking her apartment building, losing his hold on reality, wondering how many men she has enchanted in this way.
She is baffling, impulsive and surpassingly strange. But, then again, so is he. What follows is a mating dance that will either entrance or repel you -- a collision of two eccentric souls that grows with mesmerizing intensity. This is a richly intellectual novel that will resemble nothing you've ever encountered. Despite its nods to Dostoyevsky and Rohmer, and for all the references to well-worn landmarks of a familiar city, it is an original to the core.
Then again, Aciman has never failed to be original. Nor is he a stranger to questions of love and alienation. His first book, "Out of Egypt," was a beautifully wrought memoir of his childhood in Alexandria, Egypt. His novel "Call Me by Your Name" was a delicately nuanced, erotic coming-of-age story about a boy's homosexual affair in Italy. With "Eight White Nights," he moves into new territory, probing a rarefied urban culture that seldom has been explored in quite the same way.
The question he finally asks is one Dostoyevsky would surely have appreciated: How can a human being measure a fleeting moment of happiness? Or is it enough for us simply to hold it, cherish it and feed on the warmth of its memory for the rest of our wintry lives?" --Marie Arana
From The Boston Globe
"Part of the great satisfaction in reading André Aciman's new novel, "Eight White Nights,'' is experiencing it in a kind of literary real time. Eight chapters, one for each night, trace a nascent love affair between two 20-something New Yorkers. Meting out the reading experience one chapter per day plunges the reader into the pleasure and panic of a relationship's intense yet uneasy beginnings, with anticipation leading to connection followed by endless self-reflection, congratulation, and doubt. With "Eight White Nights,'' Aciman, whose first novel was the sensuously detailed "Call Me by Your Name,'' brilliantly continues his examination into the minefield of longing and attraction.
The "First Night'' is a swanky Christmas Eve party where the unnamed narrator meets the enigmatic Clara, a graduate student in music. From their first encounter, in which Clara lures the narrator into her world with an extended hand and three simple words, "I am Clara,'' the two characters establish a skittish push-pull, pretense and manipulation rubbing elbows with brief, searing glimpses of vulnerability and self-revelation. Clara is "alert, warm, caustic, and dangerous.'' She is also charismatic, clever, beautiful, and extremely bright, and the narrator, previously disillusioned with romance, is immediately spellbound. "Everything before Clara seemed so lifeless, hollow, stopgap,'' he proclaims. "The after-Clara thrilled and scared me, a mirage of water beyond a valley of rattlesnakes.''
But as entranced as he is, the narrator is also a cautious realist, doubting the depth and strength of this glitzy party encounter, doubting his own ability to hold onto this captivating creature, wondering whether she is indeed all that she seems. He questions, "Would I still feel this way on leaving the party tonight? Or would I find cunning ways to latch on to minor defects so that they'd start to bother me and allow me to snuff the dream till it tapered off and lost its luster and, with its luster gone, remind me once again, as ever again, that happiness is the one thing in our lives others cannot bring.''
So even as he reaches forward, the narrator pulls back, withholding. "I was already rehearsing never seeing her again, already wondering how to take I am Clara with me tonight and stow it in a drawer along with my cuff links, collar stays, my watch and money clip.''
Each meeting thereafter features varying degrees of navel-gazing, soul-searching, and explication. There is the nightly rendezvous at a Rohmer film festival, to which neither will unquestionably commit but each hopes the other will make. There is an impromptu visit to Clara's old friends in Hudson County. And there is the culminating New Year's Eve party, accompanied by bald assumptions, missed opportunities, veiled ultimatums, and moments of blazing intensity, with dialogue that crackles with the tension of yearning and uncertainty. Each meeting seems freighted with the unspoken, even though along the way, the lovers develop their own playful language. While it can be cloying to the reader, it feels shockingly, astutely realistic.
It is a fascinating, sometimes infuriating duet the couple dances, the recounting of which often gets mired in the over-the-top, narcissistic replaying of events and conversations. At many points, the reader wants to take these two aside and say, "Enough with the gamesmanship. Just talk to each other and stop reading between the lines.'' But Aciman charts a vividly insightful profile of the psychology of modern-day courtship, and for anyone who's ever smarted from the sharp dreamlike unreality of those obsessive early stages of young love, it's a blistering quick trip down the rabbit hole."
--Karen Campbell
Advertisement