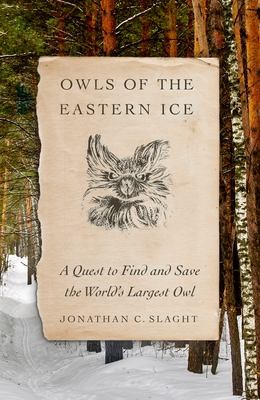 Owls of the Eastern Ice (Hardcover)
A Quest to Find and Save the World's Largest Owl
Farrar, Straus and Giroux, 9780374228484, 368pp.
Publication Date: August 4, 2020
* Individual store prices may vary.
Description
A field scientist and conservationist tracks the elusive Blakiston's Fish Owl in the forbidding reaches of eastern Russia
I saw my first Blakiston's fish owl in the Russian province of Primorye, a coastal talon of land hooking south into the belly of Northeast Asia . . . No scientist had seen a Blakiston's fish owl so far south in a hundred years, and my photographs were evidence that this rare, reclusive species still persisted.
When he was still just a fledgling birdwatcher, Jonathan C. Slaght had a chance encounter with one of the most mysterious birds on Earth. Bigger than any owl he knew, it looked like a small bear with feathers. He wrote to experts. He started tagging along on walks through the lush, remote forest of eastern Russia. The first sighting sent him on a five-year journey to study these enormous, enigmatic creatures and set his calling as a scientist.
Despite its six-foot wingspan and two-foot height, the Blakiston's fish owl is highly elusive. They are easiest to find in winter, when their tracks mark the snowy banks of the rivers where they feed. They are also endangered. And so, as Slaght and his devoted team set out to locate the owls, they also hope to craft a conservation plan that will ensure the species' survival. This quest sends them on all-night monitoring missions in freezing tents, mad dashes across thawing rivers, and free-climbs up rotting trees to snap photos of precious eggs. They improvise ingenious traps and develop custom tracking technology. And all along, they must keep watch against a run-in with a bear or an Amur tiger. At the heart of Slaght's story are the fish owls themselves: cunning hunters, devoted parents, singers of eerie duets, and survivors in a harsh and shrinking habitat.
Through this rare glimpse into the everyday life of a field scientist and working conservationist, Owls of the Eastern Ice testifies to the determination and creativity essential to scientific advancement and serves as a powerful of the beauty, strength, and vulnerability of the natural world.
About the Author
Jonathan C. Slaght is the Russia and Northeast Asia coordinator for the Wildlife Conservation Society, where he manages research projects on endangered species and coordinates avian conservation activities along the East Asia–Australasian Flyway from the Arctic to the tropics. His annotated translation of Across the Ussuri Kray, by Vladimir Arsenyev, was published in 2016, and his work has been featured by The New York Times, The Guardian, the BBC World Service, NPR, Smithsonian Magazine, Scientific American, and Audubon magazine, among others. He lives in Minneapolis.
Praise For Owls of the Eastern Ice: A Quest to Find and Save the World's Largest Owl…
"From the very first pages, Slaght . . . grips readers with vivid language and tight storytelling . . . Part of the book's success lies in the author's ability to present the stakes and draw out the tension therein, making what could be a dry tale of bird-watching a compelling story of the necessity of conservation . . . Slaght lives up to his rugged-conservationist persona as he writes of helter-skelter snowmobile trips circumnavigating rushing rivers of ice, vodka-soaked encounters with village locals, and solitary, achingly beautiful nights observing the majestic owls firsthand. He is an engaging writer who imbues each scene with an intimate sense of place . . . Top-notch nature writing in service of a magnificent, vulnerable creature."
—Kirkus, starred review
"It's said that there are two kinds of great stories—a stranger comes to town, and a person goes on a journey. Slaght's brilliant book is the latter, a gripping tale of his quest to find—and save—one of the world's most magnificent creatures. Along the way, we get a rare inside view of a land, a people, an elusive owl, and ultimately, the human spirit. Anyone who loves birds, science, travel, or just a riveting read will love this book."
—Jennifer Ackerman, author of Birds by the Shore
"In this vigorous, you-are-there natural history, Jonathan C. Slaght takes us on a heroic quest through one of the planet's most fascinating and least explored ecoregions. Somewhere in this wintry world inhabited by tigers and bears, poachers and mystics, lurks an enormous owl all but unknown to the outside world. Slaght's account of his intrepid search for this elusive creature is matched only by his portraits of the humans who share that same forest."
—John Vaillant, author of The Jaguar's Children
"I loved Jonathan C. Slaght's Owls of the Eastern Ice. It is a riveting adventure with one of the rarest and most fascinating birds in one of the remotest regions of the globe, with most interesting people."
—Bernd Heinrich, author of White Feathers
"Jonathan C. Slaght's Owls of the Eastern Ice is an unforgettable account of one of the most arduous ornithological research projects of modern times. In a quest to track and protect the Blakiston's fish owl, a nocturnal hunter that inhabits the riparian forests of Russia's Far East, Slaght embarks on a years-long journey by snowmobile and truck across frozen rivers, near-impenetrable wilderness, and broken-down settlements. His backwoods encounters with scientists, hermits, drunks, and loggers resonate with strangeness and sadness, and his observations of the landscape and the elusive giant owl are filled with a sense of wonder. This is both nature writing and travel writing at their finest."
—Joshua Hammer, author of The Falcon Thief
"In Owls of the Eastern Ice, biologist Jonathan C. Slaght shares a world few outside the Russian Far East have ever even heard of—a harsh land of frozen rivers and snowy forests, hungry tigers, radioactive hot springs, weird hermits, and, lording over it all, the largest and most mysterious of all owls. Part scientific exploration, part adventure story, it is at its heart a rumination on learning the heart of a wilderness to save it."
—Scott Weidensaul, author of Living on the Wind
"Until Jonathan C. Slaght, the world's largest owls were mythic, seldom-seen forest phantoms. With this book, Slaght takes us with him to the wild and remote forests of the Russian Far East on a quest to track and study Blakiston's fish owls. It is an absorbing account, richly detailed and gracefully written with humor and empathy. Owls of the Eastern Ice is a superb narrative devoted to the natural history and conservation of a rare and beautiful species."
—George B. Schaller, Wildlife Conservation Society
"A fascinating account of one man's quest to conserve the magnificent fish owl of Eastern Asia, this is a book that feels both urgent and relevant."
—Christopher Skaife, author of The Ravenmaster
"Owls of the Eastern Ice is thrilling, high-spirited adventure that beautifully evokes Russia's Far East and the strange, hardy beings, both human and wild, who inhabit it. Jonathan C. Slaght survives swift rivers, rapacious poachers, and ungodly quantities of cheap vodka in his heroic quest to protect the Blakiston's fish owl, a creature that's as wondrous and fierce as the landscape it haunts. Slaght's story won't just make you fall in love with a bird you've never seen, it will give you a new appreciation for the tenacity and resourcefulness of wildlife biologists on both sides of the Pacific."
—Ben Goldfarb, author of Eager: The Surprising, Secret Life of Beavers and Why They Matter
"A fish owl duet might fold into other sounds in the Russian forest, but this book has one of the clearest voices I have encountered. Slaght's story reveals the patience and determination of a true conservationist. And the ears and eyes of a poet. Above all, he makes the people, wildlife and landscape of the Russian Far East come alive for armchair travelers. I haven't enjoyed a book on remote Russia as much as this since Ian Frazier's Travels in Siberia."
—Sophy Roberts, The Lost Pianos of Siberia
"True epic. A powerful, passionate and highly readable reflection on the wildness both inside us and out there in the forest."
—Charles Foster, author of Being a Beast