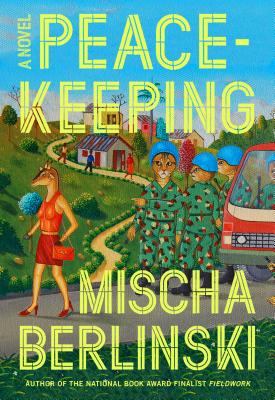 Peacekeeping
A Novel
Hardcover

* Individual store prices may vary.
Other Editions of This Title:
Digital Audiobook (3/7/2016)
Paperback (3/7/2017)
CD-Audio (3/8/2016)
Description
THE DARING, EAGERLY ANTICIPATED SECOND NOVEL BY THE NATIONAL BOOK AWARD–NOMINATED AUTHOR OF FIELDWORK
Mischa Berlinski's first novel, Fieldwork, was published in 2007 to rave reviews—Hilary Mantel called it "a quirky, often brilliant debut" and Stephen King said it was "a story that cooks like a mother"—and it was a finalist for the National Book Award. Now Berlinski returns with Peacekeeping, an equally enthralling story of love, politics, and death in the world's most intriguing country: Haiti.
When Terry White, a former deputy sheriff and a failed politician, goes broke in the 2007–2008 financial crisis, he takes a job working for the UN, helping to train the Haitian police. He's sent to the remote town of Jérémie, where there are more coffin makers than restaurants, more donkeys than cars, and the dirt roads all slope down sooner or later to the postcard sea. Terry is swept up in the town's complex politics when he befriends an earnest, reforming American-educated judge. Soon he convinces the judge to oppose the corrupt but charismatic Sénateur Maxim Bayard in an upcoming election. But when Terry falls in love with the judge's wife, the electoral drama threatens to become a disaster.
Tense, atmospheric, tightly plotted, and surprisingly funny, Peacekeeping confirms Berlinski's gifts as a storyteller. Like Fieldwork, it explores a part of the world that is as fascinating as it is misunderstood—and takes us into the depths of the human soul, where the thirst for power and the need for love can overrun judgment and morality.
Praise For Peacekeeping: A Novel…
Praise for Peacekeeping
"Powerfully intelligent . . . A politically sophisticated novel that plants, like pushpins, a handful of memorable characters into Haiti's arid soil . . . [Peacekeeping's] depths reside in Mr. Berlinski's rich portrait of a society, and his cool, probing writing about topics like sex, politics, journalism, race, class, agriculture, language and fear . . . Berlinski has a knack for writing short, sharp, surreal scenes . . . There's a good deal of magic in the way that Mr. Berlinski, in command of fact and emotion, pilots this big novel safely home." —Dwight Garner, The New York Times

"A formidable piece of work . . . the book's easy way with local stories and lore bespeaks the familiarity that comes with rich firsthand experience . . . [Berlinski is] a sharp collector of stories, and he has an enjoyable way of threading his narration with story: Berlinski knows how to keep leading us on." —James Wood, The New Yorker
"Marvelous . . . Peacekeeping gallops ahead toward the horizon of tragedy, yet the novel is brightened by the author's sense of the absurdities that saturate an enterprise like a U.N. mission and the weird, byzantine intimacies at the ground level of globalization . . . Peacekeeping, in that sense, is a welcome bearer of enlightenment and a raw reminder of the limits of empathy." —Bob Shacochis, The Washington Post
"Mischa Berlinski's new novel stands out for doing far more than dramatizing news headlines about the beleaguered Caribbean nation . . . Berlinski immerses the reader in an environment so richly detailed that one almost hears the buzz of insects through the pages, but the novel's plot transcends its tropical setting, resulting in a deeper exploration of what it means to be an observer." —Jennifer Kay, Associated Press
"Berlinski's descriptive gifts are terrific . . . The devastating 2010 earthquake naturally figures in the action and elicits Berlinski's most electric, hallucinatory prose . . . Peacekeeping makes you eager for wherever Berlinski will take his own perceptive mode of vision next." —Michael Upchurch, Chicago Tribune
"Peacekeeping is a dark, funny, powerful read . . . Readers will be glad they made the trip." —The Christian Science Monitor

"On the troubled half-island of Haiti, love, power, and poverty collide, as do a tough Florida cop, a beautiful singer, politicians, and the United Nations post-2004 peacekeeping mission . . . [Berlinski] is a kind of heir to Graham Greene and Robert Stone, both for his excellent storytelling and for the way it can reveal a bigger picture." —Kirkus Reviews (starred review)
"Berlinski follows his National Book Award-nominated debut with a compelling tale that again immerses readers in the intrigues of an enthralling locale . . . The Haiti [Berlinski] describes is one in which there are always multiple versions of the truth, some we can bear to tell ourselves, and others we cannot." —Brendan Driscoll, Booklist (starred review)
"In tones that shift effortlessly from journalistic to atmospheric to deeply, darkly funny, Berlinski (Fieldwork) evokes a very detailed sense of place in his second novel . . . the pages are steeped in verisimilitude . . . This is a fascinating and well-plotted novel." —Publishers Weekly
"With the eye of an anthropologist and the heart of a novelist, Berlinski vividly depicts the stark contrast of physical beauty and grinding poverty that is the essence of Haiti." —Library Journal
Praise for Fieldwork
"Berlinski [is] an effortless conjurer of convincing details . . . [Fieldwork is] an intoxicating journey filled with missing souls and vengeful spirits." —Terry Hong, The Washington Post
"That rare thing—an entertainingly readable novel of ideas . . . Berlinski's narrative is brilliantly plotted and builds to a shattering but entirely credible conclusion." —Tim Rutten, Los Angeles Times
"An impressive feat of literary acrobatics . . . [A] sad and powerful tale . . . Inspired and courageous." —Kevin Smokler, San Francisco Chronicle
"An impeccably structured novel portraying two strikingly different milieus . . . Bravura storytelling . . . Fieldwork [addresses cultural] issues with intelligence, wit and grace. And Berlinski delivers the whole package in prose that . . . is perfection itself." —Michael Upchurch, The Seattle Times
"[Fieldwork] succeeds in evoking the quixotic appeal of both the anthropological and missionary enterprises—of documenting other cultures and of converting them." —The New Yorker
Sarah Crichton Books, 9780374230449, 400pp.
Publication Date: March 8, 2016
About the Author
Mischa Berlinski is the author of the novel Fieldwork, a finalist for the National Book Award. He is the recipient of a Whiting Writers' Award and the American Academy of Arts and Letters' Addison M. Metcalf Award.
or
Not Currently Available for Direct Purchase