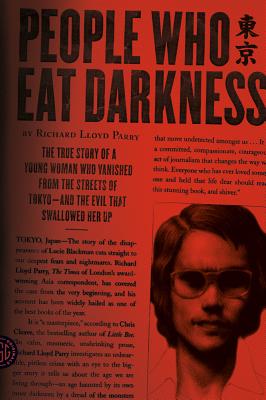 People Who Eat Darkness
The True Story of a Young Woman Who Vanished from the Streets of Tokyo--and the Evil That Swallowed Her Up
Paperback

* Individual store prices may vary.
Other Editions of This Title:
Digital Audiobook (7/15/2012)
MP3 CD (8/1/2012)
Compact Disc (8/1/2012)
Compact Disc (8/1/2012)
Description
Lucie Blackman—tall, blond, twenty-one years old—stepped out into the vastness of Tokyo in the summer of 2000, and disappeared forever. The following winter, her dismembered remains were found buried in a seaside cave.

Richard Lloyd Parry, an award-winning foreign correspondent, covered Lucie's disappearance and followed the massive search for her, the long investigation, and the even longer trial. Over ten years, he earned the trust of her family and friends, won unique access to the Japanese detectives and Japan's convoluted legal system, and delved deep into the mind of the man accused of the crime, Joji Obara, described by the judge as "unprecedented and extremely evil."

The result is a book at once thrilling and revelatory, "In Cold Blood for our times" (Chris Cleave, author of Incendiary and Little Bee).

The People Who Eat Darkness is one of Publishers Weekly's Top 10 Best Books of 2012
Praise For People Who Eat Darkness: The True Story of a Young Woman Who Vanished from the Streets of Tokyo--and the Evil That Swallowed Her Up…
"Richard Lloyd Parry's remarkable examination of [this] crime, what it revealed about Japanese society and how it unsettled conventional notions of bereavement, elevates his book above the genre. People Who Eat Darkness is a searing exploration of evil and trauma, and how both ultimately elude understanding or resolution . . . Just as the grief of Blackman's parents is unassaugeable, Obara and his motives are unknowable. That is the darkness at the heart of this book, one Lloyd Parry conveys with extraordinary effect and emotion . . . People Who Eat Darkness is a fascinating mediation that does not pretend to offer pat answers to obscene mysteries." —Susan Chira, The New York Times Book Review

"Americans have an advantage in reading People Who Eat Darkness: we are less likely to know about Lucie Blackman. The blond Brit was 21 when she disappeared in Japan in 2000; the months-long search for her made headlines in both Japan and England. Unlike readers there, we have an extra level of suspense?we don't know what happened to Lucie?although we will by the middle of this masterful literary true crime story, which earns its comparisons to Truman Capote's In Cold Blood and Norman Mailer's The Executioner's Song . . . Like the case of Etan Patz, the Lucie Blackman disappearance captured the public imagination. By writing about it in such culturally informed detail, Parry subtly encourages an understanding that goes past the headlines. It is a dark, unforgettable ride." —Carolyn Kellogg, Los Angeles Time

"[In People Who Eat Darkness], Mr. Parry finds his voice, and it's a sturdy one. His book becomes not merely an exemplary piece of reportage but a sustained and quietly profound work of moral inquiry as well. It becomes ominous in ways that go well beyond the calculated shock value of its cover . . . Mr. Parry writes exceedingly well . . . [and] People Who Eat Darkness is surprisingly soulful, especially in its portrait of Ms. Blackman . . . He's restored her to life in this vivid book." —Dwight Garner, The New York Times

"People Who Eat Darkness is a factual account, but it is as compelling as any thriller. The narrative gallops along, with dramatic twists, turns and half-resolutions. Joji Obara, Lucie's abductor and apparent murderer, is every bit as brilliant and terrifying as the fictional Hannibal Lecter . . . The author's discussion of the effects of Lucie's murder on Tim and the rest of the Blackman family is intimate, sensitive and chilling . . . intelligent, compassionate." —Melanie Kirkpatrick, The Wall Street Journal

"One of the best books of the Year" —The Economist, The Guardian, and New Statesman

"Parry is a sensitive, knowledgeable guide through the murky world of Japanese hostess clubs . . . A thoughtful book about an inevitably sensational subject . . . Methodically present[s] a nightmare that engulfs an entire city: the police, the shady networks of semilegal businesses whose economic livelihood is threatened by the investigation, and a riveted public whose taste for true crime stories is questioned." —Gregory Leon Miller, San Francisco Chronicle

"Clear-eyed, thorough reporting on the Japanese underworld . . . Parry . . . mak[es] the reader feel not like a voyeur, but a witness to this deeply human tragedy that illustrates how a single murder creates many victims and proves that the seemingly distant political past can continue to influence individual lives into the present day." —Elyssa East, The Boston Globe

"People Who Eat Darkness is an exceptionally perceptive and nuanced look at a terrible crime, one that put nations, institutions and family members at odds, and often into bitter and toxic conflict . . . [L]ike Capote, [the author is] less interested in dishing the eerie or lurid details than he is in exploring the penumbra of the crime, the complex factors that fed into it and the unpredictable effects it had on an ever-spreading network of people." —Laura Miller, Salon.com

"A big, ambitious true crime book in the tradition of Norman Mailer's The Executioner's Song and Truman Capote's In Cold Blood." —Esquire

"A masterpiece of writing this surely is, but it is more than that--it is a committed, compassionate, courageous act of journalism that changes the way we think. Everyone who has ever loved someone and held that life dear should read this stunning book, and shiver." —Chris Cleave, author of Little Bee and Incendiary

"Extraordinary, compulsive and brilliant." —David Peace, author of the Red Riding quartet and the Tokyo trilogy

"An utterly compelling read." —Mo Hayder, author of Ritual and Tokyo

"Parry has a knack of tacitly cross-examining his readers . . . not implicating them exactly, but immersing them in a darkness that thickens as facts come to light . . . [He] skilfully manipulates the narrative to keep the reader in a state of awful uncertainty about what will happen next." —Geoff Dyer, The Observer (London)

"Compelling . . . Rich in intelligence and insight . . . This isn't just the tale of a murder case but a book that sheds light on Japan, on families, on the media, and . . . on the insidious effects of misogyny." —Blake Morrison, The Guardian

"A work not only of page-turning intensity but also of touching sensitivity and deep insight." —David Pilling, Financial Times

"A classic of the rather compromised true crime genre, a rigorous, meticulous and intelligent work of long form journalism . . . Lloyd Parry deals with the consequences for families, friends and lovers--unassuageable pain, guilt and recrimination--with most unusual thoroughness and scrupulous empathy." —Peter Alford, Weekend Australian

"Thoroughly researched [and] very well written, appalling and absolutely enthralling." —Patrick Skene Catling, The Irish Times

"The most compelling book I read this year . . . Written with a novelist's eye for insight and narrative, it's a cracking read that tracks the haphazard investigation, the eventual arrest of the truly bizarre killer and the heartbreaking plight of the Blackman family members left to cope with the dreadful consequences." —Sydney Morning Herald
FSG Originals, 9780374230593, 464pp.
Publication Date: May 22, 2012
About the Author
Richard Lloyd Parry is the Asia editor and Tokyo bureau chief of The Times (London) and the author of People Who Eat Darkness and In the Time of Madness.