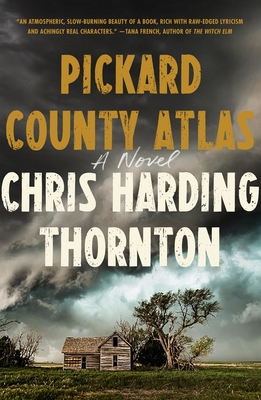 Pickard County Atlas
A Novel
Hardcover

* Individual store prices may vary.
Other Editions of This Title:
Paperback (1/25/2022)
Description
"An atmospheric, slow-burning beauty of a book, rich with raw-edged lyricism and achingly real characters." —Tana French, author of The Searcher

Small-town secrets loom large in this spellbinding debut about the aftershocks of crime and trauma that shake a Nebraskan town.

In a dusty town in Nebraska's rugged sandhills, weary sheriff's deputy Harley Jensen patrols the streets at night, on the lookout for something—anything—out of the ordinary. It's July 1978, and the heat is making people ornery, restless. That and the Reddick family patriarch has decided, decades after authorities ended the search for his murdered boy's body, to lay a headstone. Instead of bringing closure, this decision is the spark that threatens to set Pickard County ablaze.

On a fateful night after the memorial service, Harley tails the youngest Reddick and town miscreant, Paul, through the abandoned farms and homes outside their run-down town. The pursuit puts Harley in the path of Pam Reddick, a restless young woman looking for escape, bent on cutting the ties of motherhood and marriage. Filled with desperate frustration, Pam is drawn to Harley's dark history, not unlike that of her husband, Rick—a man raised in the wreckage of a brother's violent death and a mother's hardened fury.

Unfolding over six tense days, Pickard County Atlas sets Harley and the Reddicks on a collision course—propelling them toward an incendiary moment that will either redeem or end them. Engrossing, darkly funny, and real, Chris Harding Thornton's debut rings with authenticity and a nuanced sense of place even as it hums with menace, introducing an astonishing new voice in suspense.
Praise For Pickard County Atlas: A Novel…
"An atmospheric, slow-burning beauty of a book, rich with raw-edged lyricism and achingly real characters."
—Tana French, author of The Searcher

"Thornton has skillfully created a hyper-detailed setting of the Nebraska plains, a landscape of empty farmhouses lined with the windbreak, described right down to the native plants . . . A gripping mixture of cop procedural and a psychological story of rebirth that gives one man the chance at leaving his past behind."
—Sheila McClear, Star Tribune (Minneapolis)

"[An] atmospheric début thriller . . . The taut plot . . .culminates in an incendiary sequence that pits prolonged anguish against the need for new beginnings."
—The New Yorker

"A remarkable achievement. Chris Harding Thornton reveals the soul of a region and a people haunted by the past and with only desperate hopes for the future. On every page is a detail so authentic, or an image so vivid that readers will want to pause in appreciation. An amazing debut from an author who knows her little postage stamp of Nebraska soil as well as Faulkner knew Yoknapatawpha county."
—Larry Watson, author of As Good As Gone

"Dark and brilliant . . . Thornton's expert prose and turns of phrase beg for repeat reading and the character work is full of depth and detail that astonish; a dazzling display of literary prowess."
—Lauren O'Brien, Shelf Awareness

"Thornton is unrelenting in conveying the bleak realities of her closely watched characters: their dangerous misconceptions, their "hostile indifference," their cat-and-mouse games almost sure to turn deadly."
—Tom Nolan, Wall Street Journal

"Thornton leverages the constraints of small-town life to marvelous effect when ratcheting up dramatic tension . . . Thornton herself is a seventh-generation Nebraskan, and this intimate familiarity shines through in vivid descriptions of hardscrabble life out in western Nebraska . . . [She] balances these lyrical descriptions of place and mood with snappy dialogue that effectively summons small-town shorthand — gruff greetings, hushed speculation, dry quips — which, alongside a steamy affair, grease the narrative and make for a quick read."
—Connor Goodwin, Seattle Times

"A stylishly dark debut. Chris Harding Thornton has managed to turn hard-bitten, small-town lives into the glimmering stuff of workaday poetry. Pickard County Atlas introduces an assured and striking new voice in American fiction."
—Dominic Smith, author of The Electric Hotel

"Chris Harding Thornton leaves quite an impression . . . It is easy to say that a novel is a 'one-sit read', but in the case of Pickard County Atlas I would not be far from the truth. The writing is so easy-going and fluid . . . yet it carries with it all the earmarks of great noir and becomes an instant literary classic. I cannot wait to see what Chris Harding Thornton has in store for us next."
—Tom Nolan, Criminal Element

"Impressive . . . The gut punch of an ending is satisfyingly bleak and an appropriate match for the book's downbeat tone. Thornton's superior gift for evocative prose . . . augurs well for her next work. Fans of Lou Berney will be pleased."
—Publishers Weekly, starred review

"Pickard County Atlas, by debut author Chris Harding Thornton, is a darkly addictive read that pulls you deep into the web of secrets that lie at the heart of the troubled Reddick family. Thornton has crafted a haunting, dread-soaked tale, as gritty as the sandhills of Nebraska where the story takes place, that will cling to you long after you turn the final page."
—Heather Gudenkauf, New York Times–bestselling author of This Is How I Lied

"Buried secrets and more recent betrayals prompt conflict in this slow-burning crime novel . . . While this is a book in which illicit activity takes place with a law enforcement officer at its center, it's a particularly measured variety of crime fiction—more concerned with the state of its characters' souls than the legality (or lack thereof) of their actions. While it takes time to build momentum, the novel ultimately arrives at a heart-wrenching place."
—Kirkus

"Thornton is reportedly working on a second novel, and it cannot come soon enough for me. My copy of this one is well-highlighted over her numerous and wonderful turns of phrase and descriptions, which beg to be reread until her next offering appears."
—Joe Hartlaub, Book Reporter

"Pickard County Atlas is a gripping debut fueled by small-town secrets and lies by omission, and characters whose rawness and reticence are fresh and strong enough to crack your teeth and make you fall in love. Chris Harding Thornton is an original—an important new writer whose lyrical phrasing reflects the rural Midwest's long, harsh horizons and sheltering hills."
—Jonis Agee, author of The River Wife

"Chris Harding Thornton unravels the intrigue and suspense in meticulously detailed fashion . . . Thornton, herself a seventh-generation Nebraskan, describes the landscape and interactions of the characters in such starkly realistic detail, you cannot help but get wrapped up in the novel's noirish atmosphere and slow-burning mystery."
—G. Robert Frazier, BookPage

"I devoured this hypnotic novel in one fevered sitting. Set against the magnetic backdrop of Nebraska's sandhills, Pickard County Atlas is full of dark stories, weaving together the fates of unforgettable characters striving to hold their lives intact. The tension is electric on every page."
—Devin Murphy, author of The Boat Runner
MCD, 9780374231255, 288pp.
Publication Date: January 5, 2021
About the Author
Chris Harding Thornton, a seventh-generation Nebraskan, holds an MFA from the University of Washington and a PhD from the University of Nebraska, where she currently teaches. She has worked as a quality assurance overseer at a condom factory, a jar-lid screwer at a plastics plant, a closer at Burger King, a record store clerk, an all-ages club manager, and a PR writer. Pickard County Atlas is her first novel.