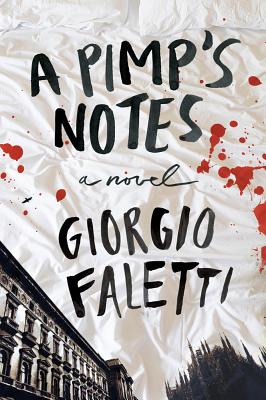 A Pimp's Notes (Hardcover)
Farrar, Straus and Giroux, 9780374231408, 336pp.
Publication Date: July 17, 2012
Other Editions of This Title:
Paperback (7/30/2013)
* Individual store prices may vary.
Description
From a bestselling Italian author comes a sharply observed new mystery set in the seedy underworld of 1970s Milan
Giorgio Faletti's first thriller, "I Kill," took Europe by storm, selling over five million copies. The "Corriere della Sera," Italy's leading newspaper, crowned him "the greatest Italian writer." In 2010, with the explosive publication of "A Pimp's Notes," Faletti won international celebrity as a writer of world-class, tightly wound, psychologically nuanced thrillers.
It's 1978. Italy has just been shocked by the kidnapping of the politician Aldo Moro by the left-leaning terrorist group the Red Brigades. In Milan, the upper class continues to amuse itself in luxury restaurants, underground clubs, and cabarets. This is Bravo's milieu. Enigmatic and cynical, Bravo makes his living catering to the tastes, fantasies, and fetishes of the wealthy and depraved. When the mysterious Carla enters his life, what begins as a clandestine romance quickly becomes a nightmare that will transform Bravo into a man wanted by the police, by organized crime, and even by the Red Brigades. As the web around him tightens, Bravo will be forced to confront the violence of the times in which he lives as well as his own connections to the political and criminal networks that control contemporary Italy.
About the Author
Giorgio Faletti spent years as a successful comedian and singer/songwriter before beginning a career as a writer. His first novel, "I Kill" (2002), was an international sensation. His fifth novel, "I Am God," was recently published in England, to wide acclaim.Antony Shugaar is a writer and translator. Aside from Giorgio Faletti's "A Pimp's Notes," his recent translations include books by Simonetta Agnello Hornby, Silvia Avallone, Nanni Balestrini (with an NEA translation fellowship), Fabio Bartolomei, Massimo Carlotto, Giancarlo De Cataldo, Diego De Silva, Marco Mancassola, Gianni Rodari, and Paolo Sorrentino. He is the author of "Coast to Coast" and "I Lie for a Living" and the coauthor, with the late Gianni Guadalupi, of "Discovering America" and "Latitude Zero." He has published with the "Washington Post," the "Boston Globe," and online with the "New York Times," among other publications. He is currently at work on a book about translation for the University of Virginia Press.
Praise For A Pimp's Notes…
Praise for A Pimp's Notes: "[A Pimp's Notes] has the power of a thriller, the efficacy of an atmospheric portrait, the poignant seduction of a noir. And it draws its force . . . from the fact that it recounts people, places, atmospheres that the author knows well, as they are part of his own past." —Gloria Satta, Il Messaggero "A Pimp's Notes is a nuanced but explosive thriller by one of the world's new crime masters. A great read." —Scott Turow "Narrated by the titular Bravo (who seems to be equal parts Dante's Virgil and Hemingway's Jake Barnes), A Pimp's Notes is an intense and captivating journey, sly, insightful, and sinister, through a dark and treacherous underworld. It's a strange tale fueled by lightning-crack, whiplash-inducing twists that'll have you talking back to the pages. Bravo is a smart and feral voice." —Bill Loehfelm, author of The Devil She Knows "The greatest Italian writer today . . . is still Faletti . . . [He] will surprise you, will take you by the throat, will leave you breathless, will move you." —Antonio D'Orrico, Corriere della Sera 
"Expertly plotted, complex without ever becoming convoluted . . . As the narrative proceeds, many small and unobtrusively planted seeds are brought to bloom in satisfying and surprising ways." —Christopher Beha, The New York Times Book Review
 "Set in 1978, this unforgettable crime thriller from Faletti (
I Kill
) packs a considerable punch. In the prologue, the troubled narrator, who calls himself 'Bravo' ('Being nameless just gave me an extra layer of shadow in which to cloak myself'), explains that having his penis sliced off by an unknown assailant has led to his embarking on a career as a pimp. The initial chapters detailing his activities in Milan move somewhat slowly, but things quickly accelerate after a multiple homicide at a financier's villa whose victims include the financier and a member of parliament. The massacre may be linked to the Red Brigade's abduction of former prime minister Aldo Moro. The police regard Bravo as a suspect, since three of the victims were young women known to Bravo. The story line takes some unexpected paths en route to a powerhouse ending that matches some of the best in near-contemporary noir." —
Publishers Weekly
(starred review) "Faletti's new thriller (after
I Kill
) provides readers with the edgy, cinematic, and sparse language that earmarks noir fiction. It is Milan in 1978, and the activities of the Red Brigade (a terrorist group), the Mafia, and corrupt politicians dominate Italian headlines. Living under the radar is the titular protagonist Bravo, a quick thinker with a good head for business. He provides his girls' services to the elite of Italian society until an appointment goes terribly wrong and Bravo must find the truth when he is framed. Everything in this novel is interwoven and unexpected: a lottery winning, a business deal, a vendetta, and, of course, a femme fatale. Nothing and no one are as they seem. Just as in José Latour's
Outcast
, the underdog must prevail. Faletti gives justice where justice is due, and it doesn't stop until the final page. Verdict Fans of noir crime fiction should consider Faletti one of the rising talents of this genre. This is pure noir and one of the best this reviewer has read in a long time." —Frances Thorsen,
Library Journal
 (starred) "Bravo is a pimp in 1978 Milan. His gift is the discretion with which he arranges sex between wealthy and famous men and his string of gorgeous women. His tragedy is that he was castrated as a young man in a vicious attack. This loss has shoved him to the sidelines of life, making him, totally unwillingly, a keen and cynical observer. Bravo is the narrator here, offering a chillingly compelling portrait of vice. Not vicious, he's a businessman with a well-developed code of ethics slanted toward protecting his girls. At the core of this can't-put-it-down thriller is a group murder that blows up Bravo's carefully constructed life. Bravo arranges for three girls to go to a Mafia-connected guy's party. Two of his girls wind up dead, along with three men. Bravo, who knows everyone and is suspected of knowing the secrets behind the murders, is pursued by police, the Mafia, and the Red Brigade. Faletti has written a wonderfully sensitive character study of a man who has endured a loss from which he can never recover. Sharp suspense surrounds an acute psychological portrait." —Connie Fletcher,
Booklist
 "Bravo is a black-humored, streetwise narrator with an appealingly flinty demeanor even when he's in over his head, and he has an excellent
femme fatale
in Carla, an initially pliable woman who turns out to be much more manipulative than he expected. Faletti is particularly adept at showing how the scales slowly fall from Bravo's eyes: First his moral certainty about his profession erodes, then his sense of personal security, then his faith in his country's social structure . . . the book
thrives on its fast pace—translator Antony Shugaar has taken care to keep the style pulpy yet elevated, in keeping with a hero who's seen society at its worst but somehow finds time to enjoys the occasional word puzzle. A savvy lowbrow-highbrow thriller." —
Kirkus
"[A] cunningly plotted story of power and corruption among Italy's elite . . .  Faletti's Milan is convincingly shadowy, and full of surprises. In this thrillingly cinematic noir, no one is quite what they seem." —Mythili Rao, The Daily Beast
or
Not Currently Available for Direct Purchase