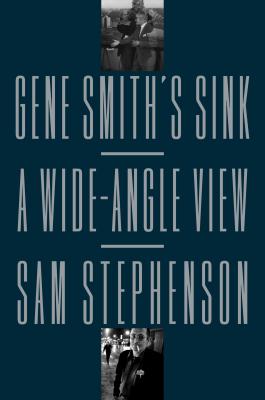 Gene Smith's Sink (Hardcover)
A Wide-Angle View
Farrar, Straus and Giroux, 9780374232153, 224pp.
Publication Date: August 22, 2017
* Individual store prices may vary.
Description
An incisive biography of the prolific photo-essayist W. Eugene Smith
Famously unabashed, W. Eugene Smith was photography's most celebrated humanist. As a photo essayist at Life magazine in the 1940s and '50s, he established himself as an intimate chronicler of human culture. His photographs of war and disaster, villages and metropolises, doctors and midwives, revolutionized the role of images in journalism, transforming photography for decades to come.
When Smith died in 1978, he left behind eighteen dollars in the bank and forty-four thousand pounds of archives. He was only fifty-nine, but he was flat worn-out. His death certificate read "stroke," but, as was said of the immortal jazzman Charlie Parker, Smith died of "everything," from drug and alcohol benders to weeklong work sessions with no sleep.
Lured by the intoxicating trail of people that emerged from Smith's stupefying archive, Sam Stephenson began a quest to trace his footsteps. In Gene Smith's Sink, Stephenson merges traditional biography with rhythmic digressions to revive Smith's life and legacy. Traveling across twenty-nine states, Japan, and the Pacific, Stephenson profiles a lively cast of characters, including the playwright Tennessee Williams, to whom Smith likened himself; the avant-garde filmmaker Stan Brakhage, with whom he once shared a Swiss chalet; the artist Mary Frank, who was married to his friend Robert Frank; the jazz pianists Thelonious Monk and Sonny Clark, whose music was taped by Smith in his loft; and a series of obscure caregivers who helped keep Smith on his feet. The distillation of twenty years of research, Gene Smith's Sink is an unprecedented look into the photographer's potent legacy and the subjects around him.
About the Author
Sam Stephenson is a writer and documentarian. He is the author of Dream Street: W. Eugene Smith's Pittsburgh Project and The Jazz Loft Project: Photographs and Tapes of W. Eugene Smith from 821 Sixth Avenue, 1957–1965. His writing has appeared in publications such as The New York Times, The Paris Review, Tin House, and the Oxford American. A lifelong resident of North Carolina, he lives in Durham with his wife and their son.
Praise For Gene Smith's Sink: A Wide-Angle View…
"Fascinating . . . evocative . . . For all that, the wayward individual that emerges out of Stephenson's ambitious "wide angle" approach remains essentially unknowable, a blur in an otherwise sharply defined portrait of a tougher time and a truly bohemian milieu that already seems impossibly distant." —Sean O'Hagan, The Guardian
"We would understand . . . little of Gene Smith's legacy were it not for Stephenson's labors." —Vince Passaro, Harper's
"Stephenson has created a fantastic, experimental form for a revealing biographical sketch, taken from voices rarely heard . . . A great read." —Anthony Bannon, Buffalo News
"[A] far-reaching, insightful biography . . . Stephenson balances the history and the drama of Smith's life in a skillful distillation of his expansive, careful research." —Publishers Weekly
"Compelling . . . Gene Smith's Sink is a haunting exploration of the photographic mind." —Shelf Awareness
"Sam Stephenson's earlier books on W. Eugene Smith's Pittsburgh and Jazz Loft projects have established him as the leading authority on defining parts of the photographer's career. Now, in this gripping biography, Stephenson has extended his research to the whole of Smith's turbulent life, adding greatly to our knowledge, understanding, and appreciation of his extraordinary work." —Geoff Dyer, author of The Ongoing Moment
Among the things I love about Sam Stephenson's book Gene Smith's Sink is that it's the result of, and an artifact of, lyric research: research that ostensibly originates with a given subject or archive, but very quickly follows leads elsewhere. It's a sort of wandering and associative research, and in this way has as much to do with poetry as it does "documentary" or "nonfiction." Lyric research reminds us that the researcher, the writer, the speaker, is also the subject. But maybe more to the point when speaking about Stephenson's beautiful book, lyric research is a capacious mode of seeing, which seems appropriate, given the book's occasion is the photographer Gene Smith. Given the book's subject, ultimately, is looking. —Ross Gay, 2015 National Book Critics Circle Award winner in poetry
"Sam Stephenson's brave and wise book, both more and less than a biography, is a spare demonstration of a huge idea: that nothing is ever finished and nobody is really knowable. And so the roundabout way to know a difficult and extraordinary creator like W. Eugene Smith, or really anyone, may be the most effective and authentic way." —Ben Ratliff, author of Every Song Ever
"Sound is more present in Gene Smith's Sink than in any book I've ever read. In this deeply empathic book, the reader leans forward, listening, so that when the call of the chuck-will's-widow occurs on Sixth Avenue, it can be heard. This stunning book resembles a Tennessee Williams play that obsessed Smith; it is the Camino Real of biographies." —Margaret Bradham Thornton, editor of Tennessee Williams's Notebooks
"The elisions are bold and the detours central. Steadfastly refusing to either lionize or vilify W. Eugene Smith, Sam Stephenson achieves something of a different, more subtle order. What might have been a book about one man's life is instead about many lives—human constellations no less interesting than the famous photographer's (very) dark star. Stephenson's twenty-year sojourn into Smith's unique, desperately
obsessive leavings births a remarkable, deeply generous book." —Jem Cohen, director of Museum Hours
"Gene Smith's Sink is the story of a well-known photographer. It tells a lot about his working life and it tells a lot about his personal life. But what it tells best are things much more complicated. There are many revelations by which I saw a glimpse of what it is like to be a real photographer." —Hiroshi Watanabe, photographer