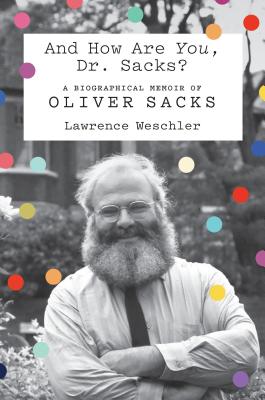 And How Are You, Dr. Sacks?
A Biographical Memoir of Oliver Sacks
Hardcover

* Individual store prices may vary.
Other Editions of This Title:
Digital Audiobook (8/12/2019)
Paperback (11/10/2020)
Description
The untold story of Dr. Oliver Sacks, his own most singular patient

"[An] engrossing biographical memoir. This is Sacks at full blast: on endless ward rounds, observing his post-encephalitic patients . . . exulting over horseshoe crabs and chunks of Iceland spar." —Barbara Kiser, Nature

The author Lawrence Weschler began spending time with Oliver Sacks in the early 1980s, when he set out to profile the neurologist for his own new employer, The New Yorker. Almost a decade earlier, Dr. Sacks had published his masterpiece Awakenings—the account of his long-dormant patients' miraculous but troubling return to life in a Bronx hospital ward. But the book had hardly been an immediate success, and the rumpled clinician was still largely unknown. Over the ensuing four years, the two men worked closely together until, for wracking personal reasons, Sacks asked Weschler to abandon the profile, a request to which Weschler acceded. The two remained close friends, however, across the next thirty years and then, just as Sacks was dying, he urged Weschler to take up the project once again. This book is the result of that entreaty.

Weschler sets Sacks's brilliant table talk and extravagant personality in vivid relief, casting himself as a beanpole Sancho to Sacks's capacious Quixote. We see Sacks rowing and ranting and caring deeply; composing the essays that would form The Man Who Mistook His Wife for a Hat; recalling his turbulent drug-fueled younger days; helping his patients and exhausting his friends; and waging intellectual war against a medical and scientific establishment that failed to address his greatest concern: the spontaneous specificity of the individual human soul. And all the while he is pouring out a stream of glorious, ribald, hilarious, and often profound conversation that establishes him as one of the great talkers of the age. Here is the definitive portrait of Sacks as our preeminent romantic scientist, a self-described "clinical ontologist" whose entire practice revolved around the single fundamental question he effectively asked each of his patients: How are you? Which is to say, How do you be?

A question which Weschler, with this book, turns back on the good doctor himself.
Praise For And How Are You, Dr. Sacks?: A Biographical Memoir of Oliver Sacks…
"Provide[s] striking glimpses into a remarkable life. Weschler resurrects the interviews he did in the early '80s with Sacks's friends and colleagues, and with Sacks himself, who illuminates his insistence not merely on the humanity of patients who suffered everything from extreme Tourette's to severe amnesia, but also on something spiritual within them . . . Compellingly, Weschler intertwines Sacks's searching empathy with his sheer strangeness." —Daniel Bergner, The New York Times Book Review

"Lawrence Weschler, a staff writer at The New Yorker from 1981 to 2002, has now given us a companion volume to [Oliver Sacks's] On the Move . . . With a rabbinical zest for ideas and disputation, these two Jewish intellectuals exchanged books and essays (by T. S. Eliot, Hannah Arendt, Albert Camus, Thomas Bernhard) and discussed them over Chinese food, or in each other's homes . . . The results are stirring." —Scott Sherman, Times Literary Supplement

"[an] engrossing biographical memoir. This is Sacks at full blast: on endless ward rounds, observing his post-encephalitic patients . . . exulting over horseshoe crabs and chunks of Iceland spar. Weschler ends by speculating that Sacks altered neurological practice itself through his attentive compassion for the patients who feature in his stories." —Barbara Kiser, Nature

"Written by one brilliant writer about another, this remarkable book is, in part, about the craft of writing . . . Weschler is a wonderful reporter . . . There are pages on conversations over dinner, and backstories on Awakenings and other books. The chapters have the feel of notes shaken out of folders, but they are beautifully readable and detailed. You feel as if you were at dinner with him, and Oliver has just paused to take a sip of water." —T.M. Luhrmann, The American Scholar

"A rich, wry pleasure . . . Weschler uses [his] talent for dot-connecting to portray neurologist and author Oliver Sacks . . . [this] affectionate memoir reveals a man who was, at his core, propelled by wonder." —Karen Schechner, Bookforum

"This latest memoir . . . is drawn from four years of extraordinary conversations in the early 1980s between writer Lawrence Weschler and Sacks . . . The result is a revelatory and poignant read–a gently voyeuristic glimpse inside one of the most eccentrically brilliant minds of the past century in all its neurotic, melancholic and triumphant complexity . . . What Weschler gives us is a moving glimpse of a man in motion and a loving friendship." —Natasha Mitchell, The Sydney Morning Herald

"In genre terms, [this book is] neither fish nor fowl but, rather, some other odd, often delightful animal." —The New Yorker

"In 1981, Lawrence Weschler, a New Yorker staff writer, began interviewing the brilliant neurologist Oliver Sacks . . . Their friendship endured, providing a lifetime of material. Shortly before his death in 2015, Sacks told his old friend it was time to publish: "Now, do it! You have to." And Weschler has, in spades." —Sarah Murdoch, Toronto Star

"A wonderful portrayal of a brilliant, eccentric man." —People

"A deeply personal account of the acclaimed neurologist . . . A thoroughly engaging and enchanting story." —Kirkus (starred review)

"Oliver Sacks . . . comes across as a fascinating head case himself in this rollicking memoir . . . Sacks's many fans will love this entertaining portrait of a charismatic original." —Publishers Weekly

"A unique account that reads like an extended, erudite, and entertaining New Yorker article . . . With Weschler's examination, Sacks's larger-than-life presence is humanized . . . Recommended for readers who wish they had had the privilege of knowing Sacks while he was alive." —Library Journal

"Weschler serves up a potpourri of conversations, diary entries, interviews, letters and reportage to paint a vibrant portrait of his friend's fully engaged, at times frenetic, life . . . this blend of journalistic objectivity and subjective engagement in Sacks's daily life enlarges and complements the neurologist's self-portrait." —Harvey Freedenberg, Shelf Awareness

"The story of Lawrence Weschler's faithful four-decade friendship with the amazing Oliver Sacks offers pleasures and amazements on every page. This loving but unblinking portrait will delight fans of Dr. Sacks as well as devotees of Weschler's always-pathfinding nonfiction."
—Ian Frazier, staff writer at The New Yorker and author of Travels in Siberia

"This is one of the best examples I have ever read of a biographical memoir made luminous by the exquisite sympathy that sometimes develops between subject and writer. Really, an achievement!"
—Vivian Gornick, author of The Odd Woman and the City

"Two offbeat and complicated men step into a rowboat; a thirty-year intellectual romance ensues. No one but Lawrence Weschler could tell the story with as much polymathic perversity and emotional resonance. Oliver Sacks is such a remarkably literary character that reading this book feels like devouring a novel."
—Laura Kipnis, author of Unwanted Advances

"And How Are You, Dr. Sacks? is an enthralling, humorous, and comprehending memoir of the life and work of Oliver Sacks. It is more besides. This beautiful book is the product of the decades-long friendship that came into existence as the brilliant and ambitious journalist took on the project of profiling the beloved neurologist. Weschler brings to his subject something like the same personal investment and engagement that Sacks himself brought to his individual patients. How marvelous, and how improbable, and what a fitting tribute to Oliver Sacks that in Lawrence Weschler he meets his narrative match!"
—Alva Noë, author of Infinite Baseball and Strange Tools: Art and Human Nature

"The posthumous Oliver Sacks lives on in this deeply empathic memoir. As much collaborator as interviewer, Lawrence Wechsler knows when to probe and when to remain silent. You'd think Sacks had covered it all in his numerous books, but luckily for us there turn out to be corners as yet unexplored and fresh insights to be gleaned from more familiar biographical territory. In this candid portrait, we feel even more intensely and organically the bond Sacks shared with his patients."
—Molly Haskell, author of Steven Spielberg: A Life in Films
Farrar, Straus and Giroux, 9780374236410, 400pp.
Publication Date: August 13, 2019
About the Author
Lawrence Weschler, a longtime veteran of the New Yorker magazine and a regular contributor to NPR, is the director emeritus of the New York Institute of the Humanities at NYU, and the author of nearly twenty books, including Seeing is Forgetting the Name of the Thing One Sees, Mr. Wilson's Cabinet of Wonder, Everything That Rises, and Vermeer in Bosnia.
or
Not Currently Available for Direct Purchase