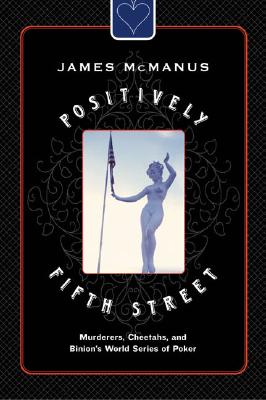 Positively Fifth Street
Murderers, Cheetahs, and Binion's World Series of Poker
Hardcover

* Individual store prices may vary.
Other Editions of This Title:
Digital Audiobook (3/31/2003)
Paperback (3/1/2004)
Description
Rough sex, black magic, murder, and the science—and eros—of gambling meet in the ultimate book about Las Vegas

James McManus was sent to Las Vegas by Harper's to cover the World Series of Poker in 2000, especially the mushrooming progress of women in the $23 million event, and the murder of Ted Binion, the tournament's prodigal host, purportedly done in by a stripper and her boyfriend with a technique so outré it took a Manhattan pathologist to identify it. Whether a jury would convict the attractive young couple was another story altogether.

McManus risks his entire Harper's advance in a long-shot attempt to play in the tournament himself. Only with actual table experience, he tells his skeptical wife, can he capture the hair-raising brand of poker that determines the world champion. The heart of the book is his deliciously suspenseful account of the tournament itself—the players, the hand-to-hand combat, and his own unlikely progress in it.

Written in the tradition of The Gambler and The Biggest Game in Town, Positively Fifth Street is a high-stakes adventure, a penetrating study of America's card game, and a terrifying but often hilarious account of one man's effort to understand what Edward O. Wilson has called "Pleistocene exigencies"—the eros and logistics of our primary competitive instincts.
Praise For Positively Fifth Street: Murderers, Cheetahs, and Binion's World Series of Poker…
"Very entertaining and very accurate."
-David Sklansky, author of Theory of Poker

"James McManus is the only literary poker-player ever to have made it to the final table in 'the Big One,' and he did so by playing brilliantly. I admire his achievement, envy his skill and discipline, and was completely absorbed by his subtle, detailed, lively account of the longest four days of
his life."
-A. Alvarez, author of The Biggest Game in Town

"In writing about poker Jim McManus has managed to write about everything, and it's glorious."
-David Sedaris, author of Holidays on Ice

"Chasing after the great big epic of the USA, McManus finds at the poker table a reflection of just about everything that matters: love, money, violence, resentment, envy, fear. Positively Fifth Street is a love story, really, and just the far side of gonzo, too, with the tranquilized reporter following his dream right into the story - like the kid at the Natural History Museum who crawled inside the diorama."
-Rich Cohen

"James McManus shifts his writing style into high gear here as he joins predecessors A. Alvarez and Hunter S. Thompson on a journey into the heart of American insomnia--Las Vegas. Murder, sex, drugs, Sylvia Plath, Amarillo Slim, the history of cards, the psychology of gambling, and most insistently the edgy drama of no-limit Texas Hold'em--it's all here in language that
nearly burns a hole in the page."
-Billy Collins

"Many have tried, myself included, but no writer before Jim McManus has made it to the final table of the 'Big One' at the World Series of Poker. It's the equivalent of NASA sending a poet to the moon -- and the resulting book is just as enthralling."
-Anthony Holden

"Beware of this book. Jim McManus portrays a Vegas that most of us don't believe ever really existed--seedy and thrilling and deadly--and his poker scenes rank with the most exciting sports writing you'll ever find. I'd never even heard of Texas Hold 'Em when I first read his blow by blow account of how he won a quarter million dollars--as an amateur!--in the World Series of Poker. Now, because of him, I'm hooked on the game."
-Ira Glass, host of "This American Life"

"I was present during the events McManus describes in glorious detail. At the time, I didn't know how a man with McManus' relatively limited tournament experience could perform at such a high level. Seeing the courage he displays in Positively Fifth Street by baring ALL elements of his experience, including the negative ones, I know now that it wasn't just luck and good play that got him to the final table. James McManus has nerves of steel (or iron balls, as you prefer), and you will find yourself unable to put down a compelling true tale weave of ultra-high stakes poker, murder, sex, and the human heart."
-Andrew N.S. Glazer, The Detroit Free Press
Farrar, Straus and Giroux, 9780374236489, 416pp.
Publication Date: April 1, 2003
About the Author
James McManus is a novelist and poet, and most recently the winner of the Peter Lisagor Award for sports journalism. He teaches writing and comparative literature at the School of the Art Institute of Chicago, including a course on the literature and science of poker.
or
Not Currently Available for Direct Purchase