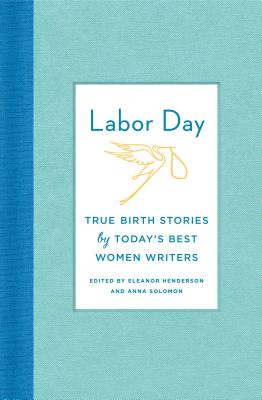 Labor Day
True Birth Stories by Today's Best Women Writers
Hardcover

* Individual store prices may vary.
Other Editions of This Title:
MP3 CD (4/15/2014)
Compact Disc (4/15/2014)
Compact Disc (4/15/2014)
Description
Thirty acclaimed writers share their personal birth stories—the extraordinary, the ordinary, the terrifying, the sublime, the profane
It's an elemental, almost animalistic urge—the expectant mother's hunger for birth narratives. Bookstores are filled with month-by-month pregnancy manuals, but the shelves are virtually empty of artful, entertaining, unvarnished accounts of labor and delivery—the stories that new mothers need most.
Here is a book that transcends the limits of how-to guides and honors the act of childbirth in the twenty-first century. Eleanor Henderson and Anna Solomon have gathered true birth stories by women who have made self-expression their business, including Cheryl Strayed, Julia Glass, Lauren Groff, Dani Shapiro, and many other luminaries.
In Labor Day, you'll read about women determined to give birth naturally and others begging for epidurals; women who pushed for hours and women whose labors were over practically before they'd started; women giving birth to twins and to ten-pound babies. These women give birth in the hospital, at home, in bathtubs, and, yes, even in the car. Some revel in labor, some fear labor, some feel defeated by labor, some are fulfilled by it—and all are amazed by it. You will laugh, weep, squirm, perhaps groan in recognition, and undoubtedly gasp with surprise. And then you'll call every mother or mother-to-be that you know and say "You MUST read Labor Day."
Contributors:
Nuar Alsadir
Amy Brill
Susan Burton
Sarah Shun-lien Bynum
Lan Samantha Chang
Phoebe Damrosch
Claire Dederer
Jennifer Gilmore
Julia Glass
Arielle Greenberg
Lauren Groff
Eleanor Henderson
Cristina Henriquez
Amy Herzog
Ann Hood
Sarah Jefferis
Heidi Julavits
Mary Beth Keane
Marie Myung-Ok Lee
Edan Lepucki
Heidi Pitlor
Joanna Rakoff
Jane Roper
Danzy Senna
Dani Shapiro
Anna Solomon
Cheryl Strayed
Sarah A. Strickley
Rachel Jamison Webster
Gina Zucker
Praise For Labor Day: True Birth Stories by Today's Best Women Writers…
"This isn't a how-to book, nor does it present a case for the 'perfect birth,' which sets it apart from the plethora of childbirth manuals and lends it broader appeal and a very different type of resonance." —Aleksandra Walker, Booklist
"Labor Day belongs on the nightstand next to What to Expect When You're Expecting. It's a must-have book for mothers, mothers-to-be, and anyone who cares about what birth looks like today." —Molly Ringwald, Actress, Singer, and author of When It Happens to You
"One of the most important preparations for labor is reading actual stories from actual women in labor. Labor Day provides a tremendously varied, honest, and beautiful set of stories to learn from and grow with, no matter where you are in your parenting journey." —Mayim Bialik, Ph.D., Actress, Neuroscientist
"Pregnancy made my body ravenous for food and my brain ravenous for stories like this, stories of how other women had crossed the great divide. In delivery rooms, in the backseats of cars, and at home, these women tell their birth stories so clearly that they must have had stenographers present on the scene. I loved reading this book with my baby asleep in the next room, and will give it to every pregnant woman I know from here on out, forever." —Emma Straub, author of Laura Lamont's Life in Pictures
"I read Labor Day the way I ate my first meal after giving birth: I knew I loved labor stories, but I didn't know I was absolutely starving for them. Ravenous. And they satisfied me; they filled me with wonder and tears and quite a few laugh-out-loud guffaws. And mostly with gratitude that real women shared their real experiences so that all of us can re-experience the wild joy and terror and beauty of giving birth." —Elizabeth Lesser, co-founder of Omega Institute and author of Broken Open: How Difficult Times Can Help Us Grow and The Seeker's Guide: Making Your Life a Spiritual Adventure
"Labor Day is such a gift. I've probably read or heard hundreds of birth stories, but once I picked up Labor Day, I could not put it down. Birth stories, especially those told by mothers who are also writers, are riveting. From Heidi Julavits reflecting on the value of a doula by reminding us that 'Pain, when explained, can be much less painful' to Eleanor Henderson's depiction of being 'dazzled by happiness,' this collection beautifully covers a huge range of birth experiences. Each fascinating detail, from the banal to the exalted, gives a glimpse of just what can happen when a baby is born." —Catherine Taylor, author of Giving Birth: A Journey into the World of Mothers and Midwives
Farrar, Straus and Giroux, 9780374239329, 320pp.
Publication Date: April 15, 2014
About the Author
Eleanor Henderson's novel Ten Thousand Saints was named one of the Top 10 Books of the Year by The New York Times and was a finalist for a Los Angeles Times Book Prize. An assistant professor of fiction writing at Ithaca College, she lives in Ithaca, New York, with her husband and two sons.

Anna Solomon's debut novel, The Little Bride, was a Boston Globe bestseller. Her stories and essays have appeared in The New York Times Magazine, More, One Story, Ploughshares, and elsewhere, and have twice been awarded the Pushcart Prize. She teaches at Brown University in Providence, Rhode Island, where she lives with her husband, daughter, and son.
or
Not Currently Available for Direct Purchase