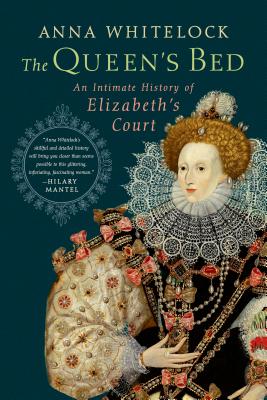 The Queen's Bed
An Intimate History of Elizabeth's Court
Hardcover

* Individual store prices may vary.
Other Editions of This Title:
Paperback (2/3/2015)
Description
From the private world of a beloved English queen, a story of intimacy, royalty, espionage, rumor, and subterfuge

Queen Elizabeth I acceded to the throne in 1558, restoring the Protestant faith to England. At the heart of the new queen's court lay her bedchamber, closely guarded by the favored women who helped her dress, looked after her jewels, and shared her bed.
Elizabeth's private life was of public concern. Her bedfellows were witnesses to the face and body beneath the makeup and raiment, as well as to rumored dalliances with such figures as Earl Robert Dudley. Their presence was for security as well as propriety, as the kingdom was haunted by fears of assassination plots and other Catholic stratagems. Such was the significance of the queen's body: it represented the very British state itself.
In "The Queen's Bed," the historian Anna Whitelock offers a revealing look at the Elizabethan court and the politics of intimacy. She dramatically reconstructs, for the first time, the queen's quarters and the women who patrolled them. It is a story of sex, gossip, conspiracy, and intrigue brought to life amid the colors, textures, smells, and routines of the royal court.
The women who attended the queen held the truth about her health, chastity, and fertility. They were her friends, confidantes, and spies nobody knew her better. And until now, historians have overlooked them." The Queen's Bed" is a revelatory, insightful look into their daily lives the untold story of the queen laid bare.
Praise For The Queen's Bed: An Intimate History of Elizabeth's Court…
"Unquestionably [Elizabeth] is one of the most powerful women to have ever lived. So is it any wonder that this brilliant, vain, temperamental, wily woman still fascinates centuries later?. . . Elizabethan England was a ribald wondrous realm ruled by an extraordinary woman and Anna Whitelock brings it vividly to life in The Queen's Bed." –Robert Collison, Toronto Star
"As Anna Whitelock's
The Queen's Bed
proves, there is still a new and fascinating vantage from which to consider Elizabeth I. . ." —Kathryn Harrison,
New York Times Book Review
"[
The Queen's Bed
]
is filled with fascinating details of life at her court, with eyewitness accounts from diaries, letters and pamphlets. . . a trove of interesting facts." —Moira Hodgson,
Wall Street Journal
"Densely erudite, intriguing take on Queen Elizabeth I's very public private life. . .Especially striking is the author's chronicle of Elizabeth's relationships over the course of her long reign; she was never alone, and she had several (probably consummated) love affairs or infatuations, most notably with her beloved Lord Robert Dudley. . . Whitelock's deep reading into the primary sources of this period proves wonderfully satisfying. This chockablock, scholarly portrait invites further interest in this endlessly alluring queen." —
Kirkus Reviews
"This intimate portrait of Elizabeth's private life, as refracted through her relationships with the ladies of her bedchamber, will engage any readers wishing for a more balanced portrait of Elizabeth the flawed human being, as opposed to simply another rehashing of the mythical representations of her as Gloriana." —
Publishers Weekly
"Fascinating glimpses of Elizabeth I's life behind closed doors. . . [
The Queen's Bed
]
is enriched by Anna Whitelock's eye for the curious and engaging detail." —
TLS
"Anna Whitelock's skillful and detailed history will bring you closer than seems possible to this glittering, infuriating, fascinating woman." —Hilary Mantel
"Whitelock's fearless approach to Elizabeth is not unlike that of Essex. She, too, has burst into the bedroom and shown us the Queen in her most private state. This is an intimate history of the court and a brilliant history of intimacy." —Frances Wilson, The Mail on Sunday
"Whitelock makes sparkling use of the eye-witness testimonies of courtiers, who recorded their impressions of the Queen in letters as gossipy and vivid as any tweet or Facebook post . . . The charm of Anna Whitelock's portrait of the Queen and her times is that it shows the monarch and the woman, in all her power and pathos, through the eyes of the people who knew her best." —Jane Shilling, Daily Mail

"A great story, told with wit and verve." —John Gallagher, The Telegraph
"Engrossing and admirably researched . . . Taking us behind the closed doors of Elizabeth's bedchamber, Whitelock builds up a remarkably intimate portrait . . . [Her] excellent life of Queen Mary was published in 2009. With this dazzling portrait of Mary's successor, she takes her place among the foremost—and most enthrallingly readable—historians of the Tudors." —Miranda Seymour , The Sunday Times (London)
Sarah Crichton Books, 9780374239787, 462pp.
Publication Date: February 11, 2014
About the Author
Anna Whitelock received her PhD in history from Corpus Christi College, Cambridge, in 2004 with a thesis on the court of Mary I. Her articles and book reviews on various aspects of Tudor history have appeared in many publications, including The Guardian, The Times Literary Supplement, and BBC History. She has taught at Cambridge University and is now a lecturer in early modern history and the director of public history at Royal Holloway, University of London.
or
Not Currently Available for Direct Purchase