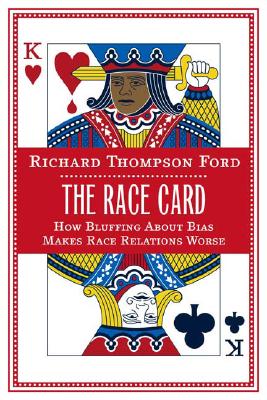 The Race Card
How Bluffing About Bias Makes Race Relations Worse
Hardcover

* Individual store prices may vary.
Other Editions of This Title:
Paperback (3/3/2009)
Description
What do Katrina victims waiting for federal disaster relief, millionaire rappers buying vintage champagne, Ivy League professors waiting for taxis, and ghetto hustlers trying to find steady work have in common? All have claimed to be victims of racism. These days almost no one openly expresses racist beliefs or defends bigoted motives. So lots of people are victims of bigotry, but no one's a bigot? What gives? Either a lot of people are lying about their true beliefs and motivations, or a lot of people are jumping to unwarranted conclusions--or just playing the race card. As the label of "prejudice" is applied to more and more situations, it loses a clear and agreed-upon meaning. This makes it easy for self-serving individuals and political hacks to use accusations of racism, sexism, homophobia, and other types of "bias" to advance their own ends. Richard Thompson Ford, a Stanford Law School professor, brings sophisticated legal analysis, lively and eye-popping anecdotes, and plain old common sense to this heated topic. He offers ways to separate valid claims from bellyaching. Daring, entertaining, and incisive, The Race Card is a call for us to treat racism as a social problem that must be objectively understood and honestly evaluated.
Praise For The Race Card: How Bluffing About Bias Makes Race Relations Worse…
"Rich Ford brings together here his deep knowledge of the law, his intense sensitivity as a reader of contemporary culture, his deep seriousness, and his wonderful sense of humor—and harnesses them all to an immensely important question: now that our civil rights regime is more than 50 years old, can we change it to deliver on our promise of racial justice? His answer is yes, but only if we're willing to kill cows that have become sacred to the left as well as to the right. This profound book should change the terms of the debate—and change what we actually do. If you're ready to question some of what you think you know about race and equality in America—read this book." —Janet Halley, Royall Professor of Law, Harvard Law School
"Analysts of racial controversies are typically either clearly identifiable as conservative or liberal. And their discussions are almost always deadly serious. In The Race Card, Richard Thompson Ford is none of these. He invigorates otherwise stale debate about race-related controversies with the fresh air of insight that doesn't hew to any ideological line. Ford's analysis may well stir the ire of those on both sides of the political divide. The Race Card is not only incisive and idiosyncratic, it is also witty and entertaining. Ford makes even well worn debates seem new and interesting. This book provides a vision of how to move beyond our current racial impasse. It's a good read too!" —R. Richard Banks, Jackson Eli Reynolds Professor of Law, Stanford Law School
"Richard Ford has come along and done the impossible: He's rendered a book about the relationship between Blacks and Whites in America in Technicolor. Engagingly written and urgently argued, Ford's take on how identity politics in America have gone horribly wrong manages to be both provocative and fair. Pulling string from both pop culture and serious legal thought, this book should be read by anyone interested in getting out of the depressing cycle of race-scandal, recrimination, race-scandal, that has come to characterize the national conversation about getting along." —Dahlia Lithwick, Slate columnist
Praise for Racial Culture: A Critique:
"Ford is deliberately provocative and his arguments are ingenious, often funny, and sometimes remarkably personal." --
The New Yorker
"This book will shake things up.
Racial Culture
is elegant, clear, and argumentatively tough. It is a highly incisive intervention in an important domain of anti-discrimination law, social policy, social theory, legal theory, and racial politics." --Janet Halley, Harvard University "
Racial Culture
is a brave, disturbing, and important book by a first-class legal scholar. Richard Ford challenges every left and liberal shibboleth about racial justice in contemporary multicultural societies, while arguing relentlessly for racial justice. The final provocation is chilling and inspired, an incomparable articulation of the historical necessity and the historical damage of identity politics." --Wendy Brown, University of California, Berkeley "This is a race-conscious, anti-racist attack on racial identity politics. There is nothing else like it in the literature. It is provocative in the best sense--provocative of thought--and it opens a new approach to the tired 'conversation about race.' Certainly one of the most important contributions of the last ten years." --Duncan Kennedy, Harvard Law School
Farrar, Straus and Giroux, 9780374245757, 400pp.
Publication Date: January 22, 2008
or
Not Currently Available for Direct Purchase