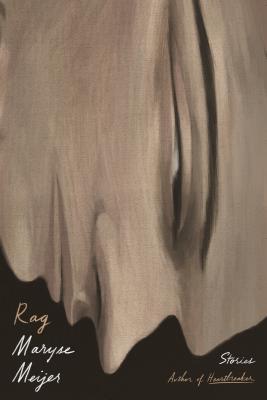 Rag (Paperback)
Stories
FSG Originals, 9780374246235, 160pp.
Publication Date: February 12, 2019
* Individual store prices may vary.
Description
A New York Times Book Review Editors' Choice. One of Library Journal's Best Short Story Collections of 2019. One of Vol. 1 Brooklyn and Tor.com's Books to Read in February.

"Sharp, haunting . . . [Meijer] writes wonderfully of the trap of the self, with its impossible prisons of circumstance and identity, not to mention the perversity of being buried alive, alone, inside a body." --Merritt Tierce, The New York Times Book Review

From the author of Heartbreaker, a disquieting collection tracing the destructive consequences of the desire for connection
A man, forgotten by the world, takes care of his deaf brother while euthanizing dogs for a living. A stepbrother so desperately wants to become his stepsibling that he rapes his girlfriend. In Maryse Meijer's decidedly dark and searingly honest collection Rag, the desperate human desire for connection slips into a realm that approximates horror.
Meijer's explosive debut collection, Heartbreaker, reinvented sexualized and romantic taboos, holding nothing back. In Rag, Meijer's fearless follow-up, she shifts her focus to the dark heart of intimacies of all kinds, and the ways in which isolated people's yearning for community can breed violence, danger, and madness. With unparalleled precision, Meijer spins stories that leave you troubled and slightly shaken by her uncanny ability to elicit empathy for society's most marginalized people.
About the Author
Maryse Meijer is the author of the story collection Heartbreaker (FSG, 2016), which was one of Electric Literature's 25 Best Short Story Collections of 2016.
Her work has appeared in Meridian, Portland Review, Washington Square Review, Indiana Review, and actual paper. She lives in Chicago.
Praise For Rag: Stories…
"Sharp, haunting . . . Meijer traverses an impressive range of emotional, psychological and physical traumas, with a near-total investment in sketching atrocity rather than deciphering it . . . [Meijer] writes wonderfully of the trap of the self, with its impossible prisons of circumstance and identity, not to mention the perversity of being buried alive, alone, inside a body . . . [Her] willingness to write fiercely into the abyss deserves respect." --Merritt Tierce, The New York Times Book Review
"Maryse Meijer's stories reside in that place where psychological realism begins to transform into something that resembles horror. She has a fantastic sense for the visceral and the disquieting, and for unexpected literary juxtapositions. This latest collection offers readers another opportunity to be memorably disoriented." --Vol. 1 Brooklyn
"Reading Maryse Meijer's short fiction is transformative. Stunning and evocative, Rag's 14 stories dazzle with brilliance while taking the reader's heart and wringing it dry--but not before delivering a solid literary punch. It is feeling perhaps shared by Meijer's deeply flawed characters during their quests for often elusive connection with others . . . Deliciously manipulative and psychologically haunting, Rag signifies Maryse Meijer as a master of the short form who consistently shocks and connects by delivering the unexpected." --Melissa Firman, Shelf Awareness
"With terse, dark prose, Meijer has created a cohesive set of stories which seem to delight in exploring taboos and destroying expectations . . . In deconstructing the many forms of the male gaze, she grants insight into the roots of each character's neuroses and fixations, skewering the most extreme manifestations of toxic masculinity. The haunting, beautifully horrific stories in Rag linger long after finishing the collection, and subtly answer almost as many questions as they raise about what it means to interact with and be a man in the modern world." --Katie O'Neill, ZYZZYVA
"Meijer's short stories operate under an atmosphere of threat, her close-to-the-bone writing style crafting a sparsity from which its most unsettling aspects emerge . . . Meijer tilts the axis of her world ever so slightly, turning the familiar into the unsettling, characters into monsters, and genuine expressions of love into pain . . . the readers who first pick up Rag may find themselves in true shock of the horror that emerges from its beautiful prose and haunting characters." --Michael Welch, Kenyon Review
"[Maryse Meijer] has a gift for writing sharp, vivid stories that are strange and horrifying in the most delightful way . . . Meijer tells stories that haven't been told before." --Rachel León, Chicago Review of Books
"In Meijer's outstanding and disturbing second collection, her fragmented writing style produces an intense and distilled view of isolated moments—or, conversely, makes the outrageous or aberrant seem ordinary . . . Though reminiscent of Mary Gaitskill, Jean Rhys, and Muriel Spark, these 14 stories bear a powerful style that is Meijer's own." --Publishers Weekly (starred)
"An unsettling glimpse into the seething underworld of toxic masculinity . . . Like Samantha Hunt and Carmen Maria Machado, Meijer wields strangeness to amplify the emotional realities of her narrators . . . Meijer's stories are an indictment of the indignities women—and other men—face every day as they dodge or appease the dangerous impulses and appetites of misogyny. A rich, beautiful, and utterly terrifying book." --Kirkus (starred)
"In uncompromising language freighted with significance, Meijer captures creepy, off-kilter scenarios—miscarriage as aphrodisiac, dogs facing euthanasia, parents in absurdist mode as their daughter gains weight. This is the kind of book readers stumble upon with a satisfied shock, a dark funhouse that pushes the limits." --Library Journal (Best Short Stories of 2019)
"Meijer fuses sex and violence into an almost singular entity, and uses attraction and repulsion as a pair of emotions that fuel each other . . . Part of what makes these stories so effective is Meijer's striking prose style. She alternates long, tumbling sentences with short, clipped ones, like someone desperately trying to avoid thinking about what they're recounting. It resembles a kind of oral storytelling in its simplicity, albeit maybe one performed under interrogation lights . . . open-ended, bristling stories." --Emily Yang, The Michigan Daily
"The male characters Meijer conjures face each unfolding horror with enigmatic stoicism, as though toxic masculinity is a new, unheard-of experience . . . Meijer's collection is definitely affecting and timely." --Booklist
These stories are extremely good. I could reference masters of the particular as far flung as Thomas Bernhard or Lucia Berlin, but the resonance of Maryse Meijer's ultra-precise prose is too unique. Rag is truly something else." --Dennis Cooper, author of The Marbled Swarm
"Maryse Meijer is a fearless writer. In these wild and inventive stories, Meijer brilliantly channels the most unsettled corners of the human heart. Rag is a glittering nightmare, a wilderness aflame with violence and desire, a harrowing and profound collection." --Laura van den Berg, author of The Third Hotel
"Maryse Meijer is a master of the dark arts, transforming moments of everyday dysphoria into evocative sculptures of loss, aching and oozing with life. In her hands, existence becomes a thing to be felt anew: visceral, fleshly, and almost unbearably human. These stories will shake you." --Alexandra Kleeman, author of You Too Can Have a Body Like Mine