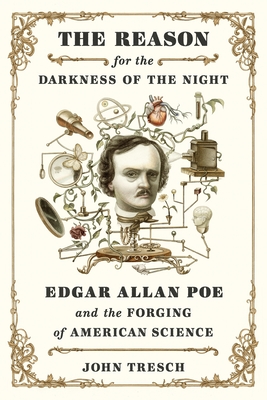 The Reason for the Darkness of the Night
Edgar Allan Poe and the Forging of American Science
Hardcover

* Individual store prices may vary.
Other Editions of This Title:
Digital Audiobook (6/14/2021)
Paperback (10/4/2022)
Compact Disc (6/15/2021)
MP3 CD (6/15/2021)
Description
Finalist for the Los Angeles Times Book Prize | Finalist for the 2022 Edgar Award

An innovative biography of Edgar Allan Poe—highlighting his fascination and feuds with science.

Decade after decade, Edgar Allan Poe remains one of the most popular American writers. He is beloved around the world for his pioneering detective fiction, tales of horror, and haunting, atmospheric verse. But what if there was another side to the man who wrote "The Raven" and "The Fall of the House of Usher"?

In The Reason for the Darkness of the Night, John Tresch offers a bold new biography of a writer whose short, tortured life continues to fascinate. Shining a spotlight on an era when the lines separating entertainment, speculation, and scientific inquiry were blurred, Tresch reveals Poe's obsession with science and lifelong ambition to advance and question human knowledge. Even as he composed dazzling works of fiction, he remained an avid and often combative commentator on new discoveries, publishing and hustling in literary scenes that also hosted the era's most prominent scientists, semi-scientists, and pseudo-intellectual rogues. As one newspaper put it, "Mr. Poe is not merely a man of science—not merely a poet—not merely a man of letters. He is all combined; and perhaps he is something more."

Taking us through his early training in mathematics and engineering at West Point and the tumultuous years that followed, Tresch shows that Poe lived, thought, and suffered surrounded by science—and that many of his most renowned and imaginative works can best be understood in its company. He cast doubt on perceived certainties even as he hungered for knowledge, and at the end of his life delivered a mind-bending lecture on the origins of the universe that would win the admiration of twentieth-century physicists. Pursuing extraordinary conjectures and a unique aesthetic vision, he remained a figure of explosive contradiction: he gleefully exposed the hoaxes of the era's scientific fraudsters even as he perpetrated hoaxes himself.

Tracing Poe's hard and brilliant journey, The Reason for the Darkness of the Night is an essential new portrait of a writer whose life is synonymous with mystery and imagination—and an entertaining, erudite tour of the world of American science just as it was beginning to come into its own.
Praise For The Reason for the Darkness of the Night: Edgar Allan Poe and the Forging of American Science…
"A splendid new biography . . . Poe's manic omnivory, his intellectual passions and professional struggles, is the heart of the book . . . Weaving private letters and published works into a broader history, Tresch uses Poe as a drunken Virgil, through whose hazy eyes we catch glimpses of abolitionism and the Mexican-American War, new technologies and the Second Great Awakening." —Henry M. Cowles, Los Angeles Review of Books

"Tresch's approach manages to open up the world of Poe's writing in an unexpectedly fascinating way. What emerges is how Poe's interest in—and sometimes misunderstanding of—science drove some of his greatest works of horror." —Colin Dickey, The New Republic

"Ingenious . . . a rich assemblage of biographical vignettes, brief story analyses and mini-essays on the era's scientific beliefs." —Michael Dirda, The Washington Post

"Superb . . . John Tresch's astonishing book also makes Poe exemplary rather than exceptional . . . It is Tresch's great accomplishment to have given us our fullest contextualization of Poe's technoaesthetics, its deep roots in the science of his day." —Jonathan Elmer, Public Books

"Tresch has produced a steady, clever, engaging literary biography that provides an excellent survey of an overlooked aspect of Poe's writing." —Bob Blaisdell, The Christian Science Monitor

"Richly engaging... [Tresch] succeeds in placing Poe's life story and the development of his art in the context of the maturation of science... a moving, insightful biography." —Robert J. Scholnick, Poe Studies

"Tresch draws alluring connections between Poe's cosmological vision and his fiction, noting the "staggering unity of purpose" that defined both." —The New Yorker

"John Tresch gives Poe the wide-ranging, all-rounder's biography he deserves . . . [His] narrative is studded with the colorful and colorfully named." —Max Carter, Air Mail

"Tresch offers a thorough, beautifully developed, long-overdue exploration of Poe's lifelong affinity for science and its pervasive influence on his art . . . In its combination of suspenseful narrative, elegant structure, impressive research, imagination and appeal to both popular and academic readers, The Reason for the Darkness of the Night is a worthy tribute to Poe's own literary craft." —Susan Elizabeth Sweeney, Literary Review

"Tresch is not the first to comment on Poe's many connections with science, but his new biography succeeds in giving the full view, combining an ample tour through the major scientific ideas of the early 19th century with deft and frequently profound readings of Poe's large body of work . . . The book is valuable reading for anyone drawn to the strange beauty within and just beyond science, and who wonders, as Poe did, what role a poet has to play." —James Dinneen, Undark

"One of the many compelling aspects of this book is its treatment of the first half of the 19th century as a distant mirror of our own times . . . It's taken a long time to set things right. This book helps to do that. A reader comes away not only with admiration for Poe but affection, too." —David Brown, The American Scholar

"[Tresch] situates [Poe] in a maelstrom of competing tides, as a new class of engineers and experimentalists splashed up against philosophers, theologians, and cranks . . . Tresch suggests [Poe's writings] can be seen as endorsements of a synthesis of science and Romanticism." —Daniel Engber, The Atlantic

"[Tresch] helps readers see afresh the creative achievements of Poe . . . [His] book is chock-full of fresh insights that will delight Poe enthusiasts . . . Splendid." —Travis Montgomery, The Edgar Allan Poe Review

"[A] luminous study . . . Tresch brilliantly illuminates the process by which Poe synthesized his scientific knowledge in his works of the imagination." —Bill Kelly, Booklist

"[A]n admiring, intellectually stimulating portrait . . . Edgar Allan Poe's status as a major American literary figure is long established. But John Tresch's Reason for the Darkness of the Night now should encourage the curious and open-minded to devote fresh attention to the artist's contributions to the advancement of scientific thought." —Shelf Awareness

"Tresch sheds light on Edgar Allan Poe's engagement with science in this intriguing biography . . . While [he] addresses the common impression of Poe as a 'morbid dreamer' and a penniless writer, he takes things further by offering a nimble account of the emerging science of Poe's day. Fans of Poe's work—and science enthusiasts­—will appreciate Tresch's fresh angle." —Publishers Weekly

"[Balances] insightful discussions of Poe's literary works alongside his intriguing scientific pursuits. A surprising side of Poe splendidly revealed." —Kirkus Reviews (starred review)

"This biography is a masterwork on a master, and one of my favorite reads in years. John Tresch lets the reader see how Poe's imagination was not only wild but also procedural, not only unbounded but also formal. In these pages, we meet the engineer of horror, the trickster of reason, and the mutinous captain of mystery." —Rivka Galchen, author of Everyone Knows Your Mother Is a Witch and American Innovations

"In this original and moving biography, John Tresch brilliantly integrates Poe the man and the writer with his deep engagement with the sciences of his day. He lucidly reveals the content of these fascinations, and convincingly illuminates their powerful influence on Poe's writings and thought. Tresch discerns Poe's privileging of mind and mystery over frigid empiricism and his terrifying perception that only spiritual darkness lay beneath the surface of the material knowledge that was transforming the world. A transfixing and eye-opening portrait." —Daniel J. Kevles, professor emeritus of history at Yale University and author of In the Name of Eugenics and The Physicists

"At last, a biography of Poe that places him in the thick of the philosophical and scientific investigations of his time, reclaiming the rigor of his thought, the inventiveness of his writings, and a personality as visionary as it is audacious. John Tresch gives us the Poe whose deepest preoccupations became a threat to the smug morality, highfalutin cant, and 'doggerel aesthetics' of his contemporaries. An astonishing feat of research and beautiful prose, this book gives Poe what he has long deserved." —Colin Dayan, author of In the Belly of Her Ghost and Animal Quintet

"This marvelous time machine transports us deep into the nineteenth century and the company of its most fascinating citizens. Poetry, mesmerism, the rise of American science—it's all here, as vivid as can be." —Fred Turner, Harry and Norman Chandler Professor of Communication at Stanford University and author of The Democratic Surround

"Poe's devilish analytical wit and radical aesthetic genius through John Tresch's marvelously informative biography. The great poet's delirious cosmological artifices, Tresch shows, are in dialogue with his wide-ranging knowledge of technology, empirical method, materialism, and the newly forming scientific institutions—and trickster spectacles—of his time." —Charles Bernstein, professor emeritus of English at the University of Pennsylvania and author of Near/Miss and A Poetics

"John Tresch juxtaposes Poe's biography with the rise of American science to turn a familiar story into a mesmerizing narrative, cast like a magic lantern show. Almost everything the author wrote takes on stunning new meaning. This is Poe wrestling with the big questions—and Tresch unfolding the history of a momentous cultural revolution." —J. Gerald Kennedy, author of Strange Nation

"John Tresch's The Reason for the Darkness of the Night is a lively and learned investigation of the life of Poe through his literary engagement with science—an accessible and exciting exploration." —Richard Kopley, author of Edgar Allan Poe and the Dupin Mysteries

"John Tresch's engaging biography of an enigmatic genius puts Edgar Allan Poe right where he belongs: present at the creation of American science." —Richard R. John, author of Network Nation
Farrar, Straus and Giroux, 9780374247850, 448pp.
Publication Date: June 15, 2021
About the Author
John Tresch is Professor of History of Art, Science, and Folk Practice at the Warburg Institute in the University of London. He previously taught history of science and technology in Philadelphia at the University of Pennsylvania for over a decade. He has held fellowships at the New York Public Library, Columbia University, the University of Chicago, the Max Planck Institute for the History of Science, and the Ecole des Hautes Etudes en Sciences Sociales. He is the author of The Romantic Machine: Utopian Science and Technology after Napoleon.