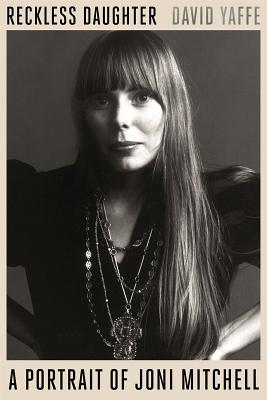 Reckless Daughter
A Portrait of Joni Mitchell
Hardcover

* Individual store prices may vary.
Other Editions of This Title:
Digital Audiobook (10/16/2017)
Paperback (10/2/2018)
Compact Disc (10/17/2017)
Description
"She was like a storm." —Leonard Cohen

Joni Mitchell may be the most influential female recording artist and composer of the late twentieth century. In Reckless Daughter, the music critic David Yaffe tells the remarkable, heart-wrenching story of how the blond girl with the guitar became a superstar of folk music in the 1960s, a key figure in the Laurel Canyon music scene of the 1970s, and the songwriter who spoke resonantly to, and for, audiences across the country.

A Canadian prairie girl, a free-spirited artist, Mitchell never wanted to be a pop star. She was nothing more than "a painter derailed by circumstances," she would explain. And yet, she went on to become a talented self-taught musician and a brilliant bandleader, releasing album after album, each distinctly experimental, challenging, and revealing. Her lyrics captivated listeners with their perceptive language and naked emotion, born out of Mitchell's life, loves, complaints, and prophecies. As an artist whose work deftly balances narrative and musical complexity, she has been admired by such legendary lyricists as Bob Dylan and Leonard Cohen and beloved by such groundbreaking jazz musicians as Jaco Pastorius, Wayne Shorter, and Herbie Hancock. Her hits—from "Big Yellow Taxi" to "Both Sides, Now" to "A Case of You"—endure as timeless favorites, and her influence on the generations of singer-songwriters who would follow her, from her devoted fan Prince to Björk, is undeniable.

In this intimate biography, drawing on dozens of unprecedented in-person interviews with Mitchell, her childhood friends, and a cast of famous characters, Yaffe reveals the backstory behind the famous songs—from Mitchell's youth in Canada, her bout with polio at age nine, and her early marriage and the child she gave up for adoption, through the love affairs that inspired masterpieces, and up to the present—and shows us why Mitchell has so enthralled her listeners, her lovers, and her friends. Reckless Daughter is the story of an artist and an era that have left an indelible mark on American music.
Praise For Reckless Daughter: A Portrait of Joni Mitchell…
"A vivid and dramatic book" —Josephine Livingstone, The New Republic

"The best chronicle to date of Mitchell's creative process and the specific way her songs were composed." —Rachel Syme, The Nation

"Yet whatever her listeners might dream or desire, Joni Mitchell was never in it for them, and she certainly wasn't like them: She was a genius. As David Yaffe shows in his new biography, Reckless Daughter: A Portrait of Joni Mitchell, to approach her as an open book waiting to be read is to miss the essence of that genius . . . [T]he best full-length treatment of Mitchell yet published . . . [Yaffe] pulls off the feat that has eluded so many of his predecessors: He forges an intimacy with Mitchell on her own, uncompromising terms by truly listening to her, as closely and as generously as she's always deserved . . ." —Jack Hamilton, The Atlantic

"Joni Mitchell's gift was so enormous that it remade the social space around her. As David Yaffe's new biography, "Reckless Daughter: A Portrait of Joni Mitchell" (Sarah Crichton Books), suggests, it is no small burden to possess something as valuable as Mitchell's talent, and it meant that this girl from the Canadian prairie would be in the world, whether she liked it or not . . . Yaffe, who teaches at Syracuse, charts these encounters with a sure hand, and is a brilliant analyst of how Mitchell's songs are made. " —Dan Chiasson, The New Yorker

"In prose that shifts between chatty, impressionistic and reportorial, Yaffe sympathetically traces the outline of the musician's life, from her childhood battle with polio through her life-threatening aneurysm in 2015. Working his way through her albums, he offers up detailed takes on recording sessions, song tidbits, even chord changes. . . Reckless Daughter looks at Mitchell's life through all sides now." —David Browne, Rolling Stone

"Yaffe solidly traces the glory and gloom of a musical career that expanded our ears and hearts . . . The lonely girl ill with polio had survived to become a great artist. Yaffe's books tells us how she got there." —Sibbie O'Sullivan, The Washington Post

"David Yaffe has crafted a beautiful, heartbreaking, fierce and uncompromising look at one of the greatest artists of the past 50 years . . . a lush, complex, carefully researched examination of one of music's most interesting living legends . . . This is a full portrait of an artist who carved a place for herself in the music industry and managed to walk away from it with more than her dignity fully intact . . . Reckless Daughter will most likely prove to be the best, most comprehensive look at all sides of this powerful and still meaningful, still influential musical and artistic presence." —Christopher John Stephens, PopMatters

"Dazzling . . . A shimmering portrait of one artist's life, illusions and all." —Booklist (starred review)

"[Yaffe] brilliantly guides readers through Mitchell's evolution as a musician with vivid descriptions of the making of each of her albums from Song to a Seagull ("If drums and an electric guitar had been added to the mix, Joni would have produced some acid rock herself") through Shine in 2007. Yaffe introduces readers to the musicians with whom Mitchell worked, including Leonard Cohen, Graham Nash, Judy Collins, and Charles Mingus. The combination of fine writing and extensive access make this the definitive biography of a gifted songwriter and musician." —Publishers Weekly (starred review)

"The essential biography of Joni Mitchell." —Now Toronto

"David Yaffe has composed an abnormally well-written musician biography—descriptive, culturally aware and highly supportive of his subject." —David Luhrssen, Shepherd Express

"Reckless Daughter is a bewitched, bothered, and bewildered portrayal of one of the most beautiful and enigmatic artists of a beautiful and enigmatic period of American life. It is touching, mystifying, and revealing in equal parts." —Mary Gaitskill

"Joni Mitchell, an artist of innervating and daunting complexity, originality, and importance, could have no better biographer than David Yaffe. He knows the music like the serious musician he is, knows the poetry like the literary scholar he is, and is equally attuned to Mitchell's tortured soul. On top of all that, he seems to have interviewed everyone important in Mitchell's life, from her first husband to Leonard Cohen. Reckless Daughter is nothing less than the definitive statement on the life and work of an artist who defies definition." —David Hajdu, author of Love for Sale: Pop Music in America

"It's so easy to get Joni Mitchell wrong, or to leave out the most important things, or to miss the point altogether. Reckless Daughter is the definitive correction to all the errors, a sharp yet sprawling look at one of the most brilliant musical artists of modern times. David Yaffe grasps the nuances—of the music, the poetry, the intellect, the madness. He gets it. He gets her. I couldn't get enough of this fine biography." —Meghan Daum, author of The Unspeakable: And Other Subjects of Discussion

"David Yaffe is an artful and incisive critic who writes with such grace and clarity. With Reckless Daughter, he makes a figure as iconic as Joni Mitchell feel wholly new. This portrait is loaded with revelations, both spiritual and actual. I thought I understood something about Mitchell—the way her tough and tender songs move, her sweetness and rebellion—but Yaffe understands everything. What a book." —Amanda Petrusich, author of Do Not Sell at Any Price: The Wild, Obsessive Hunt for the World's Rarest 78rpm Records
Sarah Crichton Books, 9780374248130, 448pp.
Publication Date: October 17, 2017
About the Author
David Yaffe was born in Dallas, Texas, in 1973. He has written on numerous subjects (music, film, theater, dance, higher education) for The Nation, New York, Slate, The New York Times, The New Republic, Harper's Magazine, The New York Review of Books, The Paris Review, and other publications. He is currently a professor of Humanities at Syracuse University, and is the author of Fascinating Rhythm: Reading Jazz in American Writing and Bob Dylan: Like a Complete Unknown.
or
Not Currently Available for Direct Purchase