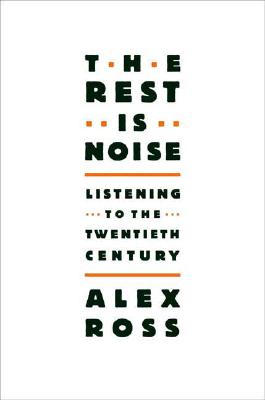 The Rest Is Noise
Listening to the Twentieth Century
Hardcover

* Individual store prices may vary.
Other Editions of This Title:
Digital Audiobook (10/15/2007)
Paperback (10/14/2008)
Compact Disc (12/1/2007)
Audio Cassette (10/1/2007)
Audio Cassette (10/1/2007)
Compact Disc (11/1/2007)
MP3 CD (10/1/2007)
Description
The scandal over modern music has not died down. While paintings by Pablo Picasso and Jackson Pollock sell for a hundred million dollars or more, shocking musical works from Stravinsky's "Rite of Spring "onward still send ripples of unease through audiences. At the same time, the influence of modern music can be felt everywhere. Avant-garde sounds populate the soundtracks of Hollywood thrillers. Minimalist music has had a huge effect on rock, pop, and dance music from the Velvet Underground onward. Alex Ross, the brilliant music critic for "The New Yorker," shines a bright light on this secret world, and shows how it has pervaded every corner of twentieth century life."" "The Rest Is Noise "takes the reader inside the labyrinth of modern sound. It tells of maverick personalities who have resisted the cult of the classical past, struggled against the indifference of a wide public, and defied the will of dictators. Whether they have charmed audiences with the purest beauty or battered them with the purest noise, composers have always been exuberantly of the present, defying the stereotype of classical music as a dying art. Ross, in this sweeping and dramatic narrative, takes us from Vienna before the First World War to Paris in the twenties, from Hitler's Germany and Stalin's Russia to downtown New York in the sixties and seventies. We follow the rise of mass culture and mass politics, of dramatic new technologies, of hot and cold wars, of experiments, revolutions, riots, and friendships forged and broken. In the tradition of Simon Schama's "The Embarrassment of Riches "and Louis Menand's "The Metaphysical Club," the end result is not so much a history of twentieth-century music as a history of the twentieth century through its music.
Praise For The Rest Is Noise: Listening to the Twentieth Century…
"...[T]his is no plodding history. With his typically lyrical and attentive style, the author presents a lucid, often gripping story of a complex history. A must-read for those who have struggled with understanding modern music and a benchmark book that should eventually become a classic history of the 20th century."—Kirkus Reviews (starred reveiw)

"There seems always to have been a 'crisis of modern music,' but by some insane miracle one person finds the way out. The impossibility of it gives me hope. Fast-forwarding through so many music-makers' creative highs and lows in the company of Alex Ross's incredibly nourishing book will rekindle anyone's fire for music." —Björk

"Alex Ross has produced an introduction to twentieth-century music that is also an absorbing story of personalities and events that is also a history of modern cultural forms and styles that is also a study of social, political, and technological change. The Rest Is Noise is cultural history the way cultural history should be written: a single strong narrative operating on many levels at once. What more do you want from a book? That it be intelligently, artfully, and lucidly written? It's those things, too." —Louis Menand, author of The Metaphysical Club

"You don't have to be an aficionado of modern music to love this book: Alex Ross's extraordinary gifts as a writer, his deep knowledge of music, and his fresh forays into cultural history make The Rest is Noise a complete delight." —Jean Strouse, author of Morgan: American Financier
Farrar, Straus and Giroux, 9780374249397, 640pp.
Publication Date: October 16, 2007
About the Author
Alex Ross, music critic for "The New Yorker," is the recipient of numerous awards for his work, including two ASCAP Deems Taylor Awards for music criticism, a Holtzbrinck Fellowship at the American Academy in Berlin, a Fleck Fellowship from the Banff Centre, and a Letter of Distinction from the American Music Center for significant contributions to the field of contemporary music. "The Rest Is Noise "is his first book.
or
Not Currently Available for Direct Purchase