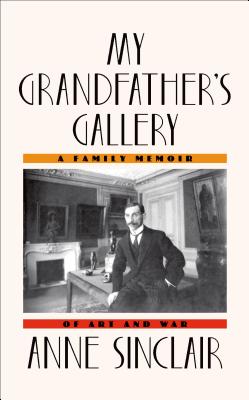 My Grandfather's Gallery (Hardcover)
A Family Memoir of Art and War
Farrar, Straus and Giroux, 9780374251628, 240pp.
Publication Date: September 16, 2014
Other Editions of This Title:
Paperback (10/6/2015)
Compact Disc (9/16/2014)
MP3 CD (9/16/2014)
* Individual store prices may vary.
Description
A singular man in the history of modern art, betrayed by Vichy, is the subject of this riveting family memoir
On September 20, 1940, one of the most famous European art dealers disembarked in New York, one of hundreds of Jewish refugees fleeing Vichy France. Leaving behind his beloved Paris gallery, Paul Rosenberg had managed to save his family, but his paintings—modern masterpieces by Cézanne, Monet, Sisley, and others—were not so fortunate. As he fled, dozens of works were seized by Nazi forces and the art dealer's own legacy was eradicated.
More than half a century later, Anne Sinclair uncovered a box filled with letters. "Curious in spite of myself," she writes, "I plunged into these archives, in search of the story of my family. To find out who my mother's father really was . . . a man hailed as a pioneer in the world of modern art, who then became a pariah in his own country during the Second World War. I was overcome with a desire to fit together the pieces of this French story of art and war."
Drawing on her grandfather's intimate correspondence with Picasso, Matisse, Braque, and others, Sinclair takes us on a personal journey through the life of a legendary member of the Parisian art scene in My Grandfather's Gallery. Rosenberg's story is emblematic of millions of Jews, rich and poor, whose lives were indelibly altered by World War II. Sinclair's journey to reclaim her family history paints a picture of modern art on both sides of the Atlantic between the 1920s and 1950s that reframes twentieth-century art history.
About the Author
Anne Sinclair is Paul Rosenberg's granddaughter and France's best-known journalist. For thirteen years she was the host of 7 sur 7, a weekly news and politics television series that had some of the highest ratings in France. While there she interviewed all the major global figures of the day, including Bill Clinton, Mikhail Gorbachev, and Madonna. The director of French Huffington Post, Sinclair has written two bestselling books on politics. Until 2012 she was married to Dominique Strauss-Khan.

Shaun Whiteside is a Northern Irish translator of French, Dutch, German, and Italian literature. He has translated many novels, including Manituana and Altai by Wu Ming, The Weekend by Bernhard Schlink, and Magdalene the Sinner by Lilian Faschinger, which won him the Schlegel-Tieck Prize for German Translation in 1997.
Praise For My Grandfather's Gallery: A Family Memoir of Art and War…
"A riveting family memoir of a singular man-betrayed by his country and sentenced to a life of exile-that is also "a detailed and important record of 20th century art." —Judy Bolton-Fasman, The Boston Globe
"In shifting back and forth from the Vichy years to the early '20s to the aftermath of the war, Ms. Sinclair offers revealing glimpses into what made the gallery such a prime target for the Nazis." —Hugh Eakin, The Wall Street Journal
"My Grandfather's Gallery paints a vivid portrait of a moment of exceptional brilliance in French artistic life…the speed and greed with which it was so brutally destroyed, and the efficiency with which these deeds of destruction were covered up and forgotten." —The Spectator (UK)
"More memoir than biography, this book's fascination comes from the feeling that the reader is discreetly looking on, brought up close to the author's own emotional experience as she roams back and forth across time…like a set of wistful glimpses, meticulously analysed, into a past that emerges as truly another country." —Sue Roe, The Guardian (UK)
"[A] splendid memoir…Sinclair calls attention to the difficulties of searching out the past and of grappling with what is found there." —Publishers Weekly
"Readers interested in WWII and art under fascism will find this a fascinating read. Sinclair's memoir contextualizes yet another aspect of this tumultuous time." —Booklist
"An intriguing window into the art scene of the early to mid-1900s." —Kirkus Reviews
Coverage from NPR
or
Not Currently Available for Direct Purchase