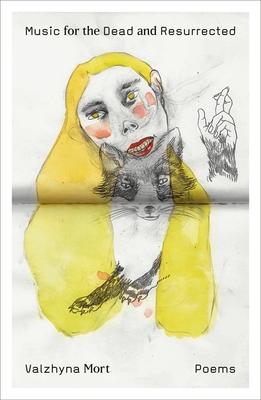 Music for the Dead and Resurrected
Poems
Hardcover

* Individual store prices may vary.
Description
In her book of letters to the dead, the prize-winning poet Valzhyna Mort relearns how to mourn those erased by violent history.

With shocking, unforgettable lyric force, Valzhyna Mort's Music for the Dead and Resurrected confronts
the legacy of violent death in one family in Belarus. In these letters to the dead, the poet asks: How do we mourn after a century of propaganda? Can private stories challenge the collective power of Soviet and American historical mythology?

Mort traces a route of devastation from the Chernobyl fallout and a school system controlled by ideology to the Soviet labor camps and the massacres of World War II. While musical form serves as a safe house for the poet's voice, old trees speak to her as the only remaining witnesses, hosts to both radiation and memory.

Valzhyna Mort, born in Belarus and now living in the United States, conjures a searing, hallucinogenic ritual of rhythmic remembrance in a world where appeals to virtue and justice have irrevocably failed.
Praise For Music for the Dead and Resurrected: Poems…
"Mort is well-known in Europe as a crusader on behalf of Belarusian language and identity. In English, cast in rapid-fire free verse lyrics and sequences, her poems seem to channel her country's complicated and highly pressurized history into a voice that is simultaneously strange, intimate, lonesome, hilarious, surreal and all too real. . ." —Craig Morgan Teicher, NPR

"[Music for the Dead and Resurrected] asks searing, meditative questions born from war, massacre, and famine . . . The stakes of humanity are central to Mort, who seeks to offer a voice to those denied one throughout history . . . These are poems of reclamation and resurrection; to live in them is to confront the hard work of witness." —Publishers Weekly (starred review)

"Mort's poems are ethereal and personal, poignant and political." —Diego Báez, Booklist

"Hauntingly beautiful . . . Mort is not simply writing another history of the worst crimes of the past century, she is creating a mythology for how we internalize those crimes at the individual level, and, perhaps, more importantly, the ways in which we both silence, remember, and re-create them as a result. . . we live in Mort's lyric poems, and it is here that her mythologizing genius is most profound . . . The historical intertwined with the personal, the brutish and inhumane wrapped up in the all-too human, this is the mythology of Valzhyna Mort. A poetry that demonstrates the complexity of human experience." —Peter Grandbois, The New York Journal of Books
Farrar, Straus and Giroux, 9780374252069, 112pp.
Publication Date: November 3, 2020
About the Author
Valzhyna Mort is the author of Factory of Tears and Collected Body. She has received the Lannan Foundation Fellowship, the Bess Hokin Prize from Poetry, the Amy Clampitt Residency, the Gulf Coast Prize in Translation, and the Glenna Luschei Prairie Schooner Award. Born in Minsk, Belarus, she writes in English and Belarusian.