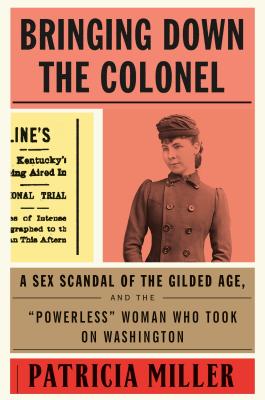 Bringing Down the Colonel
A Sex Scandal of the Gilded Age, and the "Powerless" Woman Who Took On Washington
Hardcover

* Individual store prices may vary.
Other Editions of This Title:
Digital Audiobook (11/12/2018)
Paperback (3/3/2020)
Description
"I'll take my share of the blame. I only ask that he take his."

In Bringing Down the Colonel, the journalist Patricia Miller tells the story of Madeline Pollard, an unlikely nineteenth-century women's rights crusader. After an affair with a prominent politician left her "ruined," Pollard brought the man—and the hypocrisy of America's control of women's sexuality—to trial. And, surprisingly, she won.

Pollard and the married Colonel Breckinridge began their decade-long affair when she was just a teenager. After the death of his wife, Breckinridge asked for Pollard's hand—and then broke off the engagement to marry another woman. But Pollard struck back, suing Breckinridge for breach of promise in a shockingly public trial. With premarital sex considered irredeemably ruinous for a woman, Pollard was asserting the unthinkable: that the sexual morality of men and women should be judged equally.

Nearly 125 years after the Breckinridge-Pollard scandal, America is still obsessed with women's sexual morality. And in the age of Donald Trump and Harvey Weinstein, we've witnessed fraught public reckonings with a type of sexual exploitation unnervingly similar to that experienced by Pollard. Using newspaper articles, personal journals, previously unpublished autobiographies, and letters, Bringing Down the Colonel tells the story of one of the earliest women to publicly fight back.
Praise For Bringing Down the Colonel: A Sex Scandal of the Gilded Age, and the "Powerless" Woman Who Took On Washington…
"[A] tantalizing and beautifully researched book . . . Anyone emboldened by the #MeToo movement to come forward owes a significant debt to Pollard." —Karen Abbott, The Washington Post

"What better time for a story about a prominent man taken totally aback when he discovers that the rules about what we can get away with have changed? . . . After a while, [the Breckenridge-Pollard] saga vanished from the national memory. Congratulations to Patricia Miller for bringing it back." —Gail Collins, The New York Times Book Review

"In today's #MeToo world, 'Bringing Down the Colonel' reverberates in unexpected ways." —Melanie Kirkpatrick, The Wall Street Journal

"Ms. Miller shows how the scandal laid open previously taboo topics—adultery, illicit pregnancies, abortion and sexual hypocrisy . . . her wide historical lens makes it a valuable, timely addition to discussions of gender and power, not to mention an eerie echo of recent news." —The Economist

"A story from the 19th century that rumbles and resonates with our own." —The New York Times

"It's impossible to read [Bringing Down the Colonel] without it feeling familiar — the clear parallels to Trump, Weinstein, Kavanaugh, and other figures in the 'he said, she said' dramas of our own time. Miller's compelling account is both shockingly relevant and a grim reminder that, when it comes to double standards, we haven't advanced all that far since the Victorian era." —The Boston Globe

"[Bringing Down the Colonel] speaks to the long history behind today's Me Too movement . . . A pair of supporting characters valuably reveals the limited options and awkward issues surrounding women's work and virtue . . . Persuasive." —Emily Bingham, The Journal of Southern History

"Though the sexual exploitation of women has been well documented, stories of women successfully bringing down their abusers have, until recently, been few and far between. Journalist Miller reaches back into the past to resurrect one woman's compelling odyssey from victim to victor . . . A fascinating examination of a historical #MeToo episode." —Booklist

"Miller dusts off a long-forgotten scandal that gripped the nation's capital in the late 19th century [and] seamlessly weaves in the stories of other unmarried women connected to the case . . . This book will enthrall readers interested in women's and political history." —Publishers Weekly

"A panoramic examination of women's changing roles and of women's efforts to provide for themselves and make their way in the largely male public sphere. Good, timely history for the #MeToo moment." —Kirkus Reviews

"Bringing Down the Colonel reads as if it were ripped from today's headlines. Deeply researched, beautifully written, the story of Madeline Pollard brings alive a period when sexual mores were beginning to change from Victorian to modern. But as Madeline's story makes all too clear, the more things change, the more they stay the same: vulnerable women and powerful men are not that different more than a century later. Madeline uses her beauty and fierce intelligence to come out ahead, with all of us rooting for her." —Kristin Luker, Elizabeth Josselyn Boalt Professor Emerita of Law, University of California-Berkeley

"History shows how often yesterday's sex scandal is tomorrow's sexual revolution. Patricia Miller's timely and exhilarating book shows how a supposedly 'fallen' and 'ruined' woman in 1890s Washington shockingly took a powerful man to court to demand reparations. You'll cheer for the woman who spoke out, brought down the colonel, and struck an early blow against the double sexual standard." —Elaine Showalter, Professor Emerita of English, Princeton University

"Polite society deemed Madeline Pollard a 'ruined woman' when her long-time lover, Kentucky Congressman William Breckinridge, refused to marry her as promised. Here's the surprising tale of how she sued and roused a generation of women to throw him out of office." —Meryl Gordon, author of Bunny Mellon: The Life of an American Style Legend

"A meticulously researched and deftly written narrative about the epic struggle between a wronged woman and the powerful man who abused her. Bringing Down the Colonel puts a colorful cast of characters on stage in a gripping courtroom drama that folds in large swaths of American social and political history at a moment of national transition. In many ways, as Miller demonstrates, the monumental case of Pollard v. Breckinridge was an important catalyst for the nascent women's movement and a precursor of today's #MeToo phenomenon. An entertaining and informative read." —Tom Sancton, author of The Bettencourt Affair: The World's Richest Woman and the Scandal that Rocked Paris
Sarah Crichton Books, 9780374252663, 384pp.
Publication Date: November 13, 2018
About the Author
Patricia Miller is a journalist and an editor who has written extensively about the intersection of politics, sex, and religion. Her work has appeared in The Atlantic, Salon, The Nation, The Huffington Post, RH Reality Check, and Ms.magazine. She is a senior correspondent for Religion Dispatches, where she writes about the politics of sexuality and the Catholic Church. She was formerly the editor of Conscience magazine and the editor in chief of National Journal's daily health-care briefings, including the Kaiser Daily Reproductive Health Report and American Healthline. She has a master's in journalism from New York University and is based in Washington, D.C.

Patricia is the author of Good Catholics: The Battle Over Abortion in the Catholic Church and Bringing Down the Colonel: A Sex Scandal of the Gilded Age, and the "Powerless" Woman Who Took On Washington.
or
Not Currently Available for Direct Purchase