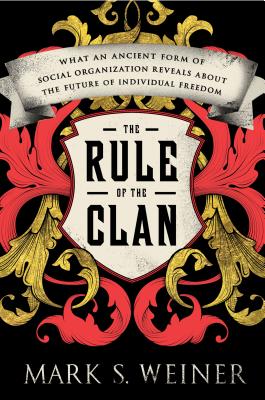 The Rule of the Clan (Hardcover)
What an Ancient Form of Social Organization Reveals about the Future of Individual Freedom
Farrar Straus Giroux, 9780374252816, 272pp.
Publication Date: March 12, 2013
* Individual store prices may vary.
Description
A revealing look at the role kin-based societies have played throughout history and around the world
A lively, wide-ranging meditation on human development that offers surprising lessons for the future of modern individualism, "The Rule of the Clan" examines the constitutional principles and cultural institutions of kin-based societies, from medieval Iceland to modern Pakistan.
Mark S. Weiner, an expert in constitutional law and legal history, shows us that true individual freedom depends on the existence of a robust state dedicated to the public interest. In the absence of a healthy state, he explains, humans naturally tend to create legal structures centered not on individuals but rather on extended family groups. The modern liberal state makes individualism possible by keeping this powerful drive in check and we ignore the continuing threat to liberal values and institutions at our peril. At the same time, for modern individualism to survive, liberals must also acknowledge the profound social and psychological benefits the rule of the clan provides and recognize the loss humanity sustains in its transition to modernity.
Masterfully argued and filled with rich historical detail, Weiner's investigation speaks both to modern liberal societies and to developing nations riven by "clannism," including Muslim societies in the wake of the Arab Spring.
About the Author
Mark S. Weiner teaches constitutional law and legal history at Rutgers School of Law in Newark, New Jersey. He is the author of "Black Trials: Citizenship from the Beginnings of Slavery to the End of Caste," recipient of the Silver Gavel Award of the American Bar Association; and "Americans without Law: The Racial Boundaries of Citizenship," recipient of the President's Book Award of the Social Science History Association. He lives with his wife in Connecticut.
Praise For The Rule of the Clan: What an Ancient Form of Social Organization Reveals about the Future of Individual Freedom…
Praise for The Rule of the Clan
"It has been said that the past can be a reliable guide to the future. Mark Weiner's The Rule of the Clan is a fascinating case in point. He dissects modern society to reveal the ancient form of social order from which it emerged, then portrays convincingly how those earlier forms can reassert themselves under certain conditions. His book should be of great interest to scholars of history, government, and human behavior alike." —Rick Docksai, World Future Review
"Weiner doesn't simplify his argument by dismissing or condescending to the clan system; he engages with the very real benefits provided by one of the most durable political associations in human history . . . This erudite, quick-paced book demonstrates what the mix of modernity and clans can create." —Cara Parks, The New York Times Book Review
"The Rule of the Clan confronts an uncomfortable but important reality. In the process, it challenges the careless liberal assumption that national identity is an anachronism and a strong state a threat." —Paul Collier, author of The Bottom Billion
"A  must read for anyone interested in understanding the complex relation between tribal identity, law, and custom; in seeking common ground between the Western and Islamic legal and political traditions; and in connecting the past to present in the service of legal reform." —Abdullah Saeed, Sultan of Oman Professor of Arab and Islamic Studies, University of Melbourne, Australia
"The Rule of the Clan gives a fascinating glimpse into a world that few Westerners today understand: a world of honor, shame, collective responsibility, and violent feuds. This book tells us what we need to know if we really want to modernize the clan societies of the Middle East and central Asia—and if we want to save our own liberal democracies from descending into clannish chaos." —Ian Morris, Jean and Rebecca Willard Professor of Classics and Professor of History at Stanford University, and author of Why the West Rules—For Now
"The Rule of the Clan is a delight to read—an engaging tour of societies in which kinship groups have been the primary form of social organization, from Anglo-Saxon England to medieval Iceland to southern Sudan, modern India, the Philippines, and much more.  It is also an insightful meditation on what proponents of individual freedom must grasp if they are to realize their aspirations in societies made up not of rational abstractions, but of people like us."—Rogers M. Smith, Christopher H. Browne Distinguished Professor of Political Science, University of Pennsylvania

"Mark Weiner has raised the crucial yet neglected subject of tribal identity and loyalty in modern society. The sweep of his book and the depth of his analysis make it essential reading for anyone interested in connecting past to present in order to chart a felicitous path to the future." —Ambassador Akbar Ahmed, Ibn Khaldun Chair of Islamic Studies, American University, and author of Journey into America: the Challenge of Islam
or
Not Currently Available for Direct Purchase