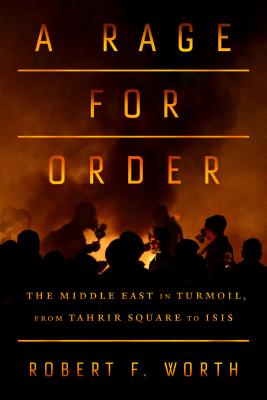 A Rage for Order
The Middle East in Turmoil, from Tahrir Square to ISIS
Hardcover

* Individual store prices may vary.
Other Editions of This Title:
Paperback (4/18/2017)
Description
A New York Times Notable Book of 2016
One of the Best Nonfiction Books of 2016, Publishers Weekly
One of the Best Books of 2016, NPR
Winner of the 2017 Lionel Gelber Prize
One of 20 Notable Reads from 2016, Mother Jones
Finalist for the 2016 Los Angeles Times Book Prize in Current Interest
Silver Medal Winner of the 2017 Arthur Ross Book Award

In 2011, a wave of revolution spread through the Middle East as protesters demanded an end to tyranny, corruption, and economic decay. From Egypt to Yemen, a generation of young Arabs insisted on a new ethos of common citizenship. Their bravery and idealism stirred observers around the world and led militant jihadis to worry that they had been superseded by a new and peaceful uprising.

Five years later, the utopian aspirations of 2011 have darkened. In one country after another, brutal terrorists and dictators have risen to the top as old divides reemerge and deepen. Egypt has become a more repressive police state than ever before; Libya, Syria, and Yemen endure civil war; and the extremists of ISIS have spread chaos and carnage across the region and beyond it.

A Rage for Order tracks the tormented legacy of what was once called the Arab Spring. Writing with bold literary ambition, the distinguished New York Times correspondent Robert F. Worth introduces a riveting cast of characters. We meet a Libyan rebel who must decide whether to kill the torturer who murdered his brother; a Yemeni farmer who lives in servitude to a poetry-writing, dungeon-operating chieftain; two young Syrian women whose close friendship devolves into enmity as their sects go to war; and an Egyptian doctor who is caught between his loyalty to the Muslim Brotherhood and his hopes for a new, tolerant democracy. In a final chapter, Worth tells the moving story of the two eighty-something statesmen whose unlikely camaraderie allowed Tunisia to escape its neighbors' worst fates.

Combining dramatic storytelling with an original analysis of the Arab world today, A Rage for Order captures the psychic and actual civil wars raging throughout the Middle East and explains how the dream of an Arab renaissance gave way to a new age of discord.
Praise For A Rage for Order: The Middle East in Turmoil, from Tahrir Square to ISIS…
"This is not simply the best book on the Arab spring, it is the best book on the Arab world today. It is also the best book of foreign reporting I have read in a long time. Deeply intelligent and beautifully written." —Fareed Zakaria, CNN

"Read Worth's remarkable new book, A Rage for Order, and weep . . . The book is a beautifully written chronicle, told through the struggles of ordinary people, of shattered hopes, lives, families and societies . . . Worth does not judge. He reveals." —Roger Cohen, The New York Times

"This is the book on the Middle East you have been waiting to read . . . [it] tells the story of the 2011 Arab Spring and its slide into autocracy and civil war better than I ever could have imagined its being told. The volume is remarkably slender for one of such drama and scope—beautifully written, Worth's words scudding easily and gracefully across the pages. It is also a marvel of storytelling, with the chapters conjuring a poignancy fitting for the subject . . . All great works of fiction are works of great philosophy, pondering the fundamentals of humanity. Few volumes of nonfiction ever achieve this, but Worth's does, touching essential truths about the human condition." —Kenneth M. Pollack, The New York Times Book Review

"[An] excellent book . . . One of the many strengths of Mr. Worth's book is his gift for finding and telling the small story that illuminates the big picture . . . Mr. Worth has the good judgment to focus on some first-class stories pursued over the course of his extraordinary travels. It is our additional good fortune that he writes about it so well." —Bartle Bull, The Wall Street Journal

"Subtly insightful." —Gerard Russell, The New York Review of Books

"[A] finely detailed book . . . A Rage for Order offers vital lessons to help us understand a region whose conflicts rage on." —Melissa Block, special correspondent, NPR News

"This is not your typical Middle East manuscript . . . It's a beautifully written, moving account that brings humanity and heart to a region typically only considered in terms of conflict and chaos." —Bryan Schatz, Mother Jones

"The best way to make sense of the past six years is to ask the Arab people what happened. Robert Worth has done just that . . . Mr. Worth narrows the field of view, using personal narratives to illuminate the larger dynamics. This is a common technique, but Mr. Worth does it better than most . . . [he] weaves together his stories with subtlety." —The Economist

"A masterful account of humiliation and despair . . . A Rage for Order brings the broad disappointments of the Arab Spring to the human level . . . . showing how events unfolded at the scale of individual lives. This is an important service, since when we talk about the Middle East, we tend to use large religious and ideological abstractions—Sunnis and Shiites, secularists and Islamists. Worth brings those words back to their roots in the lives of real people, showing how people who never dreamed of making war or revolution ended up being unmade by them." —Adam Kirsch, Tablet

"Striking . . . Worth isn't so much writing a recent political history of an incredibly tumultuous time as he is telling the intimate stories of a dozen or so mostly ordinary people who were picked up, dragged along, and battered by events as if by bad weather, desperate for some traction to·determine their own fate . . . Worth holds to his skepticism, but he leaves his readers with a glimmer of chance and change." —Kaelen Wilson-Goldie, Bookforum

"Extraordinary . . . Worth is a wonderful writer . . . [he] brings [a sense of] tenderness—tinged with melancholy and regret—to his entire narrative, which seems intent upon resisting despair even when it is reflected back to him over and over again . . . [a] spectacular work of literary journalism." —Elaine Margolin, The Jerusalem Post

"This is the book you have to read on the Middle East—not just to understand the Arab revolutions, but to feel them as human drama and tragedy. Robert Worth is a master who writes journalism as literature and history." —George Packer, author of The Assassins' Gate and The Unwinding

"It would be hard to find a more astute and eloquent guide to this explosive corner of the Earth than Robert F. Worth. He somehow managed to be on hand for a score of crucial moments in the Arab world's great convulsions, from the vast demonstrations of Tahrir Square to a just-liberated Libyan prison to the crushing of great hopes in the years that followed. Whatever lies ahead, I suspect that, as with John Reed's reporting on the Russian Revolution, people will be reading this vivid eyewitness account for years to come." —Adam Hochschild, author of To End All Wars

"Riveting, vivid, lucid, and wise, Robert F. Worth's A Rage for Order is reportage of the highest order: it illuminates current Middle Eastern crises through the daily experiences of ordinary, and extraordinary, men and women. I've read no finer or more nuanced account." —Claire Messud, author of The Woman Upstairs

"As the Beirut bureau chief for The New York Times, Worth has seen a lot, and he writes compellingly about the dashed hopes and personal tragedies that followed the 2011 uprisings in Egypt, Libya, Syria, and Yemen." —Foreign Affairs

"Worth . . . draws on his intimate knowledge of the Middle East to offer a penetrating, unsettling analysis . . . Informing the vivid narrative are many revealing interviews as well as the author's own eyewitness accounts of events. A crucial portrait of a deeply troubled region." —Kirkus Reviews (starred review)

"Veteran correspondent Worth traces the 'Arab Spring' through five countries, from the heady idealism of 2011 to the largely grim aftermath. Significantly, he does so through the stories of individuals rather than groups or sects, challenging simplistic, monolithic conceptions of rival factions . . . Worth provides no easy path forward. Instead, he skillfully presents the competing perspectives in play to explain the daunting impediments to stable states in the present-day Middle East." —Publishers Weekly (starred review)

"Worth utilizes his long experience in the Middle East to provide a riveting survey of the origins, course of events, and causes of the dashing of so many of the dreams fueling the uprisings. He concentrates on Egypt, Libya, Syria, Yemen, and Tunisia, and he effectively combines his personal observations with the experience of participants. The result is an informative, if often heartrending, account of events whose consequences are still unfolding." —Booklist

"The Arab world is in the grip of unprecedented crisis. Popular uprisings have weakened not just authoritarian rulers but the region's very foundations of security and stability. In his gripping account Robert Worth narrates the reversal in the Arab World's fortunes. First hand accounts, brimming with detail, unveil why the region rose up against dictatorship and then why it was not able to sustain democracy. Well-written and informative, A Rage for Order is an eye-opening read for policy-makers and anyone else interested in understanding the raging crisis in the Middle East." —Vali Nasr, author The Dispensable Nation and The Shia Revival

"Robert Worth's A Rage for Order is a deeply informed and moving account of the politics of the Arab world during, and since, the Arab Spring uprisings of 2010. It is beautifully written and describes the tragedies and aspirations of the Arabs struggling under the yoke of authoritarian oppression and corrosive venality. Drawing on a deep understanding of language, culture and history, Worth provides a series of finely delineated portraits, bringing to life the struggles of individual men and women in Tunisia, Libya, Egypt, Syria, and Yemen. There is simply no better account of the recent events that have convulsed the countries of North African and the Middle East." —Bernard A. Haykel, Professor of Near Eastern Studies and Director of the Institute for Transregional Study of the Contemporary Middle East, North Africa, and Central Asia at Princeton University

"A Rage for Order is an outstanding book that captures the high hopes and deep despair of average Arabs who lived through the revolutions of 2011 in Egypt, Libya, Syria and Yemen—and their tragic aftermath. This is a brilliant contemporary history by one of The United States' most distinguished Mideast correspondents, and a compellingly readable account." —Eugene Rogan, author of The Arabs and The Fall of the Ottomans
Farrar, Straus and Giroux, 9780374252946, 272pp.
Publication Date: April 26, 2016
About the Author
Robert F. Worth spent fourteen years as a correspondent for The New York Times, and was the paper's Beirut bureau chief from 2007 until 2011. He is a frequent contributor to The New York Times Magazine and The New York Review of Books. He has twice been a finalist for the National Magazine Award. Born and raised in Manhattan, he now lives in Washington D.C.
Coverage from NPR
or
Not Currently Available for Direct Purchase