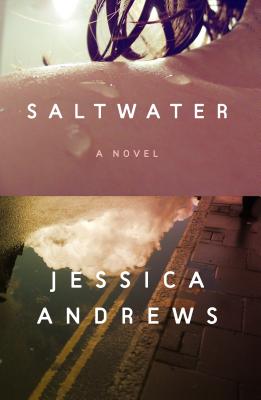 Saltwater
A Novel
Hardcover

* Individual store prices may vary.
Other Editions of This Title:
Digital Audiobook (1/13/2020)
Paperback (1/12/2021)
Description
A Best Book of 2020: Open Letters Review

"Andrews's writing is transportingly voluptuous, conjuring tastes and smells and sounds like her literary godmother, Edna O'Brien . . . What makes her novel sing is its universal themes: how a young woman tries to make sense of her world, and how she grows up."
–Penelope Green, The New York Times Book Review

This "luminous" (The Observer) feminist coming-of-age novel captures in sensuous, blistering prose the richness and imperfection of the bond between a daughter and her mother

It begins with our bodies . . . Safe together in the violet dark and yet already there are spaces beginning to open between us.

From that first immaculate, fluid connection, through the ups and downs of a working-class childhood in northern England, the one constant in Lucy's life has been her mother: comforting and mysterious, ferociously loving, tirelessly devoted, as much a part of Lucy as her own skin. Her mother's lessons in womanhood shape Lucy's appreciation for desire, her sense of duty as a caretaker, her hunger for a better, perhaps reckless life.

At university in glamorous London, Lucy's background sets her apart. And then she is finished, graduated, adrift. She escapes to a tiny house in Donegal left empty by her grandfather, a place where her mother once found happiness. There she will take a lover, live inside art and the past, and track back through her memories and her mother's stories to make sense of her place in the world.

In "a stunning new voice in British literary fiction" (The Independent) that lays bare our raw, dark selves, Jessica Andrews's debut honors the richness and imperfection of the bond between a daughter and her mother. Intricately woven in lyrical vignettes, Saltwater is a novel of becoming-- a woman, an artist-- and of finding a way forward by looking back.
Praise For Saltwater: A Novel…
Winner of the Portico Prize
A New York Times Book Review Editor's Choice
A Best Book of 2020: Open Letters Review
Named a Best Debut of Winter by Library Journal
A Best Book of January at the Chicago Review of Books
A 2019 pick in the Guardian, Observer, Independent, Elle and Waterstones

"Gorgeous . . . Andrews unspools Lucy's coming-of-age story in short numbered fragments, prose poems that at first seem random and out of order, but build in a logical sequence all their own . . . Andrews's writing is transportingly voluptuous, conjuring tastes and smells and sounds like her literary godmother, Edna O'Brien . . . It's her mission, she has said, to tell the stories of working-class women."
—Penelope Green, The New York Times Book Review

"[Saltwater] features something very rare in literary fiction: a working-class heroine, written by a young working-class author . . . The writing is disarmingly honest . . . This is a courageous book dealing frankly with youth, puberty, mother-daughter relationships, class, disability and alcoholism . . . I found parts of this novel intensely moving – I wish I had read it when I was 19."
—Rhiannon Lucy Cosslett, The Guardian

"Impressionistic recollections . . . coalesce into a characterization of a young woman taught by her mother's example how to navigate a society ruled by men... [Lucy will] experience her life fully, and . . . to be present in the world she must allow its weight to dissipate."
—The New Yorker

"Lucy, the perfectly-realized main character in this wonderfully smart debut, is re-inventing herself in a small house in Donegal that's suffused with memories of her beloved mother. Jessica Andrews fills the relatively simple outlines of her story with lovely restrained prose and rich wisdom." - Open Letters Review

"Jessica Andrews doesn't exactly write. She paints . . . Saltwater is the story of Lucy remembering—but also, sort of, forgetting—the life that has left her so fractured . . . If Lucy's been pulled into pieces then so has the book. It's splintered into dozens of very short chapters, each one an artist's impression of her infancy, her childhood or student days. The primal craving for her mother is always there, but alcoholism . . . hangs over the whole, too, cloying and sad . . . This is a book worth taking yourself off to bed early for."
—Catherine Woulfe, New Zealand Listener

"An audacious debut, an inventively told and intimate coming-of-age story."
—Largehearted Boy

"Written with delicate, soul-bearing temperament, followers of Zinzi Clemmons' What We Lose will fawn over Andrews' warm-blooded coming-of-age debut concerning a young woman coming to grasp with the annals of her estranged upbringing."
—Paris Close, Paperback Paris

"A meditation on mother-daughter relationships and finding a place to call home . . . The natural untethering that happens between mothers and daughters is remarkably rendered—the heartsickness given gravitas equal to romantic relationships . . . [Jessica Andrews] explores themes like memory, home, womanhood, and mother-daughter relationships with shattering clarity . . . A beautifully written experimental novel."
—Kirkus

"Engrossing . . . This coming-of-age story will appeal to readers who appreciate strong mother-daughter relationships."
—Publishers Weekly

"A lyrical book, where time is layered . . . Andrews is clear and eloquent when it comes to the subtle ways we become dislocated from our home and, indeed, how our concept of 'home' alters as we grow . . . [Saltwater] is luminous."
—Seán Hewitt, The Independent (Ireland)

"Andrews writes beautiful, unusual descriptions, and short chapters give [Saltwater] a poetic sensibility . . . Andrews' debut declares her one to watch."
—Kathy Sexton, Booklist

"Raw, intimate and authentic . . . Andrews obviously has talent."
—Johanna Thomas-Corr, Sunday Times

"A sensitive, gorgeously told story of a young woman's coming-of-age."
—Library Journal

"Jessica Andrews . . . captures that overwhelming sense of the possible and how daunting and disorientating it can be when the change you craved doesn't expand your horizons but instead hollows you out."
—Sunday Express

"Jessica Andrews' debut novel shimmers with promise: it's one of those books where, from the first pages, you're grabbed by a distinctive new voice . . . It's often raw, unsettling…Each vignette is so sharply cut, with such high shine. Saltwater shimmers with promise, and it will certainly be worth watching what Andrews does next."
—Holly Williams, Independent (UK)

"Raw, intimate and authentic."
—Johanna Thomas-Corr, The Financial Times

"Luminous."
—Observer New Review

"A stunning new voice in British literary fiction."
—Independent (UK)

"This book is sublime. It dares to be different, to look in a different way. Andrews is not filling anyone's shoes, she is destroying the shoes and building them from scratch."
—Daisy Johnson, author of Everything Under

"I lived in it. Evocative, sensuous, astute, original, blistering. Sentences to reread and reread."
—Lucy Jones

"Saltwater moved me to tears on several occasions; here is proof of the poetic idiosyncrasies of every family, of every person's narrative being worthy of literature, of the fact that a good novel shouldn't bring voices in from the margins, but travel outwards towards them, and let them tell their own story, in their own voice, in their own, unique way."
—Andrew McMillan, winner of the Guardian First Novel Prize for Physical

"Saltwater revels in the possibilities of its form, using fragments to shift tone and texture, reminding us of those pivotal moments that can upend a life. There is a growing corpus of excellent cross-genre experiments in prose fiction to which Salwater is a happy addition. This book holds disparate elements in a finely wrought balance that is difficult to achieve at any stage of a writing life let alone in a debut."
—Kayo Chingonyi, winner of the Dylan Thomas Prize

"A book of breathtaking beauty. Saltwater is a visionary novel with prose that gets deep under your skin. The short, sharp chapters thrum with life. Lucy is a memorable character, her journey one that is moving and totally compelling, telling a series of deep truths about the state of our divided nation. Andrews is a major new voice in contemporary British fiction."
—Alex Preston, author of In Love and War

"Reading Saltwater is an in-body experience. I felt like I had danced all night - awake, alive, good-sore-tired and something else - angry, really angry. Yes, this book showed me the parts of my past to keep but better than that it showed me the parts I must burn to be free."
—Carmen Marcus, author of When Saints Die
Farrar, Straus and Giroux, 9780374253806, 304pp.
Publication Date: January 14, 2020
About the Author
Jessica Andrews writes fiction and poetry. Her work has been published in The Guardian, The Independent, Elle, AnOther, Somesuch Stories, Shabby Doll House, and Papaya Press, among others. She teaches literature and creative writing, and is coeditor of The Grapevine, an online arts and literary magazine that aims to give a platform to underrepresented writers. Saltwater is her first novel.
or
Not Currently Available for Direct Purchase