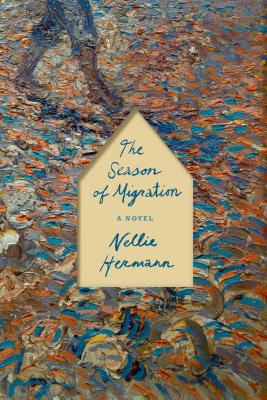 The Season of Migration
A Novel
Hardcover

* Individual store prices may vary.
Other Editions of This Title:
Paperback (7/5/2016)
Description
The lyrically told story of one of the world's greatest artists finding his true calling

Though Vincent van Gogh is one of the most popular painters of all time, we know very little about a ten-month period in the painter's youth when he and his brother, Theo, broke off all contact. In The Season of Migration, Nellie Hermann conjures this period in a profoundly imaginative, original, and heartbreaking vision of Van Gogh's early years, before he became the artist we know today.
In December 1878, Vincent van Gogh arrives in the coal-mining village of Petit Wasmes in the Borinage region of Belgium, a blasted and hopeless landscape of hovels and slag heaps and mining machinery. Not yet the artist he is destined to become, Vincent arrives as an ersatz preacher, barely sanctioned by church authorities but ordained in his own mind and heart by a desperate and mistaken spiritual vocation. But what Vincent experiences in the Borinage will change him. Coming to preach a useless gospel he thought he knew and believed, he learns about love, suffering, and beauty, ultimately coming to see the world anew and finding the divine not in religion but in our fallen human world.
In startlingly beautiful and powerful language, Hermann transforms our understanding of Van Gogh and the redemptive power of art.
Praise For The Season of Migration: A Novel…
"…[H]ere I realized that The Season of Migration is best apprehended not as a conventional novel but as a portrait of a crisis. John Berger observed that van Gogh's extraordinary openness allowed him to become permeated by--or to leave himself and permeate--whatever he saw. At her frequent best, Nellie Hermann achieves a smiliar feat of communion. Her searching empathy and exacting passion accrue as brush strokes on a canvas, until at last we may stand back, perceive the whole and let it enter us." —Leah Hager Cohen, New York Times Book Review
"In The Season of Migration [Hermann] assumes Van Gogh's voice and point of view so vividly that readers want to believe that she has captured the painter's actual experience." —Rosemary Herbert, Star Tribune
"…[A] historical novel as successful as this one--both in scope and in the beauty of its language--reminds us that literature can do anything, and leaves us in awe of the author's ambition. We have a language here that in its beauty does justice to van Gogh's own brilliance; and in its structure, justice to the tumult of the painter's troubled, violent life." —Jake Zucker, Electric Literature
"[S]omberly engrossing… The Season of Migration is a risk-taking hybrid, part epistolary impersonation, part act of biographical second-guessing." —Jan Stuart, Boston Globe
"Masterful work of historical fiction." —Booklist
"Vivid imagery skillfully evokes Van Gogh's paintings... Subtle and winding, but deeply felt, the novel succeeds as an origin story of a particular creative genius." —Publishers Weekly
"In The Season of Migration, Nellie Hermann has constructed a spectacular portrait of an artist simultaneously alienated from and in love with the world. Hermann's Van Gogh is extraordinary--as luminous and intense and strange in these pages as in any of his self-portraits. But the miracle of Hermann's writing is to make him ordinary at the same time. His struggle to live in a world terrorized by loss and the threat of loss is everybody's struggle, and as pain in life teaches him slowly to see, we learn to do it as well. By the end of the story, Van Gogh, debilitated and exalted, knows what beauty is. The reader lucky enough to encounter this book will know it, too." —Chris Adrian, author of The Children's Hospital
"Fans of Nellie Hermann's The Cure for Grief already know that she is our expert chronicler of the complex love between siblings; in The Season of Migration, she channels the story of Vincent van Gogh, Theo van Gogh, and the ghost of their dead brother. Hermann writes beautifully about the wrenching pain of disenchantment, as well as its joyful transubstantiation into art .Every scene is a color-saturated dream, every detail lived and felt. Hermann has done something miraculous here." —Karen Russell, author of Swamplandia! and Vampires in the Lemon Grove
"The Season of Migration is a masterpiece; it blew me away. A triumph of lyrical intensity, resonance of voice, psychological acuity, Nellie Hermann's novel has shed new light on the Van Gogh few people have known. Heartbreaking and beautiful." —Mary Gordon, author of The Liar's Wife
"Although we may know Vincent Van Gogh's work, and perhaps the broad strokes of his biography, Nellie Hermann's extraordinary accomplishment in The Season of Migration is to reveal him to us before he knows himself. Still years away from The Potato Eaters, Van Gogh as Hermann has brought him to life is aimless, wrecked, yet driven by the hope of finding communion with the lives he encounters. In language as moving as the work of the artist she renders, Hermann captures in vivid detail that critical period in Van Gogh's life when, at his lowest point, he begins to find that connection through his art. When his artist's eye finds flashes of beauty despite the grimmest of circumstances, the reader's heart will sing." —Mary Beth Keane, author of Fever
"Hermann follows up her well-received debut (The Cure for Grief, 2008) with a sensitive novel about a crucial turning point in the life of Vincent van Gogh… [She] quietly shows van Gogh drawing compulsively as he trudges miserably through the countryside, poor, sick and starving but always looking with wonder at the world around him. …We know, although Vincent does not, that he is on the road to achieving the apotheosis he spoke of in happier times with Theo: "the way an artist could succeed at portraying a feeling in an image…translate not just the beauty of it but the exact joy that we felt." Finely wrought fiction eschewing the usual clichés about artistic inspiration in favor of deeper, more organic understanding." —Kirkus Reviews
Farrar, Straus and Giroux, 9780374255473, 256pp.
Publication Date: January 6, 2015
About the Author
Nellie Hermann was born in Boston, Massachusetts, and lives in Brooklyn, New York. Her first novel, The Cure for Grief, was published in 2008. She teaches creative writing at Columbia University and has taught and lectured widely on the use of creativity in nontraditional contexts.
or
Not Currently Available for Direct Purchase